All Games Coming to PlayStation Plus and Xbox Game Pass in January 2023 (so Far)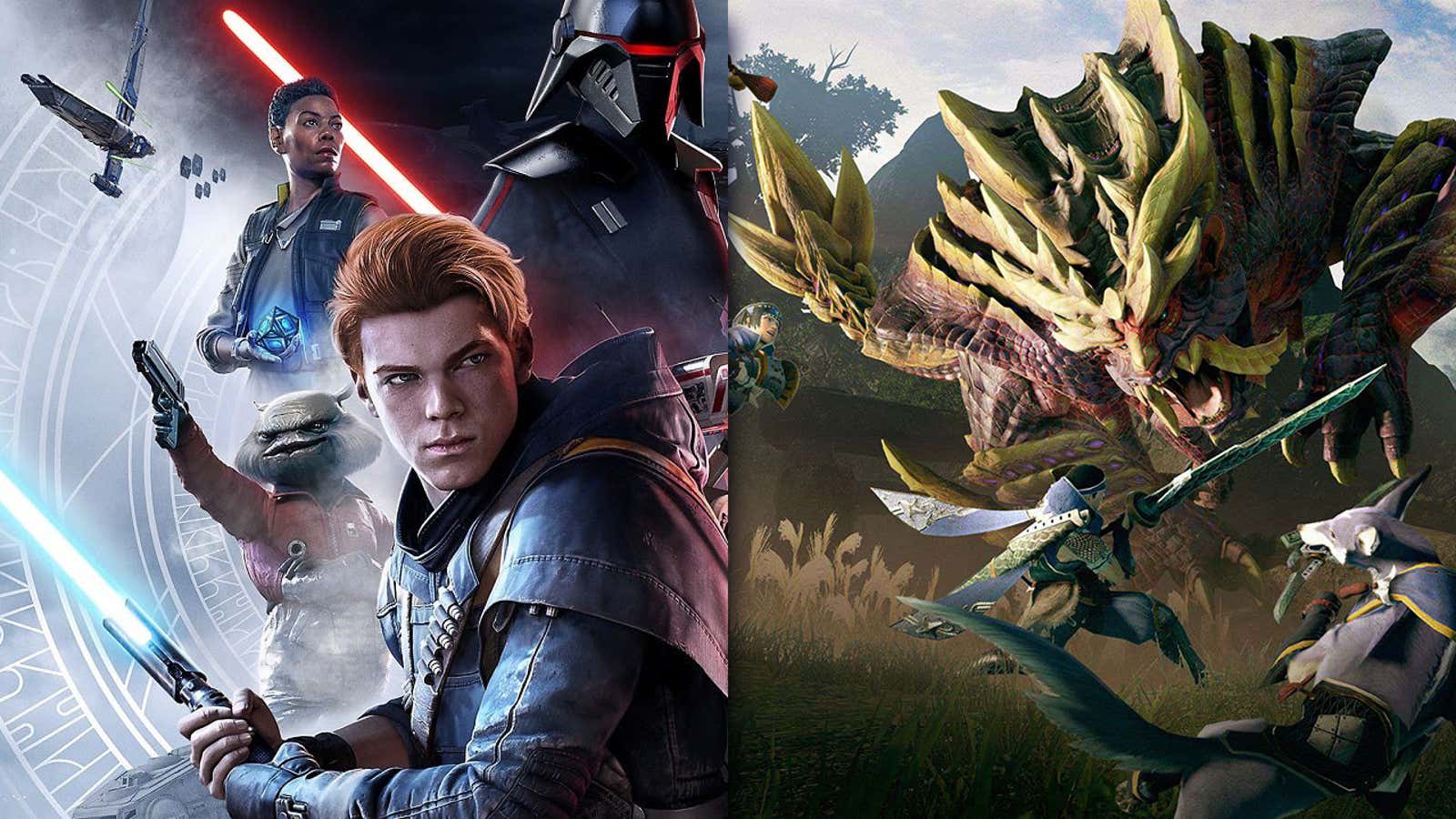 Happy New Year! I hope you get a chance to catch up over the holidays because 2023 is off to a good start with a ton of great games coming to PlayStation Plus and Xbox Game Pass this month, including free ones you can download and keep forever, and time-limited additions to each service's ever-changing library.
Here's everything coming (and going) to PlayStation Plus and Xbox Game Pass in January 2023.
Everything coming to PlayStation Plus in January 2023 (so far)
This month, PlayStation Plus members will be able to download three great titles from the PS Plus Essentials line starting January 3rd. First up is EA's Star Wars Jedi: Fallen Order , an adventure game where you play as Cal Kestis, a fugitive Jedi who survived. Slaughter of the Order 66. Players travel across different planets to explore ancient Jedi temples, infiltrate Imperial bases, and fight evil Sith Inquisitors in Dark Souls-inspired lightsaber duels.
Axiom Verge 2 is a 2D metroidvania-style platform game set in a mind-blowing sci-fi world. Axiom Verge 2 , released in 2021, received rave reviews praising its music, pixel art, and large open world for players to explore at their own pace.
Finally, there's Fallout 76 , an online multiplayer game based on the long-running Fallout RPG series. As with other Bethesda Fallout games, players explore an open world from a first-person perspective, scavenging for resources in a post-apocalyptic nuclear wasteland. But instead of fighting alone, you can team up with friends or take on other players you come across online.
PS Plus Essentials Monthly Lineup
January 3
Edge axiom 2
Fallout 76
Star Wars Jedi: Fallen Order
All three games are free to PlayStation Plus subscribers starting January 3rd and will stay with you forever (or at least as long as your subscription lasts).
PS Plus Premium and Classic
Each month, Sony also adds new games to the PlayStation Plus games catalog for PS Plus Extra subscribers and new games from the Classics catalog for PS Premium subscribers. Sony usually announces these additions in the middle of the month, so we don't yet know what games (if any) will arrive in January.
However, this is a good opportunity to try out some of the many new titles from the game catalog added in December, such as Yakuza: Like a Dragon , Far Cry: New Dawn , Mortal Shell and more. Heavenly Sword (PS3), Oddworld Abe's Oddysey (PS1), and Pinball Heroes (PSP) also joined the Classics catalog in December. Expect to hear about the January expansions later this month on the official PlayStation Blog .
Care:
Although it has not been officially confirmed by Sony, the PlayStation Store currently indicates that several titles from the PS Plus games catalog will be released soon in January. These lists have usually turned out to be true in previous months, so use this as an opportunity to try out these games before they disappear forever.
Leaving PS Plus on January 17th:
Flamebound
Advice
The Radiance: Lightning Kingdom
Space Hulk: Tactics
Exit from PS Plus in January TBD:
Seasons after autumn
Anima Masters
electronic super joy
Jamjet Rex
Leo's Fortune HD Edition
Enigmatis: Maple Creek Ghost
The Last Repairman: City of Colors
Everything coming to Xbox Game Pass in January 2023 (so far)
Xbox is kicking off 2023 with two free Games With Gold titles, as well as several major new games launching for Game Pass throughout January.
Games with gold
Iris Fall – January 1
Autonauts – January 16
Starting January 1st, Game Pass and Games With Gold subscribers can download the spooky adventure game Iris Fall until January 31st. Then, on January 16, the independent farming and crafting simulator Autonauts will be available until February 15 . games will be a permanent addition to your digital library if you download them within the time limit.
Game Pass Library
Game Pass members can also get free access to several new titles immediately on launch day, including the indie survival game Stranded Deep , releasing on January 3rd, and ports of beloved JRPGs Persona 4 Golden and Person 3 Portable for Xbox, which will appear on January 19th. The next day, January 20, will also see the Xbox port of Monster Hunter Rise , which will finally give console players the chance to play the latest installment in Capcom's popular RPG series. Then, at the end of the month, classic real-time strategy Age of Empires 2: Definitive Edition and hand-drawn medieval strategy game Inkulinati will join Game Pass on January 31st.
We also know that the rogue-lite FPS Roboquest will also be coming to Game Pass this month, but no exact date has been set. It's also possible that Microsoft will announce even more new Game Pass additions later this month, so keep an eye on the official Xbox Wire blog .
January 3
January 19
Persona 3 Portable
Persona 4 Gold
January 20th
Rise of the monster hunter
January 31
Age of Empires 2: Definitive Edition
inculinati
January specified:
Everything leaving Xbox Game Pass in January 2023:
There are also plenty of games coming out of Game Pass this month. So far, 6 games are leaving the service on January 15, including last month's free-to-play Games With Gold, Bladed Fury , which you can still keep and play forever if you download it before January 15.
Exiting Game Pass January 15th:
Bladed Fury (Gold Games)
Danganronpa: Trigger Happy Havoc Anniversary Edition
Nobody saves the world
Pupperazzi
Anacruz
Windjammers 2