My Favorite Christmas Canape Starts With a Can of Salmon.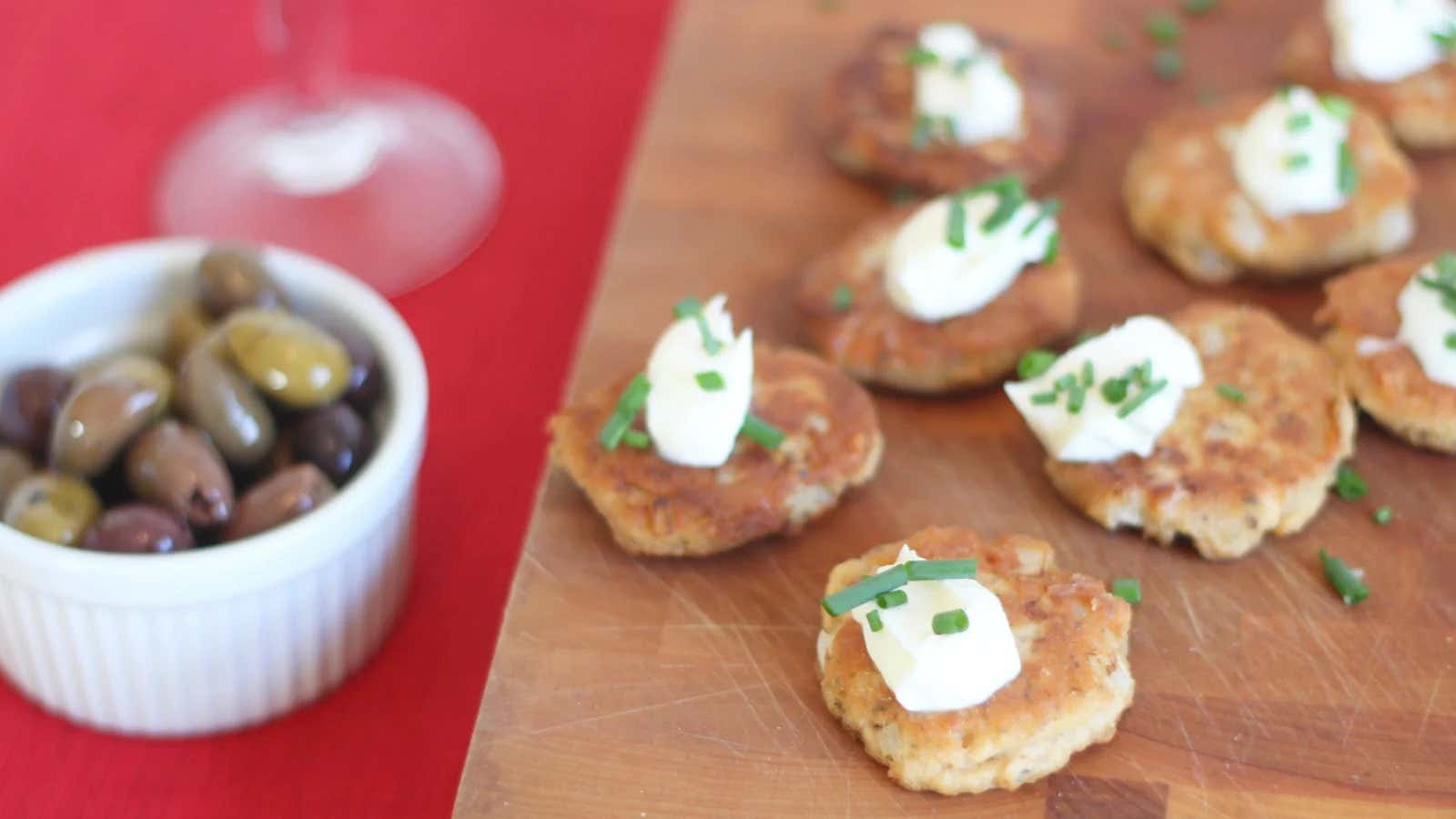 Canned fish has been in vogue for a few years now, but the chic mostly extends to whole canned fish, which comes in neat little "tins" rather than the usual round tin. Canned salmon may not be as chic in nature as any of the sardines that hot girls eat these days, but it's the basis of my favorite Christmas canape. (You could even say that this puts "can" in "canape".)
I have written about salmon croquettes before, but they deserve special attention for the holiday. They are cheap and easy to make – all you need is a can of salmon, some onions, an egg, and a few other pantry items. Mix everything together, then shape them into mini patties and fry them in the oil of your choice (I usually use bacon grease).
Once they're toasted to a nice golden brown, you're ready to decorate them. You can make it simple and elegant with sour cream and scallions or feathery fresh dill, although roasted capers or garlic would be a terrific addition, as would a tiny wedge of canned lemon .
Light salmon croquettes
1 can 5 oz pink salmon
1/4 sweet onion, finely chopped
1 egg
1 tablespoon + 1 teaspoon all-purpose flour
1/2 teaspoon salt
1/2 teaspoon garlic powder
1/2 teaspoon yellow mustard
White pepper to taste
Bacon fat or your favorite vegetable oil.
Drain the salmon and remove any stray bits of bone or skin. Add everything to a bowl, mix thoroughly. Heat the fat in a non-stick skillet over medium heat until it shimmers, then shape the salmon mixture into small patties and fry them for a couple of minutes on each side until nice and golden brown. Let them cool for a few minutes on paper towels and serve with a dollop of sour cream (or crème fraîche) with chopped green onions if you like.