Make Sad, Dusty Muesli Better With Butter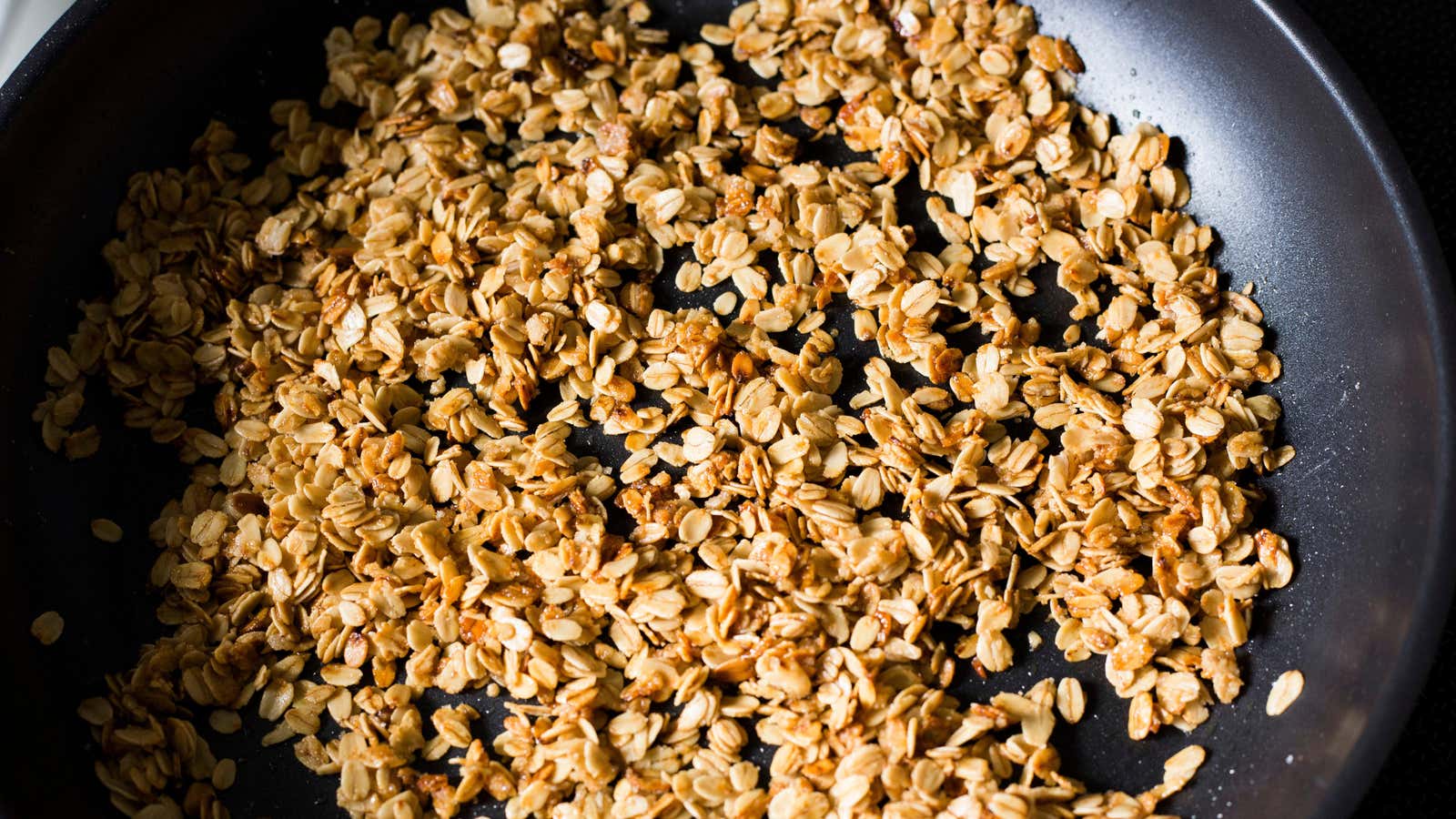 I find muesli and other uncooked muesli frustrating and insipid. The nutritional benefits are a plus and everyone appreciates dried fruit, but I have a hard time dealing with that dusty, damp, powdery buildup. As a result, I tended to leave empty bags in the cupboard for months until I found an easy way to lighten up the tasteless muesli spread: just fry it in salted butter.
Toasting muesli in a frying pan is very simple, the taste will improve at least ten times, and the granola will take on a rich brown hue. Lightly salted, fried in butter, granola becomes crispy, loses its dustiness, and goes well with spicy yogurt. Of course, there are people who won't like the idea of ​​spoiling such a nutritious breakfast with oil, but to be honest, the nutrients will still remain and I will actually eat it, which is better than not adding oil and leaving it in purgatory. my kitchen cabinet for all eternity.
How to fry granola in oil
Take a medium skillet and heat it over medium heat. Add enough salted butter to cover the bottom—about half a tablespoon. Let it melt until it begins to foam and sizzle slightly. Add a portion of muesli, about a quarter cup, to the pan and stir to coat with oil. Turn the heat down to medium and continue to stir the muesli to brown evenly. After a few minutes, you will notice that the oats are starting to brown. Continue stirring until the color changes to a seductive golden brown. (A few pieces may have extra tan, but this is completely normal.) Remove the saucepan from the heat and let it cool for five minutes before eating.
To reiterate, you need to stir constantly while cooking the muesli, as the oats will brown quickly once they start to cook. This method works well with granola or muesli containing dried fruit; the fruit will not burn, as it only heats up for a few minutes. I haven't tried it with added sugar or pre-baked granolas because they aren't inherently as frustrating as unbaked muesli, but I suspect they may not pan-roast as well because the added sugar can melt and burn in the pan. . – but let me know if you try it and it works. In the meantime, use toasted muesli to top your yogurt or ice cream, or double up and enjoy with almond milk.