Everything Coming to PlayStation Plus and Xbox Game Pass in December 2022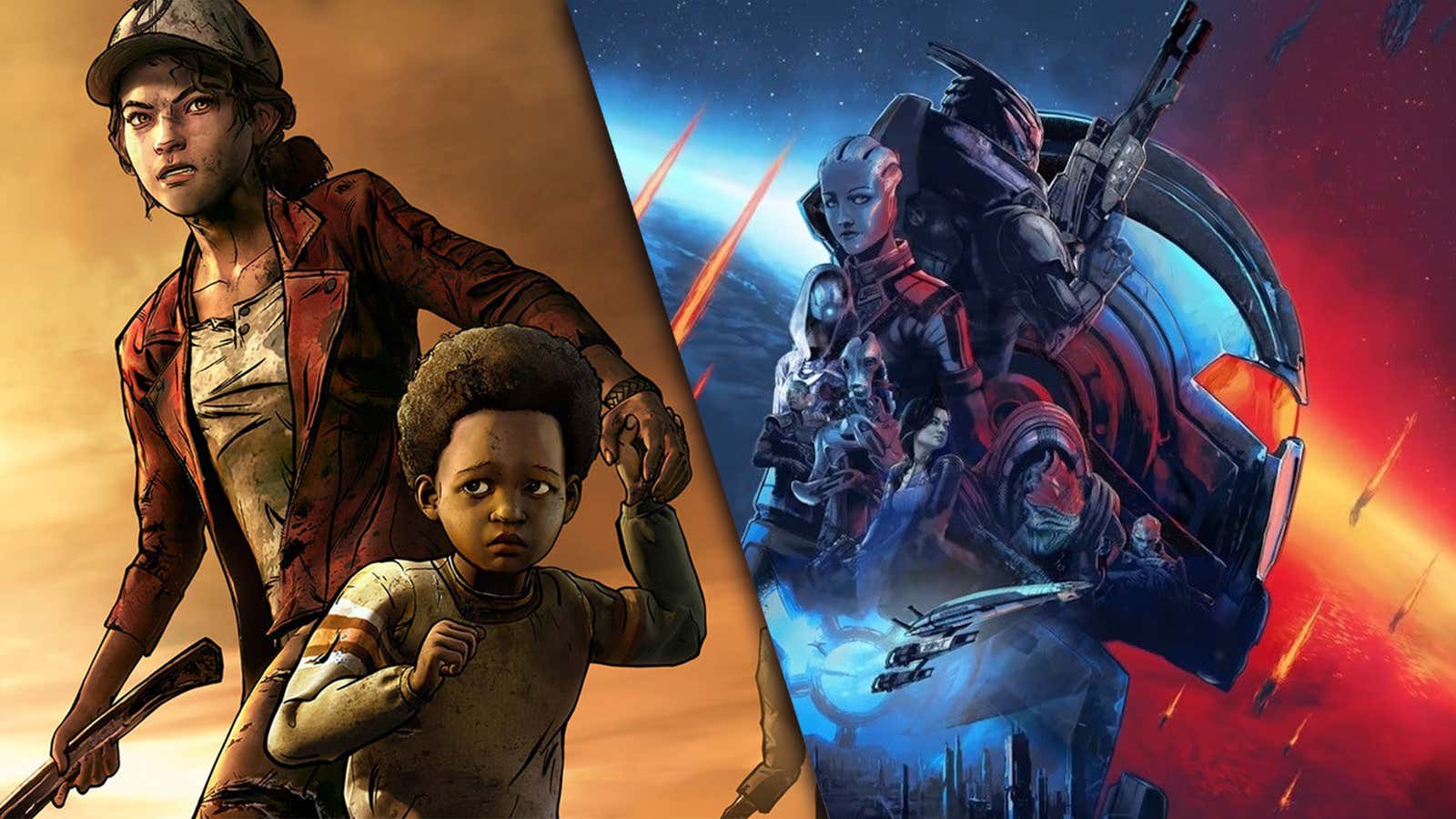 Sony and Microsoft recently unveiled the first batch of new games joining their respective subscription services, and December promises to be a great gaming month for PlayStation Plus and Xbox Game Pass members. It also looks like both companies are gearing up to remove a few favorite games from their free-to-play catalogs.
To help you plan your holiday games, here's a roundup of everything joining (and leaving) PS Plus and Game Pass in December 2022.
Every game joining PlayStation Plus in December 2022 (so far)
We may only know a fraction of the December PlayStation Plus lineup, but there are already some significant new additions to Sony's service.
Starting with PS Plus Essentials, PS5 and PS4 players can download the Mass Effect Legendary Edition this month, which includes remastered versions of Mass Effect , Mass Effect 2 and Mass Effect 3 in one package. BioWare's Mass Effect trilogy is one of the best RPG series in recent memory, featuring memorable characters, engaging combat, and multiple possible endings based on the many choices you make during your galactic adventure as Commander Shepard.
As if the entire Mass Effect trilogy wasn't enough, Biomutant 's open-world RPG and multiplayer brawler Divine Knockout: Founder's Edition round out the PS Plus Essentials lineup for December 2022. You can download the PS4 or PS5 versions of both games. .
PS Plus Essentials Monthly Lineup
December 6
Mass Effect Legendary Edition
biomutant
Divine Knockout Founder's Edition
All PS Plus subscribers can add these three games to their digital library for free for a month. Free PS Plus Essentials gifts are given out every month, but you can play them even after a month, while your subscription is active.
PS Plus Premium and Classic
PS Plus Extra and Premium subscribers also receive monthly additions to the PS Plus game catalog and classic libraries, but the December 2022 update will be announced later this month. Rumors and leaks indicate that limited trial versions of Ghost Wire: Tokyo , Lego Star Wars: The Skywalker Saga , and Sniper Elite 5 will arrive for PS Plus Premium subscribers, while Star Wars Battlefront II (PSP) will join the Classics library for premium subscribers. – but we'll have to wait for an update from Sony on the official PlayStation Blog .
In the meantime, take a look at the 15 games added to the PS Plus Premium catalog last month , including The Division 2, Skyrim Special Edition, Oddworld: Soulstorm and four Kingdom Hearts titles on PS4, as well as five Ratchet titles on PS3. & Clank , which added to the PS Classics library in November.
Every game coming out of PS Plus in December 2022 (so far)
To make room for all these new PS Plus games, several previously available titles are leaving, starting with Nioh 2 and the rest of the November PS Plus Essentials titles on December 5, followed by Assassin's Creed: Valhalla and Pillars of Eternity: Complete Edition. will leave the PS Plus games catalog on December 20.
Logging out of PS Plus on December 5th
Nioh 2 Remastered (PS Plus Core)
Lego Harry Potter Collection (PS Plus Essentials)
Celestial Bodies (PS Plus Essentials)
Exit PS Plus December 20
Assassin's Creed: Valhalla (PS Plus Extra/Premium)
Pillars of Eternity: Complete Edition (PS Plus Extra/Premium)
Be sure to play these games before they are removed. Note that Sony may have other departures to announce later this month.
Every game joining Xbox Game Pass in December 2022 (for now)
Coming to Xbox, Game Pass and Games with Gold subscribers can download the stylish pixel action Colt Canyon for free from December 1st and the 2D side-scroller Bladed Fury from December 15th. These free games can be played even after they are no longer available as long as they are saved in your library.
Games with gold
Colt Canyon – December 1
Bladed Fury – December 15
Game Pass
In terms of new Game Pass games, Microsoft has announced 9 new games coming to the library in the first half of December, starting with the quirky top-down RPG Eastward , the wacky physics-based action game, Totally Reliable Delivery Service , and narrative adventure games. The Walking Dead: The Final Season will release on December 1st, with more games to follow throughout the rest of the month.
December 1
to the East
Completely reliable delivery service
The Walking Dead: The Final Season
December 6
Lego Star Wars: The Skywalker Saga
December 8
Chain echoes
hello neighbor 2
hell metal singer
December 13th
High quality of life
Potions
December 15
Rainbow Billy: Leviathan's Curse
Microsoft tends to update the Game Pass roster throughout the month, so we expect the company to announce even more additions in the coming weeks via its official Xbox Wire blog .
Every game coming out of Xbox Game Pass in December 2022 (for now)
While a host of new games will be joining Game Pass this month, several high-profile titles are also leaving the service, including beloved JRPG Dragon Quest XI: Echoes of an Elusive Age , acclaimed indie adventure game Firewatch , and co-op shooter. Aliens: Fireteam Elite , plus seven other Game Pass games, all on December 15th.
December 15th is the last day to download Dead End Job , which was part of the November Games with Gold lineup.
Exiting Game Pass on December 15th
Dead End Work (via Games with Gold)
Aliens: Fireteam Elite
breath edge
Dragon Quest XI: Echoes of an Elusive Age
fire department
Lake
One Piece: Pirate Warriors 4
Neoverse
Race with Ryan
Rory McIlroy PGA Tour
Transformers: Battlegrounds
Be sure to download these games if you want to play them before they disappear. And keep an eye out for additional departures that Microsoft may announce later in December.