Why Don't You Make Mashed Potatoes With Cheese Balls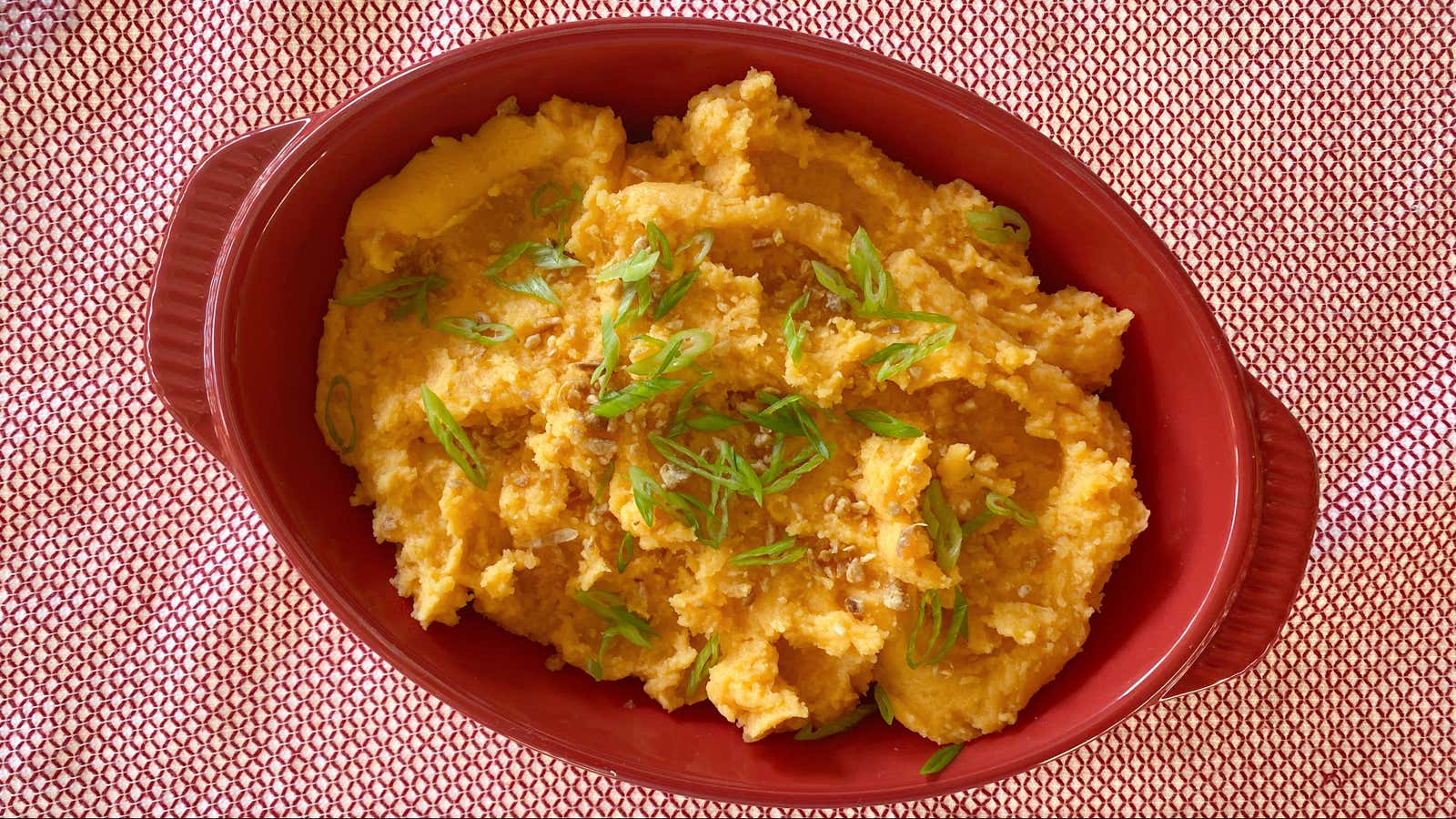 When I reply to a particular recipe or dish with "That's fucked up," you can really take that as a high compliment. This means a certain amount of decadence, a hint of "this should not be" and a slight perversity, but also that the dish in question is quite tasty. And mashed potatoes with port wine cheese – or, for short, "potatoes with cheese balls" – is, of course, fucked up.
I'm hesitant to call it a "recipe" because, aside from the seasonings and garnishes (which the dealers all choose), it has only two real ingredients: Yukon Gold Potatoes and Port Wine Cheese Paste.
For those unfamiliar with port wine cheese, it's a melted cheese with cheddar, a couple of different wheys, cream, and (obviously) a bit of port (and food coloring). You don't actually taste the wine, but you do feel a slight sweetness along with a sharp, tangy cheesy flavor. If you're familiar with the port cheese ball, you know what I'm talking about.
I wish I could say that this recipe required some fiddling to get it right, but it really isn't. My fears that the cheese paste would be too hard to mix with potatoes quickly proved unfounded; it mixed up like a dream. I boiled two pounds of potatoes, ran them through a rice cooker, and then mixed them into a bowl of port. I seasoned with a little salt and white pepper . I then garnished the potatoes with crispy fried garlic and green onions, though bacon would have been nice too. (If you put it on top of a cheese ball, you can put it on top of this potato.)
Cheeseball Mashed Potatoes
Ingredients:
2 pounds mashed potatoes
6 1/2 ounces (1 can) port cheese spread
Salt and white pepper (or regular pepper if you prefer)
Side Dishes: Anything you like on a cheese ball; scallions, scallions, roasted garlic, bacon bits, and even toasted nuts will all work.
Bring a large pot of heavily salted water to a boil and cut the potatoes into 1 1/2-inch thick pieces. Cook until they can be easily mashed with a fork, about 15-25 minutes. Drain the potatoes in a colander and rinse them quickly under warm water to remove excess starch (this will prevent the potatoes from turning cloudy when stirred in the port).
Run the potatoes through a rice cooker or food mill, then add the port and mix with a large wooden spoon until the potatoes are a uniform orange color. Taste and season with white pepper if needed. Transfer the potatoes to a bowl, then garnish with your favorite cheese ball toppings. Serve immediately.