These Recalled Pine-Sol Sanitizers Ironically Contain Harmful Bacteria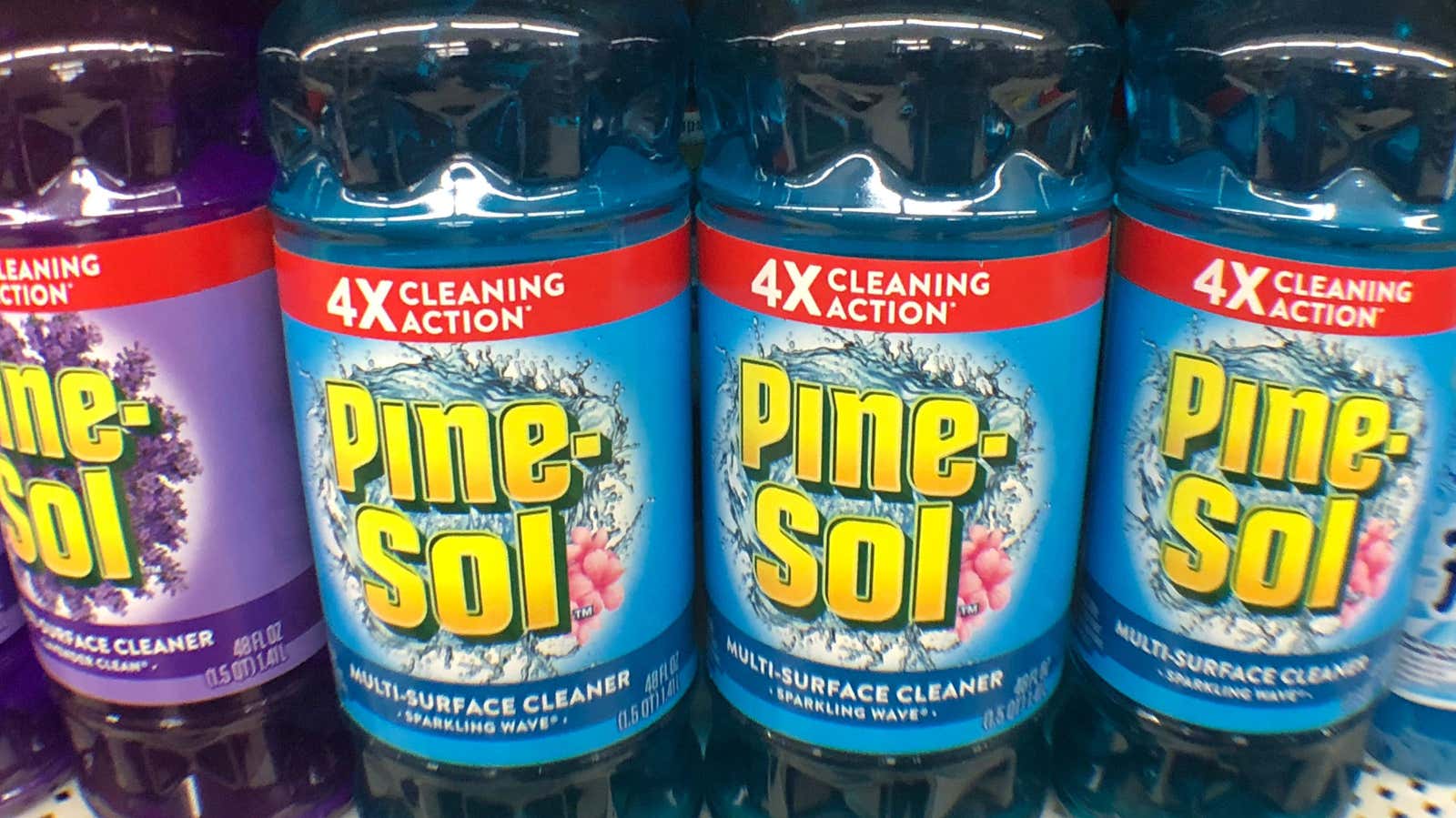 While the COVID-instigated sanitation scare of 2020, in which people still pretended to wash their hands for 20 seconds and sanitizers flew off the shelves, has passed, industry experts at the American Cleaning Institute expect most people to keep at least some of it. their cleaning habits during the pandemic.
And while we now know that there is a relatively low risk of transmitting COVID through surfaces, there are still plenty of other circulating germs that you don't want in your living space. Unfortunately, if you purchase and use certain Pine-Sol products, you may be introducing potentially harmful new bacteria into your home.
That's why Clorox has announced a massive voluntary recall of approximately 37 million of its Pine-Sol products, according to the Consumer Product Safety Commission (CPSC) . Here's what you need to know.
Why are Pine-Sol products being recalled?
Routine product testing has shown that certain types of Pine-Sol cleaners contain potentially harmful bacteria , including Pseudomonas aeruginosa, which are commonly found in soil and water.
While people with a functioning immune system can usually deal with these bacteria, people with weakened immune systems or external medical devices are at risk of developing a serious infection (including pneumonia) that may require treatment if exposed to Pseudomonas aeruginosa .
In addition to entering the body through cuts or other skin breaks, the bacteria can also enter through the eyes and through inhalation, according to the CPSC . Fortunately, no illness has been reported to date associated with the use of recalled Pine-Sol products.
So, to keep this position, Clorox is recalling approximately 37 million bottles of Pine-Sol in various sizes, varieties and flavors.
Which Pine-Sol products are subject to the recall?
First, Original Pine-Sol fans can rest easy: none of the classic pine-scented products will be recalled. However, Clorox is recalling Pine-Sol products in all sizes with the following flavors that were manufactured at the Forest Park, Georgia facility through September 2022:
Pine-Sol scented multi-purpose cleaner
Lavender pure
sparkling wave
Lemon fresh
CloroxPro Pine-Sol all-purpose cleaners
Lavender pure
sparkling wave
Lemon fresh
orange energy
Clorox Professional Pine-Sol
To determine when a Pine-Sol product was manufactured, check the date code printed on the side of the bottle in black letters (see image below). All recalled products have date codes beginning with the prefix "A4" followed by a five-digit number less than 22249 .
Each of the products listed above is sold in 28, 48, 60, 100, 144, and 175 fl oz bottles. The recalled items were sold online at Amazon.com, other retailer websites, and major retailers nationwide, including Walmart, Sam's Club, Dollar General, Target, Home Depot, BJ's, Kroger, Dollar Tree, Lowe's, and Publix by price from 2.50 to 1,000,000 rubles. $12.50.
What to do if you have purchased any of the recalled Pine-Sol products
If you find yourself purchasing any of the recalled Pine-Sol products, stop using them immediately, but take a few photos of the 12 digit UPC code and date code before throwing anything away. Here is where to find the UPC code:
Once you've done that, fill out this form to submit your photos and process your refund (note: at the time of writing, the page containing the form was blank, but this should change). If you have any questions, you can contact Pine-Sol at 1-855-378-4982 or email PineSolRecalls@inmar.com.
More information about the recall can be found on this dedicated recall website or on the Pine-Sol website by clicking on the "Recall Information" link in the orange banner at the top of the page.
According to CPSC , those with a receipt will receive a full refund of the purchase price, while those without a receipt will be refunded the MSRP. To avoid possible contamination, please leave recalled Pine-Sol products in their original packaging and dispose of with household waste.