You Can Also Fry a Whole Fish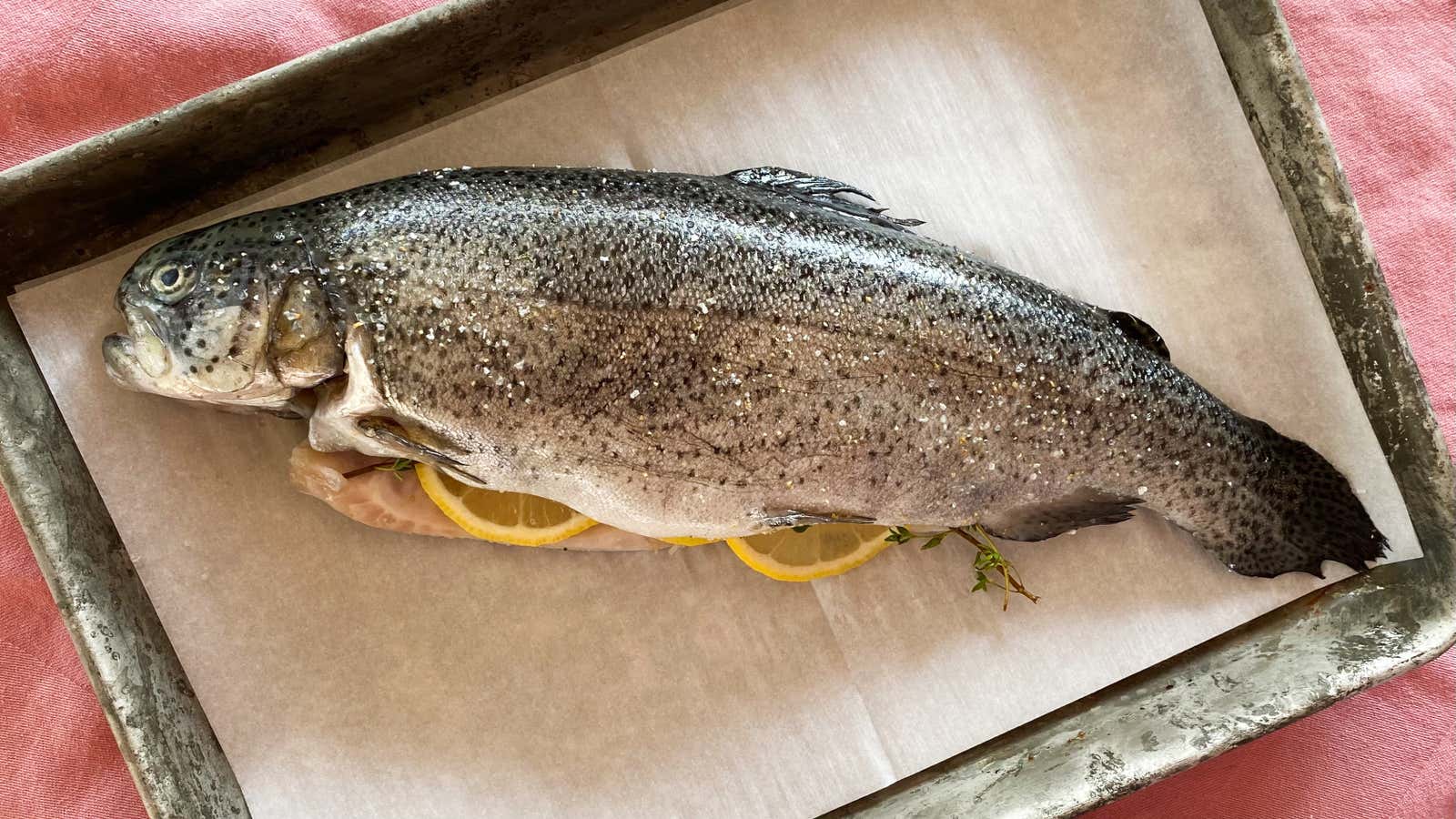 Fish has a reputation for being difficult to cook and I don't know why. With the exception of fried fish, which requires very hot vegetable oil, cooking a whole fish with the head is as easy as cooking a fillet. The only thing you have to worry about is that it will dry out, and with a little care this is unlikely, especially if you are using a meat thermometer.
How to choose and cook fish
Cooking delicious fish starts with choosing the right fish. Choose one with clear eyes. If possible, poke at it and smell it. The meat should bounce when pressed, and while it will smell like fish, it shouldn't stink. If you haven't caught the fish yourself, you don't need to gut or clean it. Ask the person who works at the fish counter if you are not sure about the condition of the fish you want to buy; they will be happy to clean or "dress" it for you (that's their job).
Once your fish is home, it's time to swim. I like to use a mild salt water brine, using a ratio Daniel Gritzer of Serious Eats learned from an omakase chef. It flavors the fish and prevents it from drying out. Dissolve some salt in a small amount of water, let the fish hang in it for about 10 minutes, then dry the fish and season again with a drop of olive oil and flavorings in the body cavity.
Then all you have to do is fry the thing. Some people cut the skin so the seasonings "penetrate the flesh better", but I've found that this can dry out the fish and I'd rather just add a little more salt with the meal than risk it.
How to quickly fry fish
Cook the fish in the oven at 400℉ until it shows 135℉ at its thickest point, or pierce it. If you feel the fish peeling under the skin, the dish is ready. (However, I prefer to use a thermometer, as it's more reliable than my sense of touch.) Let the scale guy rest for a few minutes, then serve with lemon wedges. The use should be simple – with proper preparation, the meat will be clearly separated from the bones.
Light baked fish in the oven
Ingredients:
1 whole fish
2 liters of water
3 tablespoons kosher salt (use half this amount if working with table salt)
Olive oil
lemon slices
Sprigs of fresh herbs (I love thyme)
Salt and pepper, or garlic salt (my favorite)
Dissolve 3 tablespoons of kosher salt in 2 liters of room temperature water in a large bowl. Place the fish in a bowl and let it hang for 10 minutes. Meanwhile, preheat the oven to 400℉. Drain the fish through a bowl and pat dry inside and out with paper towels. Drizzle with olive oil inside and out and rub it in. Season inside and out with salt and pepper (or garlic salt). Fill the cavity with 2-3 lemon slices and a few sprigs of fresh herbs.
Grill the fish for about 20 minutes, turning once, until the thickest part reads 135℉ on an instant read thermometer. Let stand for three minutes and serve with lemon wedges.