Relive the 90s With These Mac Web Emulators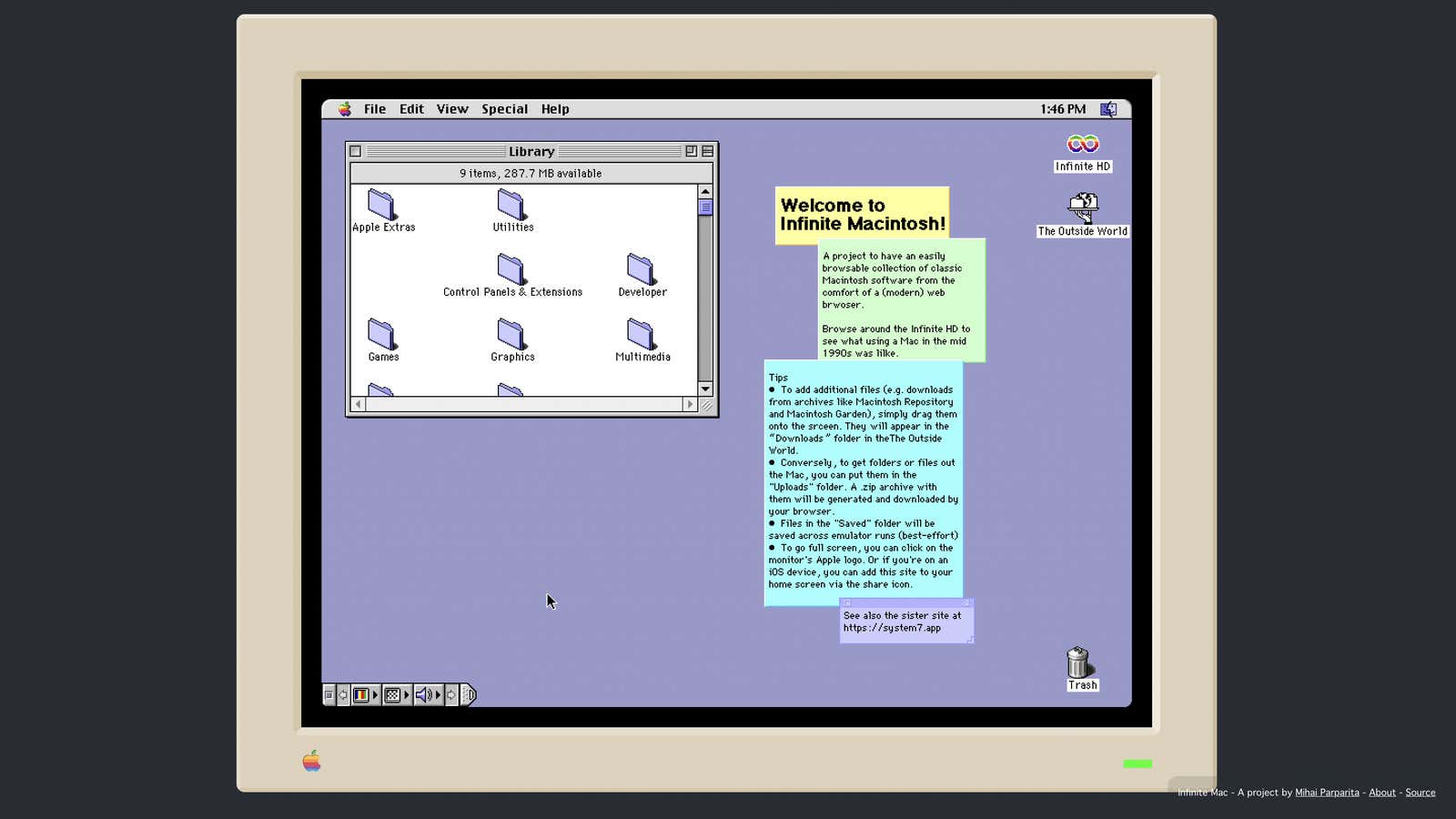 Back in the 90s, you needed to have powerful hardware to use an advanced operating system like, oh, Mac OS 8. Nowadays, you can run it all in a Chrome tab. It's easy to forget how far computers have come in a relatively short time. If you need a quick reminder, you can try running these two older versions of macOS in your browser.
Quip (not toothbrush) engineer Mihai Parparita created emulators for System 7 and Mac OS 8 , two legacy Mac systems from the 90s. System 7 was originally released in 1991 and introduced features such as QuickTime, personal file sharing, and virtual memory; Apple released Mac OS 8 in 1997, and with it came spring-loaded folders, Finder pop-ups, custom system fonts, themes, and the control strip, the forerunner of the dock we all know and love today.
For those familiar with the history of Mac emulation, this is certainly not the first time someone has given the opportunity to experience software like Mac OS 8 on modern hardware. You've been able to download emulators for a while – a few years ago we pointed you to Felix Rieseberg's variant, which offers a fun way to experience The Oregon Trail the way it was meant to be played.
However, what makes the two emulators we're talking about today so cool is that they run in your browser – no download required. This means that whether you're using Mac or PC, M1 or Intel, you can play around with System 7 or Mac OS 8 in a browser tab.
While just clicking on emulators is fun in itself – especially for those of us who remember using these OSes well in the past – Parparita also includes useful – and still functional – vintage apps. You can check out programs like Word, Photoshop, and Adobe Reader as they once were. Even better, because these emulators support importing and exporting files, you can actually use the programs to do practical tasks.
To move any emulator file to a real Mac, simply drag and drop it into the "Outside World" folder; this will send the file directly to your computer's Downloads folder. To send something from your computer to the emulator, drag it to the emulator window, where it will be saved to the "Outside World" folder.
That's not all: you can play on your Mac OS 8 emulator too – try out gems like Lemmings , KidPix , Prince of Persia , SimCity and of course The Oregon Trail . If there's one reason to check out these emulators, I'd say it's buffalo hunting and mourning fallen travelers.
However, nothing is perfect. Some programs may not work correctly, but this can be fixed using system settings. Others may give you errors every time you try them, for some unknown reason. But hey, it's a full fledged OS from the 90s running the web! Bugs aside, it's still pretty cool.
While the journey back to a simpler era of computing is fun and unforgettable, the experience is ephemeral: once you close the emulator tab, everything you've done is erased forever. The next time you open the emulator, even in the same browser, you will see a completely reset System 7 or Mac OS 8.
[ Mackworld ]