Stop Using These Recalled Pacifiers That Pose a Choking Hazard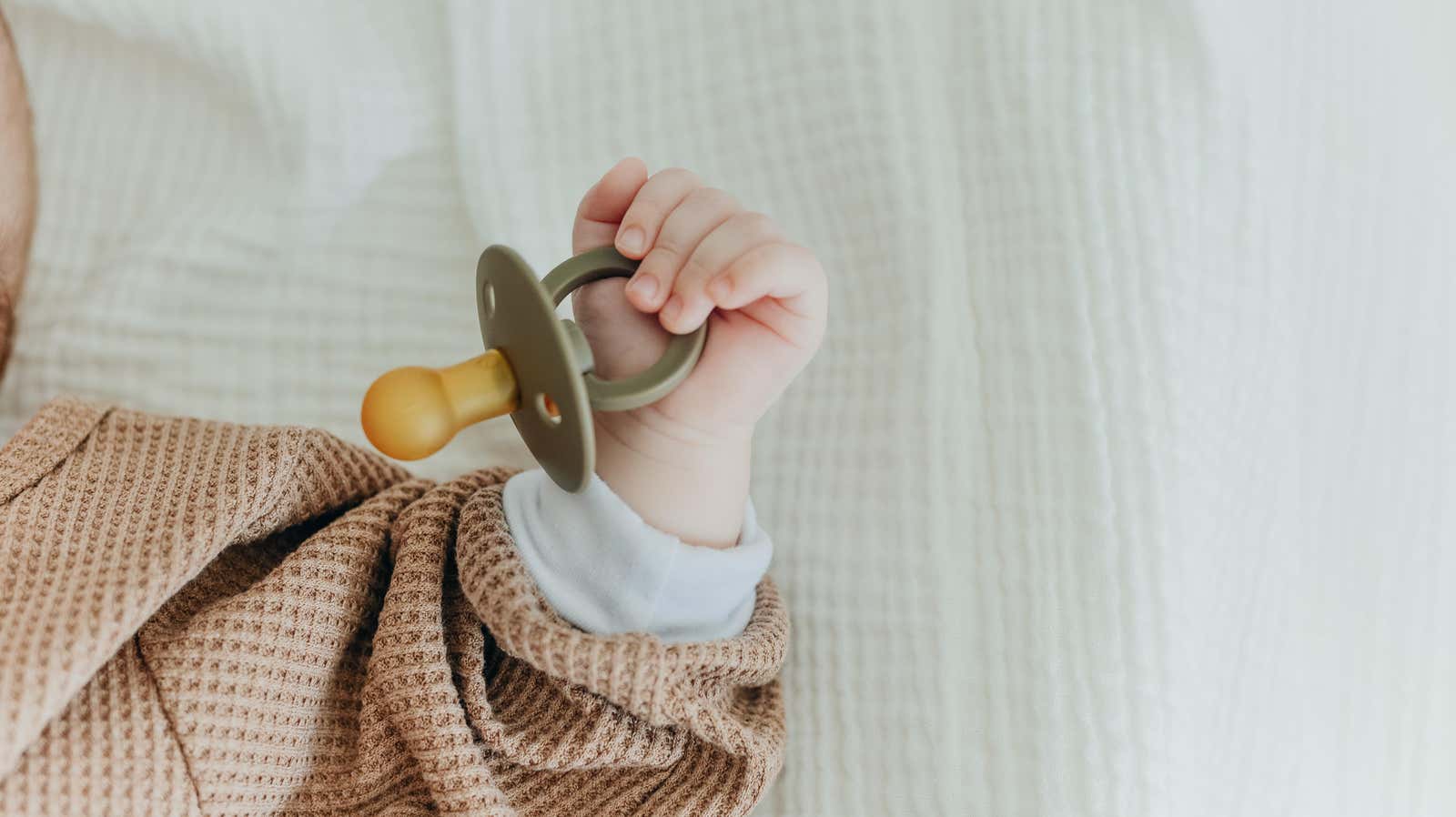 Whether they are called pacifiers, binks, dodies, or beacons in your home, their purpose is to soothe babies. But there is nothing soothing about a nipple that poses a potential danger to your baby. For this reason, Mushie & Co – a company that manufactures and sells a wide range of products for babies and young children – is recalling two of its most popular pacifiers because they pose a choking hazard, according to the Consumer Product Safety Commission (CPSC) . Here's what you need to know.
What pacifiers are being recalled?
Although Mushie & Co sells many FRIGG silicone pacifiers, only two models are being recalled: Classic and Daisy . Both products consist of silicone nipples attached to plastic shields with the name "FRIGG" written in raised letters on the handle. The Classic shield is round while the Daisy shield is round and scalloped. Each model is available in two sizes, 0 to 6 months and 6 to 18 months, and was sold in over 40 colors.
In addition to being sold on the Mushie & Co and Amazon website, the recalled pacifiers were also available at retailers across the country including SpearmintLOVE, TJ Maxx, Lil Tulips and Olivia & Jade Company from April to December 2021 . They cost about $8 for one pacifier and about $15 for a pack of two.
Why are pacifiers being recalled?
The Classic and Daisy pacifiers are being recalled because the base of their silicone pacifier has a thin slot that could cause the pacifier to separate from the plastic screen, creating a choking hazard. So far, Mushie & Co has received eight reports of this, as well as about 200 reports from outside the US about the separation of the silicone teat from the plastic screen (without a slot). According to Rospotrebnadzor , no casualties have been reported so far.
What to do if your pacifiers are recalled
First of all, keep them away from children. To receive a full refund or credit for any recalled pacifiers you have purchased, cut off the silicone pacifier from the base of the pacifier and take a photo of the detached silicone pacifier and the base of the pacifier. Then submit it to Mushie & Co via this webpage . CPSC advises anyone with pacifiers to dispose of them properly by throwing both pieces in the trash.