Best Warm Winter Cocktails That Are Not the Same As Old Hot Toddy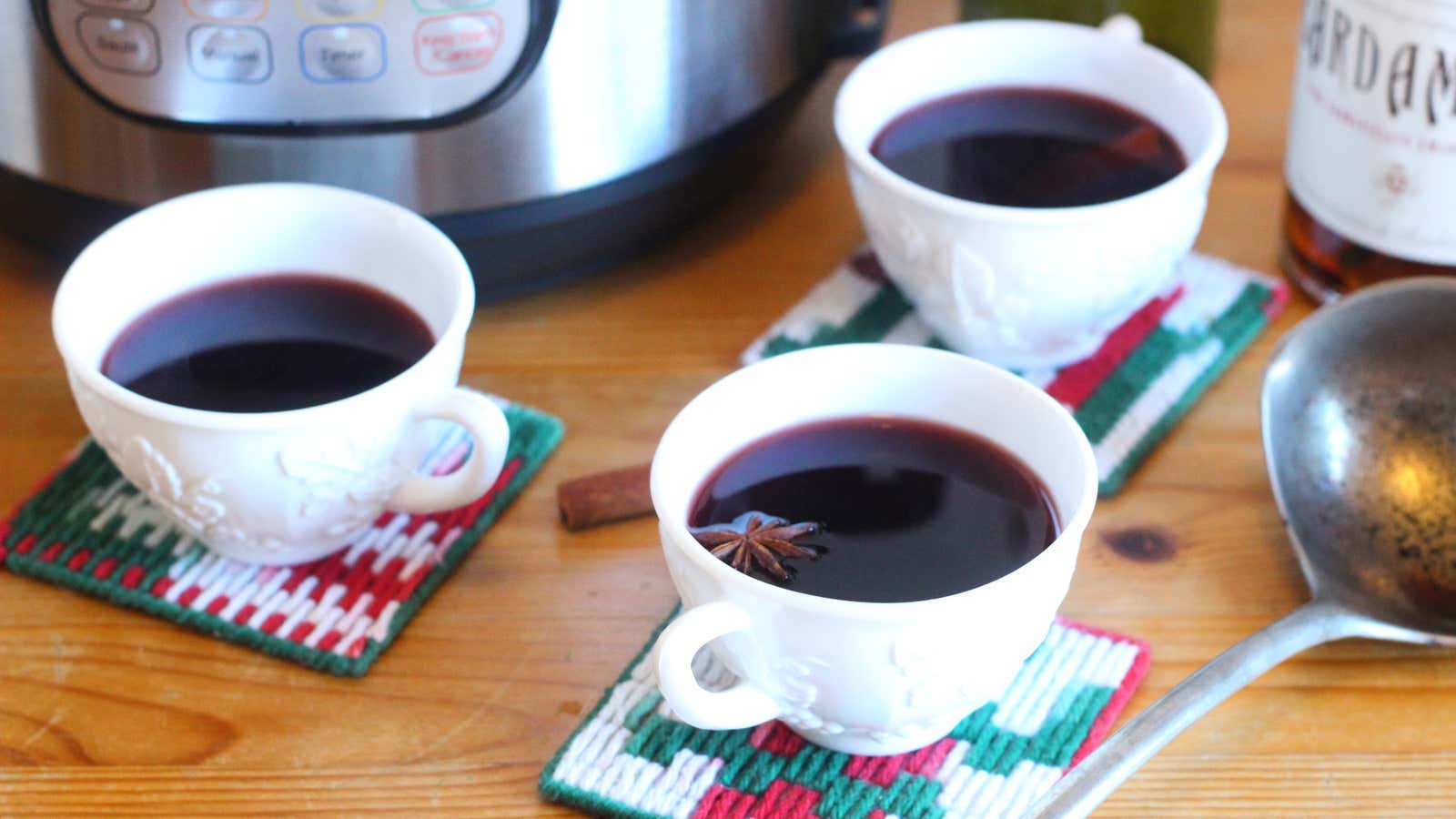 It is difficult for me to prepare warm cocktails. I have an overactive internal oven and hot ethanol tends to come off aggressively. (I even chill my mulled wine .) But at least once during the holiday season, when I'm sweet and nostalgic, I make a warming promise of toddy, mulled wine, or strong coffee, and I'm rarely disappointed.
Here are some of my favorite ways to drink hot alcohol. Toddy is made with gin, wine is glint in the microwave, and Wassail is by Trader Joe's (sorry to my British readers). Aside from real Irish coffee, these drinks are enjoyed by the lazy and are easy to mix without too many ingredients or too much work. (Because the holidays already demand so much of us.)
Real Irish coffee
You may have never tasted good Irish coffee. As Cyan Maher wrote on this topic on his blog for Lifehacker , "The quality of Irish coffee in restaurants and bars has been deteriorating for some time now. Basically, we are served cheap coffee and even cheaper whiskey topped with whipped cream. But there is art in Irish coffee. "
Fortunately, Cyan's grandfather was a very Irish bartender who grew up on the grounds of Dublin Castle and taught him how to make perfect Irish coffee. You can read his detailed guide here , but be warned: the cream is where it often fails.
Gene Toddy
Most everyone knows how to make a hot whiskey toddy, but did you know you can make it with gin too? The warmth unlocks the spirit, allowing you to taste the wide range of plant substances that a good gin has to offer.
The gin is so aromatic that tea is often unnecessary. A high quality dry gin is your best bet, as a more botanical, floral gin may contain compounds that turn tannic when exposed to heat. ( The Spruce Eats recommends Tanqueray and I agree.)
Making gin powder is simple: Mix 1 1/2 to 2 ounces of good quality dry gin with 3/4 ounce lemon juice (use Meyer's lemons if you have any), 1 teaspoon sugar and 2 ounces of hot water, or your favorite tea …
Chocolate cherry coffee
This combination of coffee, chocolate syrup and cherry liqueur is heady enough for a Christmas morning. Caffeine is energizing and liquor smoothes things out, but it doesn't contain enough ethanol to make you really splash.
All you need to do is add an ounce of high quality cherry liqueur (but not Luxardo – it's too almond) and a tablespoon of chocolate syrup to your cup of coffee. Stir and drink. It tastes like the best version of those cherry liqueurs we added to my grandmother's stocking every year.
Cheater's Winter Wassail
Wassailing is what the British call wandering through orchards, humming and sipping a cider-flavored punch called wassail. According to Wikipedia , "the goal of sailing is to wake up the cider trees and scare away evil spirits in order to harvest a good harvest of fruit in the fall." Often the king and queen are involved, and the queen hangs a piece of sail-soaked toast from a tree, although in some counties there will be a younger boy or 'Tom Titus' instead of a queen.
There are many recipes for making your own sailboat (and you can find them with a quick Internet search), but Trader Joe's sells bottled punch of questionable authenticity. It's pretty good when paired with bourbon or – according to the TJ moms on Facebook – vodka. Combine 1 part bourbon and 2 parts TJ's Winter Wassail, then gently heat in a saucepan. Serve with a strip of orange peel.
Instant mulled wine (or microwaved)
Mulled wine may be my favorite hot seasonal drink. The lower ABV means the ethanol is not as aggressively transported, it tastes good and is beautiful. However, it takes some boiling time to add all the seasonal flavor to the wine.
If you don't like a simmering saucepan, there are two ways to remove the drink from the stove: put it in the microwave or fix it in an instant saucepan. Both quickly take on the aroma of cheap red wine, which means you can start sipping earlier. For any method, I prefer to use the following.
1 750ml bottle or red wine (I like a cheap blend because why heat and flavor an expensive bottle of wine?)
2 cups apple juice
1 orange without peel and squeezed juice
2 cinnamon sticks
4 cloves
1 pod of star anise
1 green cardamom pod, lightly minced
1 cup cardamaro
2 tablespoons honey
Instant Pot Add wine and apple juice to the instant pot and remove the zest from the orange with a knife, being careful to shave off as little of the white core as possible. Poke the clove through a few strips of zest, then add the whole zest to the pot along with the juice of the same orange. Add star anise and cardamom and seal. Press the Manual or Pressure Cooking button and use the + and – buttons to set the time to zero minutes. After the cooking time has elapsed, press Cancel and allow the pressure to naturally release for 10 minutes, then manually release the remaining pressure. Press the Keep Warm button, which is also the Cancel button, add the liquor and honey and serve to friends in pretty mugs, garnished with cinnamon sticks (which would be quite expensive), citrus zest strips, etc., or freshly grated nutmeg …
Safety Note: You might be tempted to try adding other higher strength drinks to your Instant Pot. Do not do it. The heating element can generate a spark that will force the flame out of your favorite countertop pressure cooker.
In the microwave
Add wine and apple juice to a large microwave-safe bowl and remove the zest from the orange with a knife, being careful to remove as little of the white core as possible. Poke a clove through a few strips of zest, then add the whole zest to a bowl along with the juice of the same orange. Add star anise and cardamom and microwave over high heat until hot but simmer (about three minutes), then cover and let sit for about 15 minutes.
Add the cardamaro and honey, pour the wine into mugs and garnish with the usual ingredients (cinnamon sticks, citrus zest strips sprinkled with cloves, etc.).