What's New at Disney + November 2021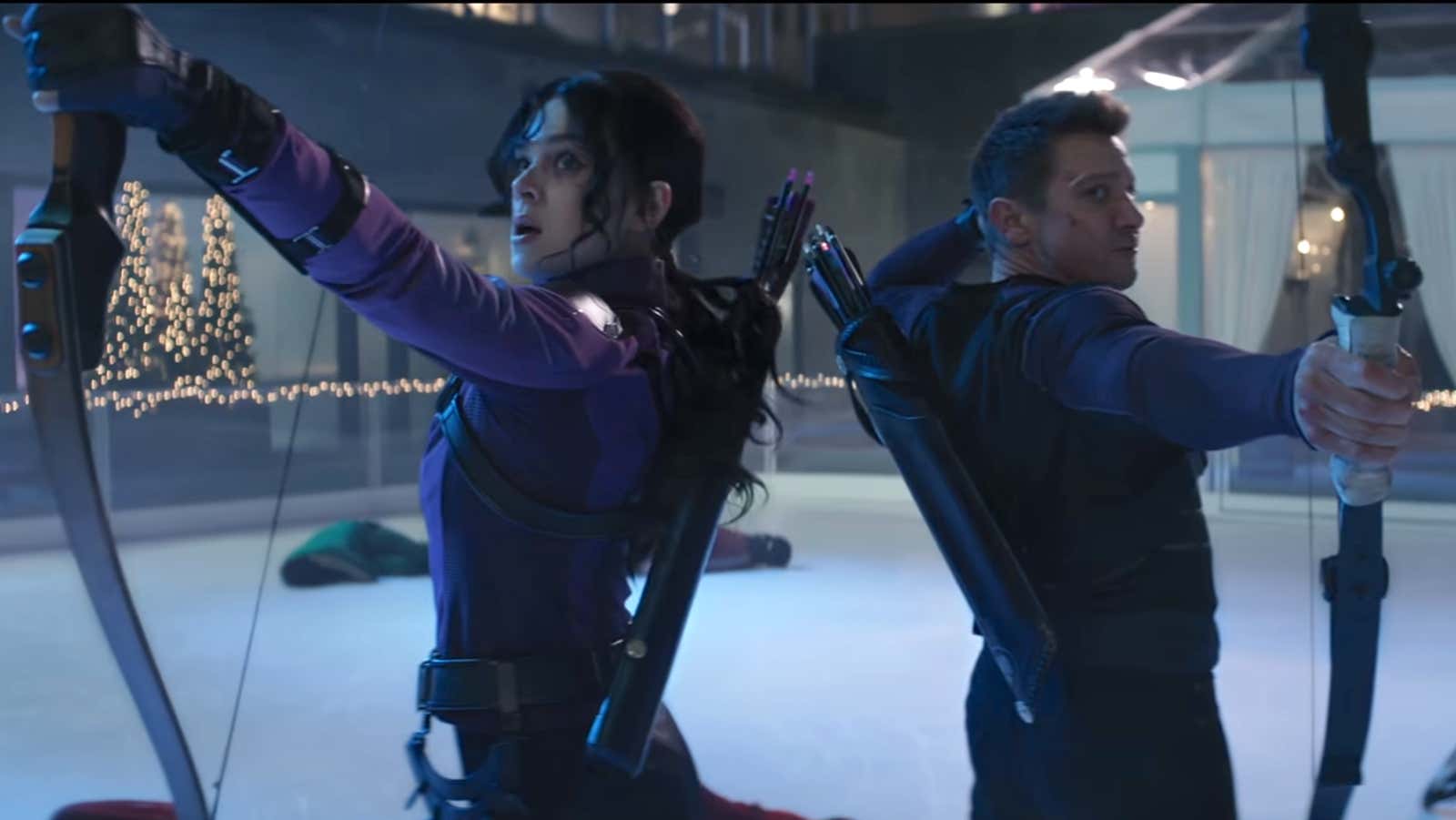 There is a lot to disagree with when it comes to the Marvel Cinematic Universe – I'm an apologist for Thor and Doctor Strange myself – but until recently it seemed like all fandoms could wholeheartedly agree on one thing: Hawkeye sucks, and it's definitely the worst Avenger. But then Disney had to go in and screw it up by releasing a trailer for Hawkeye , the next Disney + MCU spin-off, which will air its first episode on November 24.
Yes, Earth's Gloomiest Hero (Jeremy Renner, made famous on Jeremy Renner's app ) seems to have developed a sense of humor and real chemistry with his new protégé throwing arrows, played with something that looks like the irresistible charm of an Oscar-nominated Haley Steinfeld fan …
If you're not reading the comics (or if the headline font didn't make you understand), the series seems to draw heavily on the acclaimed release of Matt Fraction and David Aji , who delved into the day to day life of a superhero without super powers. If the show is half as satisfying (and surprisingly emotional), it will be unbeatable. Otherwise, Disney has scheduled a big month for its streaming service and will celebrate Disney Plus Day on November 12 by releasing a bunch of animated shorts (both new and old) on the service alongside a new Olaf series, a documentary on Boba Fett's legacy from Star Wars (which will serve as a handy marketing ploy for the December launch of Boba Fett's book , I'm sure), as well as the free streaming premiere of Shang Chi and Legends of the Ten Rings. Disney also wants to give you something meaty to digest over Thanksgiving weekend and throws all three parts of Peter Jackson's (yes, Peter Jackson from The Lord of the Rings ) movie The Beatles: Get Back , a documentary series about the band's performance recording … Let It Be is their last and here we probably all agree, the worst album – in three nights. Just when you thought there was nothing more to say about the most popular band of all time, Jackson arrives with yet another three-part epic, and to remind you that at least a little more, the Boomers are still holding onto strings in the hands. Hollywood.
That's all for Disney Plus in November.
New episode of Disney Plus series premiering weekly in November 2021
Dugi Kamealoha, M.D.
Hawkeye (TV series premiere November 24)
Movies and Complete Series / Seasons Coming to Disney Plus November 2021
the 3rd of November
Amphibian (S3, 5 episodes)
Dino Ranch (S1, 7 Episodes)
Photo Ark (S2)
Storm Rising (S1)
November 5
Alvin and the Chipmunks: The Shipwrecked
Ringing all the time
Jingle All The Way 2
Prep & Landing: Operation Secret Santa (Short)
Santa's friends
Finding Santa's Paw
Snow buddies
Space friends
X-Men: First Class
10th of November
Mickey Mouse Funhouse (S1, 7 Episodes)
12 november
Chao Alberto (Short) – Disney + Premiere
Entrelozados (S1) – Disney + TV Series Premiere
Feast (short)
Frozen Fever (short)
Get your horse! (Short)
Home honey, home alone
Jungle cruise
Olaf Presents (S1) – Disney + Premiere
Shang-Chi and the Legend of the Ten Rings
The all-new Simpsons short film
Paperman (short)
Tangled Ever After (Short)
Little match (short)
The Ballad of Nessie (short)
World According to Jeff Goldblum (S2, 5 Episodes) – Disney + TV Series Premiere
Tick ​​Tock Tale (Short)
Under the Helmet: The Legacy of Boba Fett – Disney + Premiere
17 november
Disney's Magic Bake-Off (S1, 3 episodes)
Life Below Zero: The Next Generation (S3)
Minnie Butterfly Cartoons: The Party Palace (S1, 4 episodes)
19 november
Christmas Dolls: Letters to Santa Claus
Adventure through the Walt Disney Archives
Puppy for Hanukkah
Pixar history
24 november
Become Cousteau
PJ Masks (S5, 3 episodes)
Alaska Port Defense (S4)
Puppy Dog Pals (S4, 2 episodes)
Zoo Secrets: Tampa (S2)
November 25
The Beatles: Get Back, Part On e – Disney + Documentary Premiere
November 26
Duck The Halls: Mickey Mouse Christmas Edition
Ernest Saves Christmas
Ice Age: Christmas with a Mammoth
The Beatles: Come Back, Part Two – Disney + Documentary Premiere
November 27
The Beatles: Get Back, Part 3 – Disney + Documentary Premiere
In an earlier version of this story, The Beatles' final album was called Get Back instead of Let It Be , probably because Peter Jackson's documentary is called Get Back, and also because it is the only good song on the album.