Turn 1/2 Liter Tomatoes Into No-Cook Pasta Sauce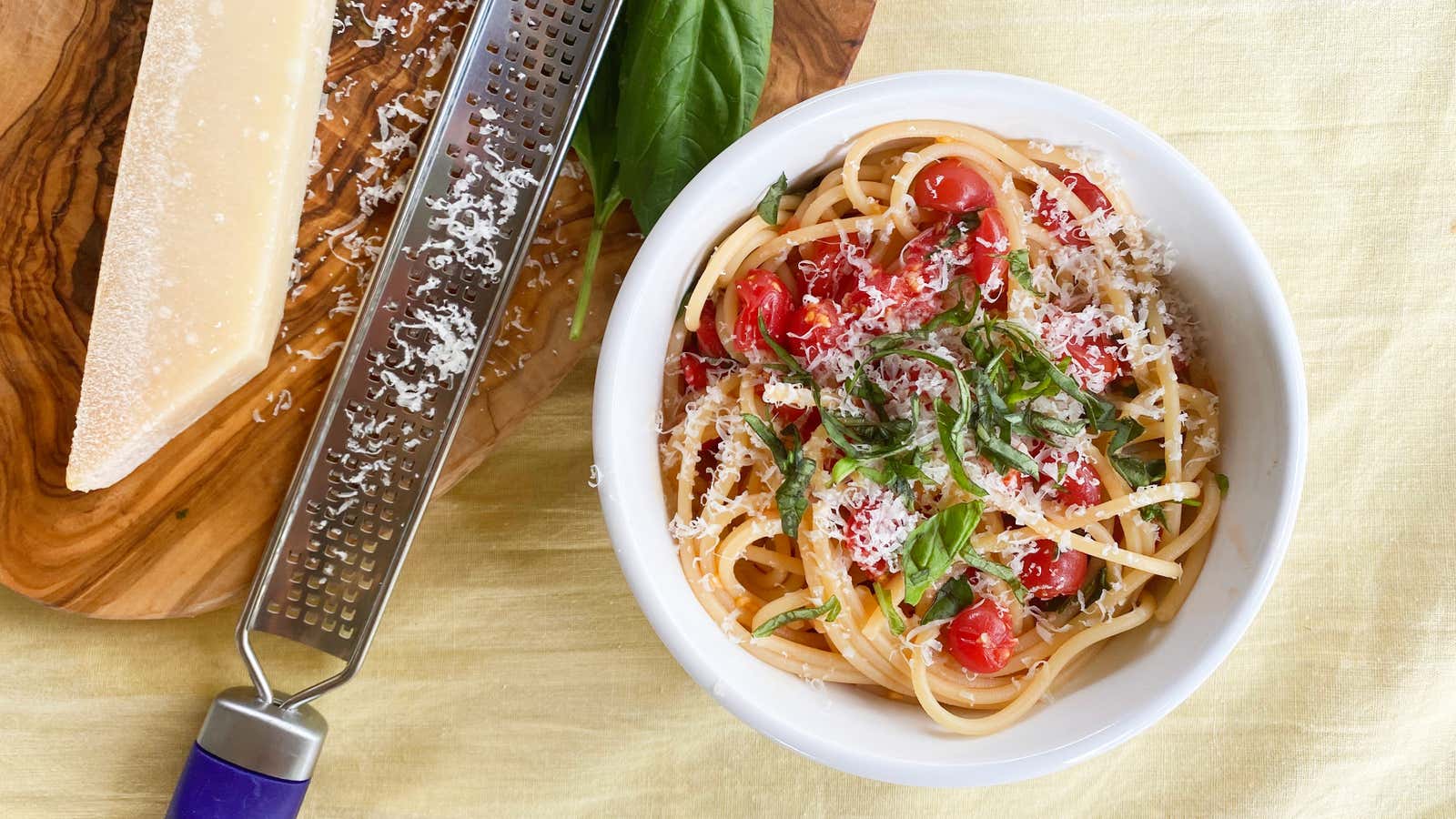 You've probably heard that the tomato season is almost over , although my own tomato plants don't seem to have received the note. I still have many green heirlooms still ripening on the vine and my cherry tomatoes are thriving. I took a pint of things last Saturday and I suspect I will get a couple more before the season is definitely over.
I love the little ruby ​​red balls in salads, on toast and all on their own without decorations, but sometimes all I need is a quick recipe that uses them all at once. It turns out that pasta is the perfect recipe for just such a recipe.
Just like Smitten Kitchen's squash butter spaghetti and my cucumber pasta sauce, Ina Garten's summer garden pasta helps me take advantage of my garden's bounty and also eat pasta. Everything Ina does wins!
Ina's recipe is very simple and uses four full liters of tomato, but requires a four hour marinating period (which admittedly makes for a pretty flavorful sauce). If you are the type of person who remembers to start marinating the sauce four hours before dinner, then by all means make the Queen Ina sauce. If you're a forgetful person who never plans a meal until you're almost starving, you can achieve this a little faster by kneading the tomatoes a little.
Your sauce will not be as complex as Ina sauce, but it will still be full of fresh and rich tomato flavor. Will there be seeds? Yes, because removing seeds from a tiny tomato is not only tedious but can seriously damage the flavor of your sauce . (Not only is all the umami flavor in the seed-containing gel, but I think the little bitterness that the seeds bring is nice.)
Anyway. Instead of letting the juices slowly flow out of the tomatoes while the pulp is soaked in the olive oil, we're going to force the juices to flow (with a wooden spoon). Then we'll add some salt, olive oil, basil and garlic and let them get to know each other as we cook the pasta. Ina uses angel hair, but any form of paste will work. You can also use any tomato in your garden – you may need to chop it up a bit into small pieces first. (Alternatively, you can use this recipe to bring summer flavor to your life all year round – cherry tomatoes always taste pretty decent.)
Uncooked tomato sauce (adapted from Ina Garten's Summer Garden pasta )
Ingredients (for two servings)
10 ounces (pint dry) tomatoes, left whole if tiny, but cut into small pieces if large
1/2 teaspoon fine salt
7 basil leaves decorated with chiffon
2 small or 1 large garlic clove, minced
A pinch or two flakes of red pepper
1 tablespoon olive oil
4-8 ounces of pasta (four will give you one bowl of heavily seasoned pasta, 8 for two lightly toasted servings. Scale to suit your needs).
Parmesan (or other hard grated cheese) for serving
instructions
Add the tomatoes and salt to a medium, non-reactive bowl and gently mash with a wooden spoon or a tomato chopper. Don't wash them, just knead them enough to break them up a bit. Add the rest of the ingredients (everything except the pasta) and stir.
Prepare pasta according to package directions, leaving some starchy water before draining. Once cooked and drained, add a splash or two of the remaining water to the sauce and stir to coat. Serve with cheese.