Windows 365 Doesn't Make Much Sense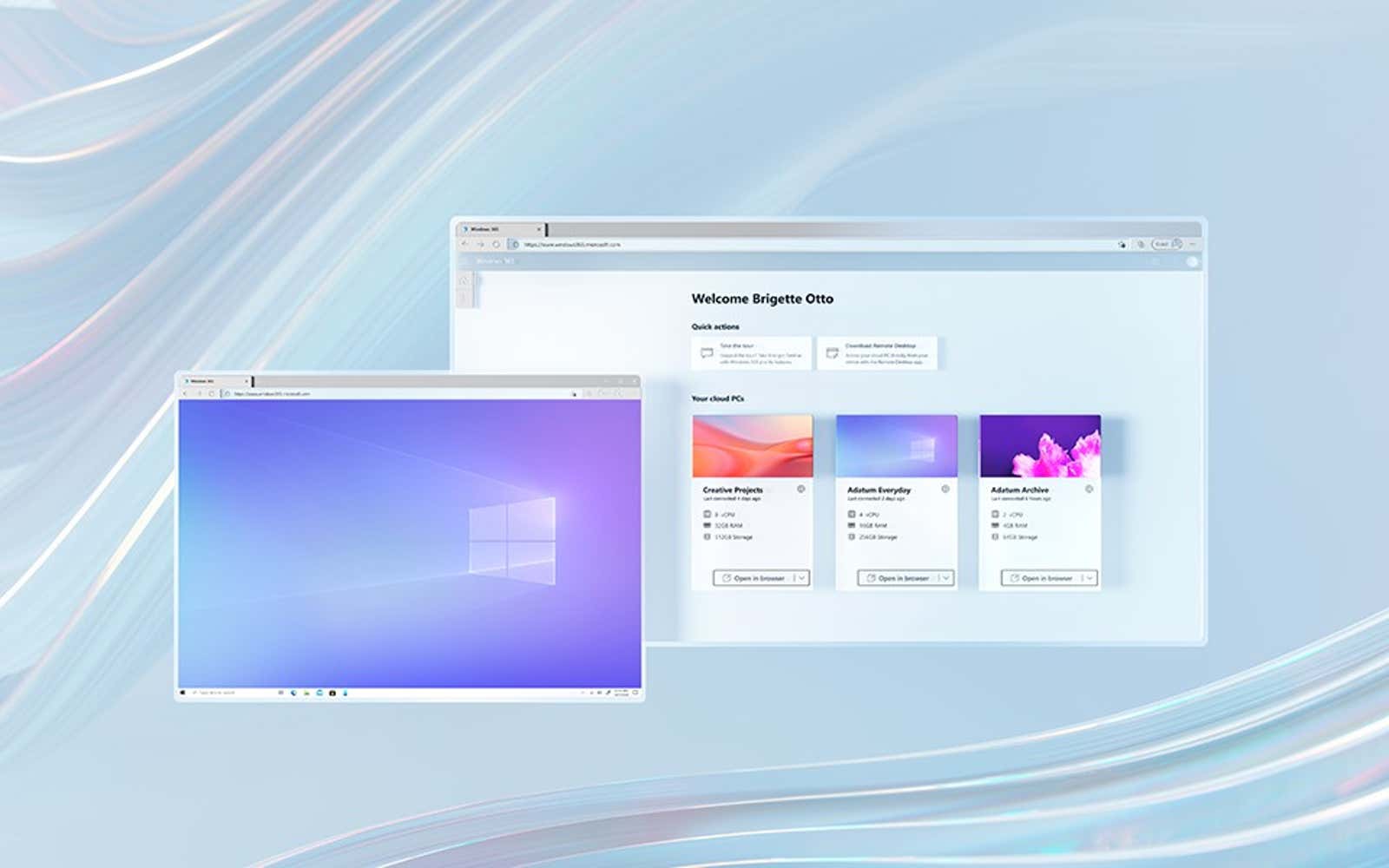 After Office and Xbox, Microsoft went ahead and put Windows in the cloud. With Windows 365, businesses will be able to stream to Windows devices directly from Microsoft servers like Netflix, but for your work computer.
Unlike a server farm, these will be separate instances of Windows computers running a unique and customizable set of applications and user data that can be streamed to any device (including phones and tablets). If your internet connection can stream a movie, it can stream Windows too.
What's in a Windows 365 Cloud PC?
WithWindows 365, businesses can create accounts for 300 users, each with their own Windows PC (Windows 10 for now and Windows 11 when it launches). Plans start at $ 24 per user / month ($ 20 if you have a Windows 10 license under the Windows Hybrid Benefit plan) for a single core vCPU, 2GB RAM, and 64GB storage. Dual-core vCPU plan with 4GB storage and 64GB storage starts at $ 32 per user per month.
And prices from there are rising rapidly. A top-of-the-line octa-core vCPU with 32GB of RAM and 512GB of storage will set you back $ 162 per user per month.
However, Windows 365 is a pretty unique service. While there are third-party services that allow Windows to run in their datacenters, none offer an integrated experience like Microsoft. Here, the account admin doesn't have to do much to set up a user with Windows 365 – all they need to do is go into the admin interface, create an instance, assign it to the user, and customize it to suit the business needs. and they are ready. Windows 365 will then do the hard work of installing and instantiating, updating software, installing OS updates, and fixing security issues.
While the $ 32 / month asking rate might seem like a lot, here's what a Windows 365 subscription gives you:
Software updates : Install software updates, including security patches, automatically and securely.
No Configuration : You don't need an entire IT team to configure, monitor, and update devices. Microsoft will do this for every instance in the background.
Really Fast Internet Connection : Internet connections in Microsoft data centers are really fast, reaching speeds of 10 Gbps . Things like file downloads and updates will happen instantly.
One state everywhere : Windows 365 will run in any browser, on any device. In addition, there are dedicated Microsoft Remote Desktop apps for iPhone, iPad, Android, Mac, and Windows. And no matter what device you access Windows 365 from, your computer will be in the same state, with the same data.
Easily Expandable : Windows 365 can scale to meet the needs of your business. You can start with a basic configuration, and as your needs change, you can increase RAM, core count, or storage.
Is it worth paying for a Windows 365 Cloud PC ?
This brings us to the question: Who is it for? This is not for consumers or independent professions. Microsoft only offers this service to business customers and enterprise customers, and even if you're talking about business users, there is a very narrow set of use cases that it would be ideal for.
First, the service only supports 300 users, so there are no large organizations. Ditto if the business wants to host / control its own Windows instance; in Windows 365, this is simply not possible. Ultimately, Windows 365 is designed for enterprises that value a seamless experience with little overhead above all else.
If you run a business with several dozen employees in a distributed team, but still want to manage Windows for all users yourself (without a large IT team), this might be a good idea for you. You can do without cheap laptops because now all Windows will be running in the cloud. That is, if you don't mind $ 30-40 per user per month.
Cheaper alternatives to Windows 365
The scenario described above is rather narrow – and even not entirely cost effective. If you take a three-year timeline, then the basic dual-core plan will cost you a total of $ 1,152 per user. You can get a decent mid-range laptop from Dell for, say, $ 500 (or less if you opt for refurbished l mode ).
If you really need to offer your employees remote desktop functionality, the AnyDesk subscription costs $ 9.99 / month per user. Need control over all experiences? A native Microsoft Azure virtual desktop will allow you to create and host your own Windows 10 cloud PCs. As with all business solutions, this can only be a matter of cost. Before making a decision, consider whether this option is right for you.