In Fact, It's Okay If Your Kids Don't Bathe As Often.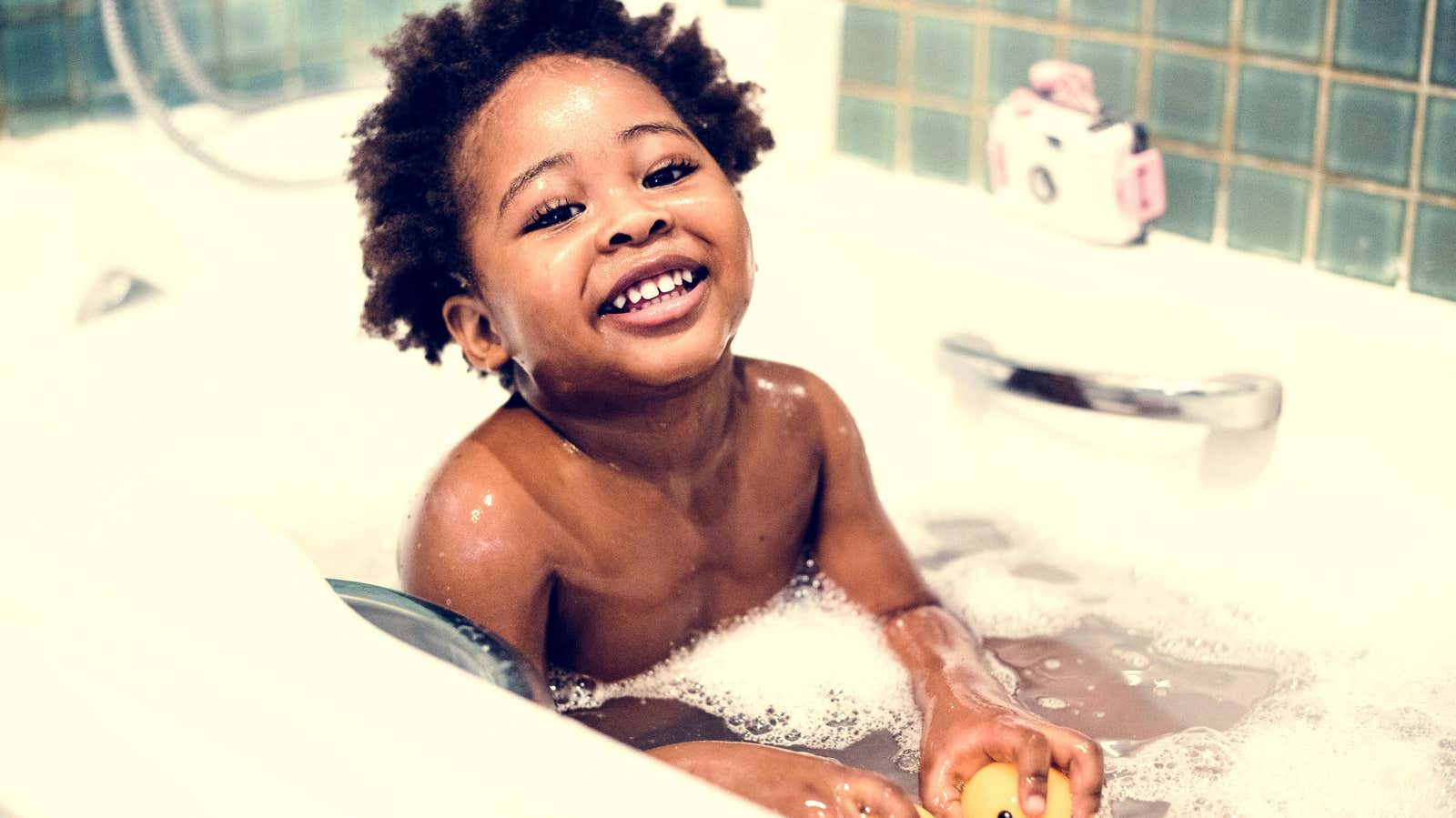 Ashton Kutcher and Mila Kunis made a splash yesterday over the news that splash is clearly not visible in their home. That is, they and their children do not bathe so often. They explained on the Armchair Expert podcast , as reported by CNN :
"I've never been the parent who bathed their newborns," Kunis said.

And now that they got older, Kutcher said they had a system.

"If you see dirt on them, clean them up," he said. "Otherwise, there is no point."

Kutcher said he washes his "armpits and crotch every day and nothing else" and has a tendency to "pour water on his face after training to get all the salt out."

Kunis said she washed her face twice a day.
Naturally, the admission sparked a steady stream of memes , but to be honest, kids don't need to be brushed that often. In fact, you are probably over -bathing them. Here's an age guide for bathing your kids if you want them to stay relatively clean without resorting to Kutcher-Kunis.
Babies
According to the American Academy of Pediatrics, three times a week for your baby's first year is likely to be sufficient. Bathing your baby in large quantities can dry out the skin. "Your baby doesn't need to bathe much if you wash the diaper area thoroughly during a diaper change," says the AAP. It is also good to "clean out" anything that is dirty. Pay special attention to the mouth area and all skin folds (we call this "the place where old milk dies").
Toddlers
At this age, it is okay to bathe your baby every night if it's part of your daily routine (some parents think bathing is a great remedy for tantrums ), but be careful not to overuse soap. If your child has dry and sensitive skin, dermatologist Scott Norton recommends washing with mild soap only once a week. On other days, you can simply soak them or rinse them in a warm regular water bath.
Age 6-11
The American Academy of Dermatology states that children of this age group need a bath:
At least once or twice a week.
When they get dirty, for example, they play in the mud.
After staying in a pool, lake, ocean or other body of water.
When they sweat or have body odor.
As directed by a dermatologist when treating a skin condition.
So, in general, use common sense. The academy also states that children between the ages of 6 and 11 usually need to shampoo their hair "once or twice a week before puberty." Although children with "dry, frizzy or African American hair only need to shampoo once every 7-10 days."
Teens and teens
After puberty begins, the American Academy of Dermatology recommends that children shower or bathe daily (and anytime after swimming or heavy sweating) and wash their face twice daily to remove grease and dirt.
This article was originally published on April 5, 2019 and was updated on July 28, 2021 to reflect the current Lifehacker style and timely information on Ashton Kutcher and Mila Kunis' bathing habits.