These Deep-Fried Eggs Are Half Soufflé and Half Frittata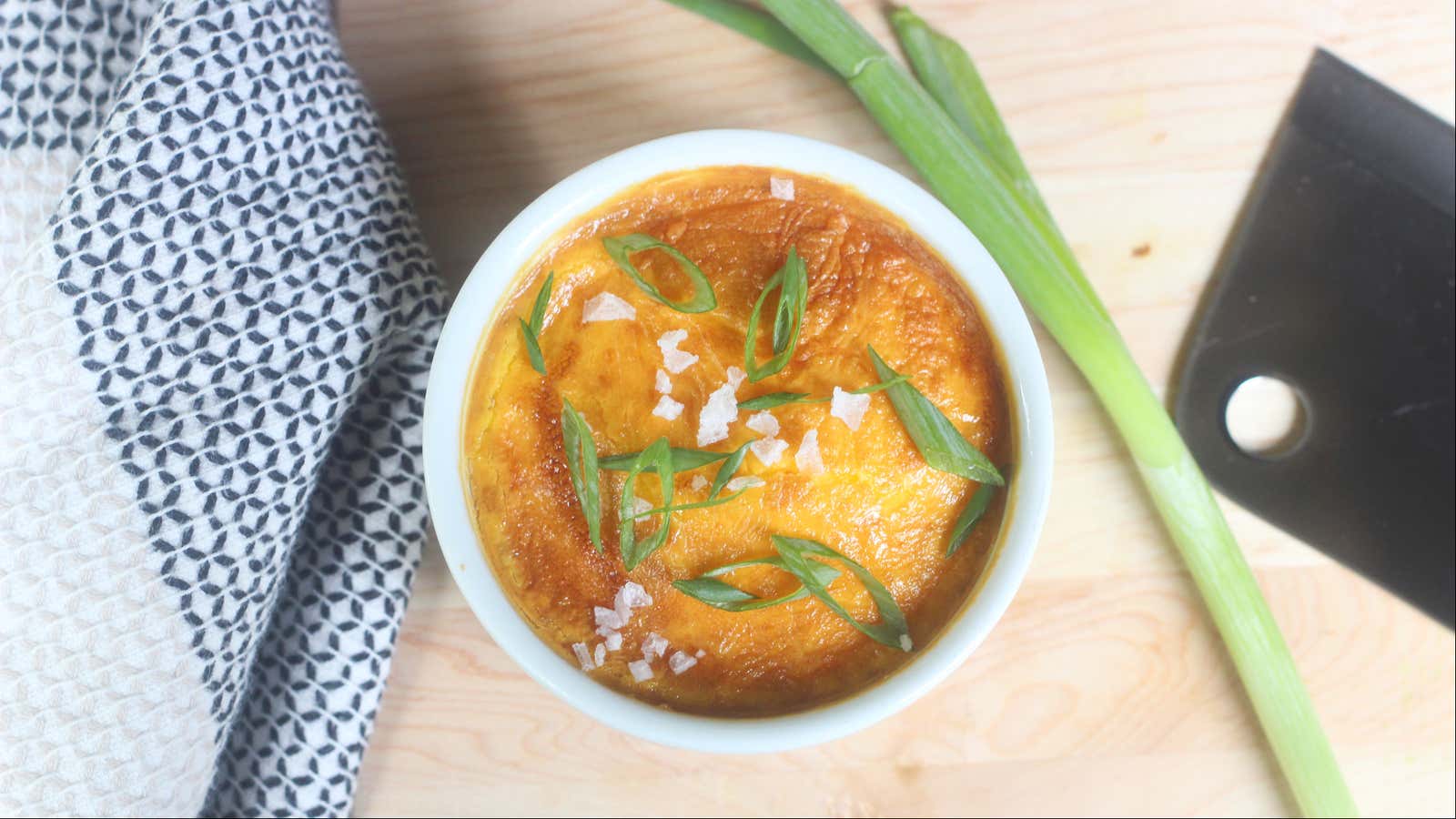 Eggs, fatty dairy products and roasts make a winning combination, especially when gently baked in a water bath. The inside somehow becomes both creamy and fluffy, and the top is tender or – if you grill it briefly under the brazier – highly polished. This is a simple enough maneuver to perform, but usually for the crowd; a single soufflé egg is a great breakfast, but not one that I'm willing to lay my entire oven on to make. You've probably guessed what I'm getting at. One of my favorite things about my deep fryer is its size. If you're in the habit of cooking for one – or even two – this allows you to make smaller portions of the dishes you'd normally cook in the oven, cutting down on your electricity bill and keeping your kitchen cool. This applies equally to fried garlic – which looks silly alone in a standard oven – and these tiny baked eggs. A water bath may seem unacceptable to a deep fat fryer, but you can pour water directly into the basket. (If you have a toaster-type deep fryer, simply place the dish on a small baking sheet or other shallow dish that can hold water.)
When cooked in a deep fat fryer, a mixture of eggs, halves and halves and salt creates a dish somewhere between soufflé and frittata. The insides are fluffy and tender, like the first, and the top is crispy, like the second. This is a simple, hearty breakfast. You can sprinkle a little cheese on top towards the end of cooking, or remove it from the mold, slice horizontally and place on a sandwich. To make it you will need:
2 eggs
2 tablespoons half and half
2 pinches of salt
Lubricating oil
Combine all ingredients except butter in a small bowl and whisk. (You can also pour everything into a jar or other sealed container and shake it .) Brush a 6-ounce mold with a little oil, then pour the egg mixture into the mold.
Preheat deep fat fryer to 300 ℉, then place the pan in the center of the basket (remove the baking sheet if present). Pour about two glasses of hot tap water into the insert – or enough to raise it about halfway up the mold. Cook for 30-35 minutes, until the middle hardens and the top is lightly browned.