I'm Food Journalist Alicia Kennedy and This Is How I Eat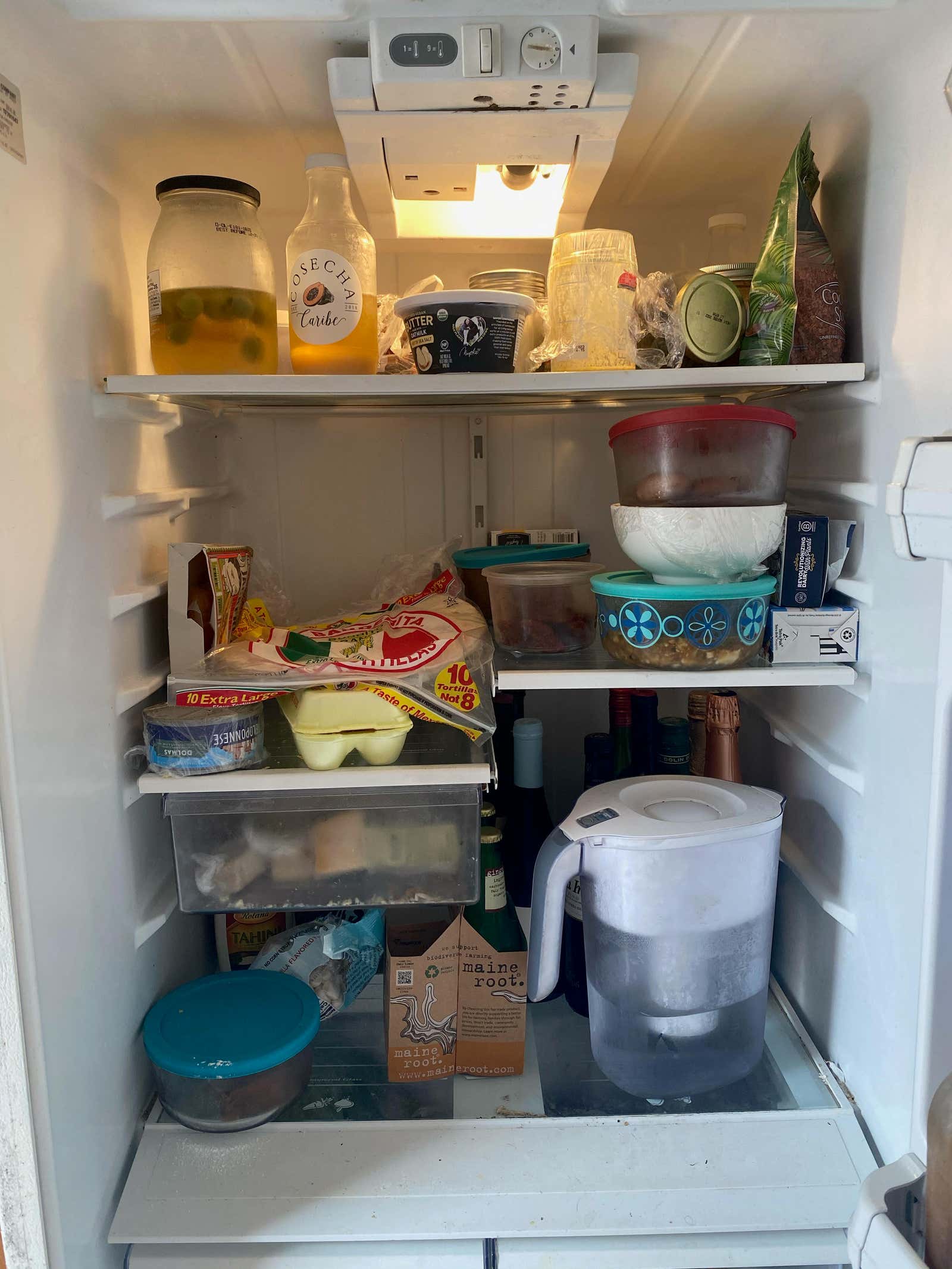 I've always had some awe of Alicia Kennedy. Her letters focus on the intersection of food, capitalism and ethics, and they are always thoughtful, beautifully written and informative – all without a hint of snobbery. She lives with her boyfriend and an egg-loving dog in San Juan, Puerto Rico, where she is working on a food book and also publishes thought-provoking weekly essays through her backdrop, From Alicia Kennedy's Desk . I'm a fan, that's what I say, and was happy when she agreed to chat about ethical chocolate, the horror of itchs and what makes a martini perfect.
Do you usually have breakfast?
If I'm on my own, I usually drink coffee until 11:00, and then I'll be very hungry and eat something. When I eat breakfast, I eat peanut butter oatmeal and whatever preserves we use. I use a lot of JAM right now , according to Daniel who is from Virginia. Peanut butter is usually Costco's natural peanut butter because it is affordable and comes in very large cans. I eat peanut butter every day. So, peanut butter and jelly with my oatmeal, sometimes bananas if I have bananas, and always with Burlap & Barrel royal cinnamon and a little Maldon's salt. Sometimes it's on sourdough toast instead of oatmeal if we have fresh sourdough.
How do you drink coffee?
Black. I drink a ton of coffee. I start each weekday with a cold Americano at the local Cuatro Estaciones coffee shop . This is the fuel I need for the whole day. But today I also drank a cold beer cup from the local cold beer producer by the name of Chubidubi . I drank a lot of coffee today.
You are vegan, huh?
I am mostly vegan. I am a vegetarian for a variety of reasons. But now it would be very difficult for me not to be a vegetarian. We looked at the menu at a local restaurant that said the avocado toast was vegan, but it had an egg and feta in it. And a vegetarian bagel, but with salmon. To be a vegan here [in Sun Haun] is to be a vegetarian. But I'd rather get my B12 from local lucky chicken egg or local lucky goat cheese than a vitamin.
Do you like any alternative milk?
I always have canned coconut milk at home for baking or cooking, and I always have unsweetened, unscented almond milk for baking. I have always preferred this milk for baking, but if available, I also use cashews. I have never consumed oat milk at all, because I don't drink milk. I have suffered from lactose intolerance almost my entire life, and all milk is disgusting to me. I really don't have anyone but to cook. I just bought a box of Costco almond milk. I don't know if this is the most sustainable choice. This is probably not the case. It's almond milk in my cakes and cookies, coconut milk in curry and the like. I make cashew cream to do everything heavy cream can do. It has the correct fat content.
Do you usually have lunch?
I always eat lunch. Or it's the remains – today I ate the leftover vegetable dumplings while standing in the kitchen and then added a couple of passionfruit. But most of the time, I make either the fancy avocado toast if I have the avocado, or the tomato toast. Sometimes I eat salad in the afternoon. This is usually a small, heavy lunch. When I lived in New York, I usually ate heavy meals because it helped me break up my day. I would go out alone for a drink, a hearty lunch, and then return to work.
Can you describe avocado toast and tomato toast?
It depends on what I have. We were at Airbnb on Culebra this weekend and there was a real toaster. I haven't had a toaster for a long time, and then I came back today and made toast for breakfast, and I thought, "Maybe we should have a toaster." I usually fry it in cast iron with a little olive oil and then either flip it over with my fingers and burn myself, or flip it with a bread knife, which is not a good strategy. Local avocados are similar to the Caribbean ones, so they have a little more water than Hass avocados. It still works. If I have a pickled red onion, I'll put it on top, and a Calabrian chili, which I keep buying because Marshall has a lot of it – cans of Calabrian peppers in oil. I'll put them on. If there is cilantro, I'll put it on. I love adding lemon zest to literally everything, so I always try to add a little lemon zest or lime zest, depending on what kind of citrus it is. Always Maldonian salt and smoked paprika, if I'm in the mood, sometimes za'atar. I have jars for an industrial restaurant and both – zaatar and smoked paprika, and also cinnamon, because I use them so often that it made no sense to buy a regular-sized jar. And tomato toast, which I haven't eaten for a long time, is the same system that toasts bread in cast iron, then I grate a tomato, and then this is olive oil, Maldon salt, maybe chili. , and whatever grasses or green plants are around that it makes sense to put on top.
What do you usually do for dinner?
We've been ordering a little more lately and it was fun. We've just worked so hard that at the end of the day it's really scary – we take the dog to the dog park for an hour and then we come home and cook dinner. Sometimes there is not enough energy for this. We order Thai food at a place called Mai Pen Rai , or we order bao or something from my friend Pax, who works as a chef at a place called Jungle Bird . This is our favorite takeaway food. It's very Asian. Yesterday we had dumplings and veggie lo mein from a 24/7 dumplings establishment which is in a hotel-like area but has the best Chinese food in my opinion. It used to be a place we only went to after drinking all night, but now it looks like, you know what? It is very good. You don't have to be drunk to eat it.
But I usually make tacos with black beans and potatoes or black beans and eggplant. Sometimes I make cashew and cilantro cream, and almost always I have pickled red onions. Lately, instead of making a real pickled cucumber, I've only made escabeche with lime and salt, and it turned out to be much easier. I don't know why I measured vinegar and everything to make pickled red onions. Like, what's the point? Lime works much better.
At the beginning of the quarantine, we had big Middle Eastern feasts once a week, making pita bread from scratch, making falafel, making hummus, maybe making baba ghanoush. It was really fun, but very time consuming. So there are more tacos lately. It was pasta. I always make Cento tomato sauce in a tin can. We buy them on pallets because I love them. We also did the tomato curry sauce that Tejal Roa posted in The New York Times because it's amazing. Her recipe is vegetarian, but I make it vegetarian with arrowroot instead of egg. I also need to add some aquafaba so it will stick a little better, but I haven't tried it yet. There are a lot of tacos, curries, pasta – very simple food. But I try to touch it up a bit with good spices and good ingredients.
Can we take a look at your refrigerator?
Uh-huh, that's a mess!
Does your partner also cook?
He never cooked before the pandemic, and now he is engaged in bread. Now he's a bread guy. Focaccia, or pita bread, or flatbread, or naan, is his work. He is also the Director of Drinks because he previously worked as a bartender and was involved in sommelier research. It's a complementary relationship.
Could you tell me a little more about your spice collection?
It's all from burlap and barrel . Like Burlap & Barrel sponsors me. I have a giant Burlap & Barrel royal cinnamon the size of the service industry, smoky peppers, and wild za'atar. These are my favorite people. I also use a lot of Maldon salt and a lot of Diamond Kosher salt.
I use a lot of Costco Spanish Extra Virgin Olive Oil. They recently had this amazing unfiltered olive oil at a very cheap price. And of course, as a semi-vegan, I prefer nutritional yeast. I really don't eat cheese, so it adds the spice that is sometimes necessary. I need to buy more of their wild mountain cumin; I add cumin to all of my beans. And on fruits – mangoes and pineapples – I always use Burlap & Barrel's red jalapeno flakes. They are perfect. I use red pepper flakes all the time, but only cheap. I feel like people always expect me to use the best available. I don't have much money. Costco's Chopped Red Peppers are a great choice. I put it on everything too. If you eat pizza, you need them. If you eat pasta, you need it. I prefer spicy food.
I love how many Costco reviews were given in this interview.
Costco is the best option. I only became an executive member because it was necessary. We get dog food there, so of course we get human food there as well. I also cook with lots of Native Forest canned jackfruit. People ask me, "Oh, where do you get this local Puerto Rican jackfruit?" And I'm like, "No. This is a product from Southeast Asia. It's not here. "But the Home Forest canned jackfruit is really good. Can't wait to know it's harvested by enslaved monkeys or anything like that. I'm sure it will happen someday.
This is one of the difficulties in food – dealing with the ever-changing ethics of its consumption.
I talked about this with my friend today. She is a professor of anthropology at Harvard and she founded the Fine Cocoa and Chocolate Institute. I thought, "How do you decide which chocolate to buy? For many it is very difficult. " And she said, "Well, first of all, it's not their fault." The industry and the food system are built in such a way that people cannot think about these things, and all this is very incomprehensible and incomprehensible, where these things came from, how they were obtained, what were the working conditions, etc. So for me – when I I buy Native Forest jackfruit in a tin, I'm like, "Okay, it's vegan, it's organic." They have all the labels right on the cans. But you will never know unless you go to the food source.
I'm going to watch a British documentary called TheDirty Secrets of American Food . The UK is very concerned that because of Brexit, they will suddenly get all this American food with all this nonsense that the EU does not allow to eat. The US government does not protect anyone from unhealthy food. This places too much responsibility on the person at the end of the chain. Nobody wants to think about it all the time. I think about it all the time because it's my job and because I love to eat. Most people just want to eat something. It's disgusting how these politicians take advantage of this and make it so that cheap food is often over-processed and contains additives that people probably shouldn't eat. The fact that people in the United Kingdom are afraid of getting food from the United States seems so awful.
Let's go back slightly to chocolate. Do you have a favorite brand of chocolate?
Raaka chocolate is my absolute favorite. They are super transparent. Everything they do is vegan. They make my favorite chocolate bar on the planet – coconut milk chocolate bar. They don't call it raw. They call it "unroasted". It is fermented and then not fried. They just turn it into chocolate. Many years ago I wrote an entire article on why they don't use this word. In fact, this is very misleading, and it is impossible to know if the chocolate has accelerated more than 180 degrees – which gets rid of the "raw" label – during fermentation.
Another favorite is Lagusta's Luscious from New Finger, NY, and they ship all over the US. They have vegan chocolate manufacturers, adhering to the principles of fair trade, as well as anarchist feminists. [In] Puerto Rico I was able to buy chocolate from Sandra Farms , which is grown here, and this is what I have been using for making chocolate ganache and baking lately. The cocoa that is grown here turns into chocolate, has a very nice, bright, lemon flavor, but I don't think it's available anywhere else.
What do you like to bake with chocolate?
I do a lot of chocolate ganache, and I always did, but my boyfriend is a big chocolate man. If I make a cake, I bake a chocolate cake with a chocolate ganache on top. Because it's so humid here, I can't make a traditional buttercream. It just collapses. The next time I want to bake a cake, I'll just turn on the air conditioner in the bedroom and decorate it there. Chocolate ganache works with the climate. Coconut whipped cream too. I need to get a super cold coconut cream for it to work. I also make powdered sugar and compote from local fruits to decorate cakes. I know that there is a new book titled Snacking Cakes , and the last two years I also came to the cake. Unless it's someone's birthday or special occasion, this is a one-layer cake with a minimum of stuff on top.
Which kitchen utensils do you like the most and which do you think are not worthwhile?
I find that disposable tools are generally bad. I don't have a garlic press or anything else. I use a chef's knife and cutting board all the time. But there are other necessary things as well. We need a microplan for the citrus zest. I don't think you can really get around this. I think all my special tools are for citrus fruits. I have a Mexican lime juicer that I really like, it's silver and it always looks like it's about to fall apart, but it never happens. My favorite knives are from Opinel . It sounds like an advertisement, but they sent me a set of them and I am totally obsessed because they are the perfect weight and they have wooden handles, very nice and smooth. Especially the chef's knife is an eight-inch chef's knife, and it really is available to anyone who is into good things. And I still have a 12-inch Japanese chef's knife from Shun that I use for special occasions. It used to be my only chef's knife, and I don't know how I used this giant Japanese knife for years. My aunt bought it for me years ago. I never pay for a chef's knife. This is the moral of the story.
I really like my immersion blender. I use it for salad dressing. I use it to make cashew cream. I am a firm believer in the Dutch Staub stove compared to any other stove. I have a red one that hit the market and it kind of changed my life. I also have three cast iron Lodge pants. One is a deep 20 ", and the one I used the most is my oldest, a classic nine". And I have another nine inches and four inches deep, which is really good, especially for deep fat frying. These are my most essential things, obviously – a knife, citrus fruits, pots and pans. And I have a frying pan with copper outside and stainless steel inside, and this is my frying pan that I use to cook eggs for my dog. He loves eggs, but only if they are cooked in butter. If I make them in oil for him, he will get upset and want to spend a lot of time to eat them because he is not happy with my work.
Someone gave me an Instant Pot and I never used it. Left him in York. And I don't have a deep fryer because I believe that if you're going to fry something, just fry it. I have a zoodle creator, but it can be used for other things as well. I cooked itch for dinner one day and no one was happy. No more itching. I can use it to make curly fries. I have a flashlight, but it makes sense to me. I have a molinillo for making hot Mexican chocolate. I've never made Mexican hot chocolate, but just in case I take it with me wherever I go.
You drink martini, right?
Oh yeah.
Do you have a favorite ratio?
Normally I make 50/50 and half Dolin dry vermouth, half Beefeater gin and olives – as many olives as possible – also from Costco. The beefeater is always in the freezer, as is the stirrer, so it is always very, very cold. There are days when I want a traditional ratio martini because it has been a tough day. Then it's two parts gin for one part vermouth. Also, since the pandemic started, my boyfriend made me drink Tuxedo No. 4 , which is just a gin martini, but instead of dry vermouth, it's Fino Sherry. It is very cute. As for the booze, I just want it to be dry – dry to the bone.