A Beginner's Guide to Buying the Right Motorhome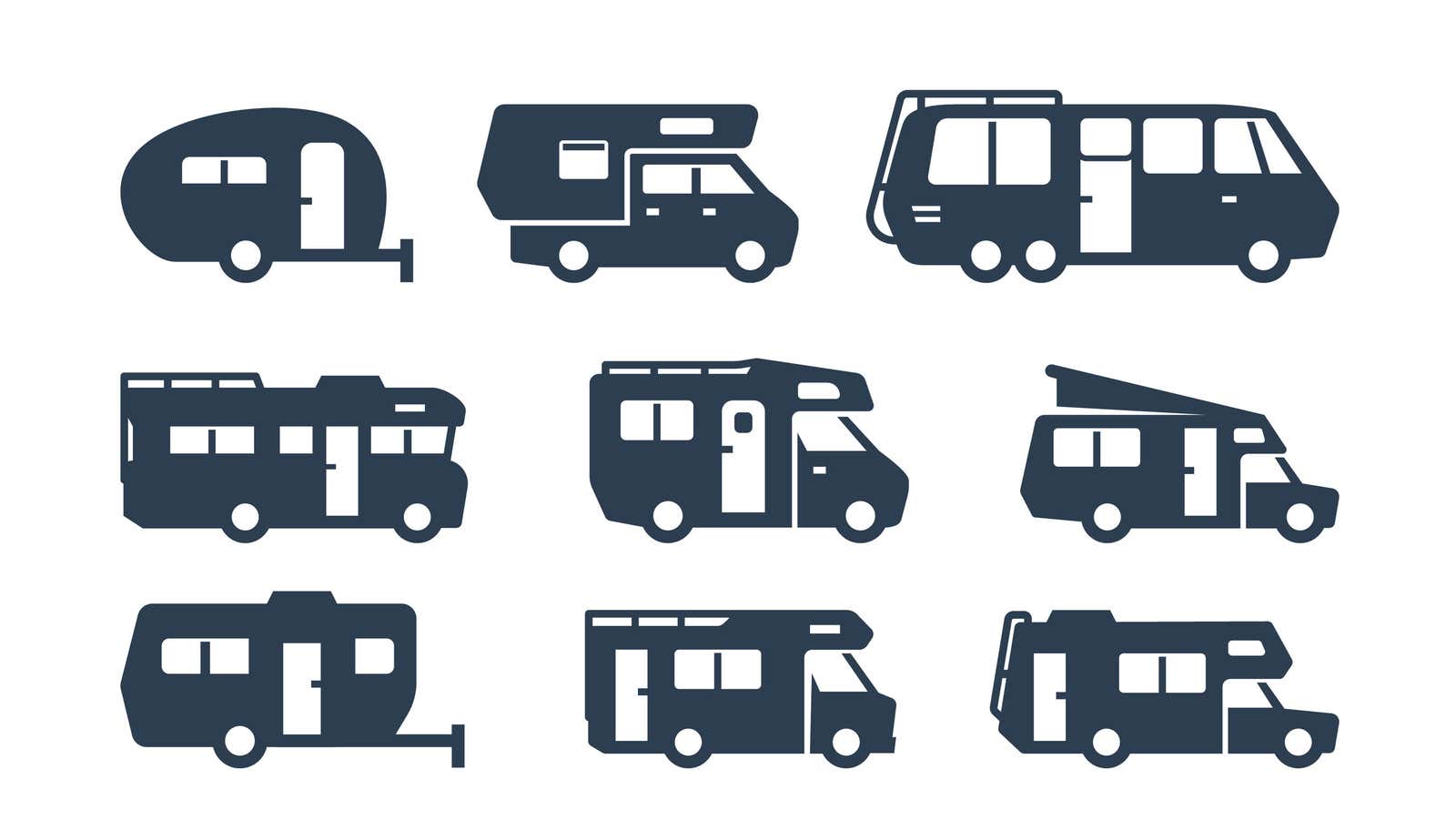 With planes and trains out of the way for many, RVs are making a comeback. And it's not just #vanlifers on Instagram: In June, The Strategist reported that dealerships were seeing a 170% increase in sales of recreational vehicles over the previous year.
If you are thinking of going to remote areas and living in a RV (or just using it for camping or road trips), you will want to know about the many options, from drip trailers to fully equipped bus-sized mobile homes.
First things first. There are three types of motorized RVs plus a whole category of towed vehicles:
Class A: The largest of the motorhomes, Class A vehicles are reminiscent of commercial buses. They typically have all the comforts of your real home, accommodate up to eight people, and are 21 to 45 feet long.
Class B: This is your camper or conversion van, the smallest type of mobile home. They have rollaway beds and basic amenities, can accommodate up to four people, and are 17-19 feet in length.
Class C: These mid-range RVs are simply scaled-down versions of the A-class. They are also equipped with most of the amenities, accommodate up to eight people and are 20-31 feet long.
Towed trailers: this category includes folding trailers, motor homes, travel trailers, motor homes and fifth wheels (which are installed in the back of a pickup). Obviously, you will need a vehicle capable of towing these trailers. Other options here include smaller teardrop and pop-up trailers for short weekend trips.
How much space do you need?
An important consideration when buying a campervan is how many people you need to sleep. If it's just you and your partner, you can enjoy Class A comfort, but you may not need it. If you plan to take kids, friends and their children with you, this extra space may be necessary.
Space also includes space for cooking, work and play. You'll get a lot of this in larger vehicles, not a fifth wheel or pop-up trailer. The constant life in a camper van is another reason to invest in more space.
Where are you going to go?
Not all mobile homes are suitable for all locations. Vehicle length restrictions in some national parks, on state roads, and over mountain passes may interfere with travel. For example, the Going to the Sun Road in Glacier National Park does not allow vehicles (or trucks with a trailer) longer than 21 feet. You may also encounter pass restrictions or parking problems in some areas. That shouldn't stop you from purchasing the size you want, but if you're not ready to buy, a smaller mobile home can give you more options.
What do you need to do on the road?
Some RVs are better configured for remote operation, such as with built-in desks and multiple outlets. Others have sumptuous kitchens for entertainment or serious home cooks. An Airstream or Sprinter van has aesthetic appeal. You will also want to consider if you will have access to external connections for water, electricity, and sewage, or if you need to be self-contained.
Are you a confident driver?
If you are not sure if there is a 20-40 foot bus or trailer behind your vehicle, a Class B van may be the right choice for you. Consider whether you will be driving in busy cities, whether you need to park in crowded places, and how you will often drive your camper van around town.
Do you have a tractor?
If you drive a sedan, towing devices are usually absent (with a few exceptions: the tiny Polydrop will work with just about any passenger car). Make sure your SUV or truck can handle the trailer size you're considering. And if you want a semitrailer tractor, you need a pickup truck.
How much do you want to spend?
This is one of the most important questions. When it comes to towed vehicles, you are looking at the cost of a new vehicle, although some may cost you more than $ 100,000. RVs can cost around $ 50,000- $ 80,000 in Class B and go up to $ 200,000-300,000 for the most luxurious Class A. Of course, prices vary greatly depending on whether you buy new or used.
Rent first
You don't have to make this decision without a few test drives. RVShare and Outdoorsy offer peer-to-peer rental of homes, camper vans and trailers – Airbnbs on Wheels. There are also regional campervan and van rental companies such as Trail Mix RV on the west coast and Mauterra in the mountain west.