What Is a COVID Passport?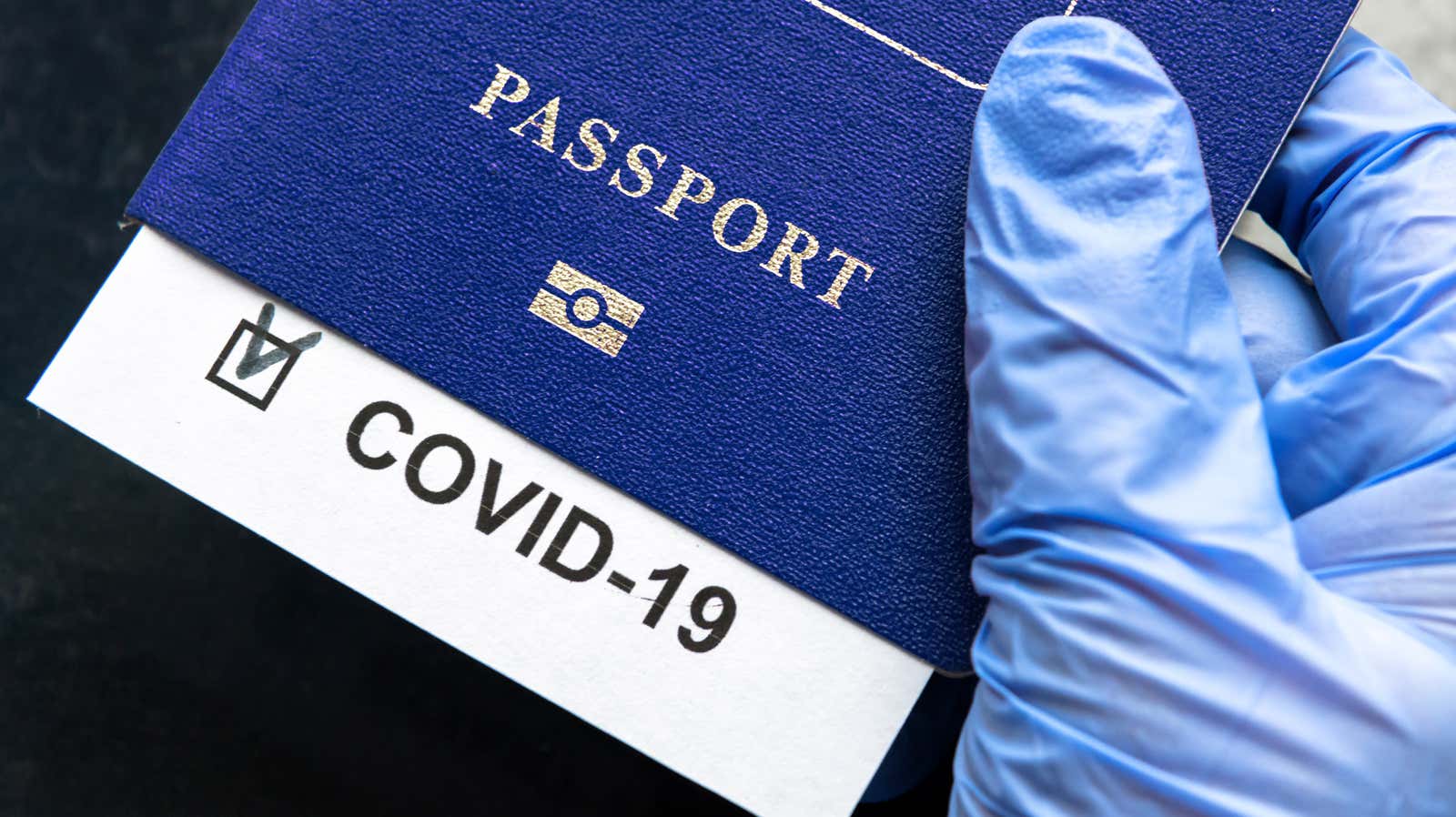 It will be some time before air travel is back to where it was before the COVID-19 pandemic. And after seven months of restrictions on international travel, many people are eagerly awaiting the opportunity to board an international flight. This isn't just for holidaymakers who have had to postpone their dream trip due to COVID – restrictions on international flights also pose challenges for those traveling on business or visiting family in another country.
Now, a new pilot program, giving passengers the ability to upload their COVID-related health data, is being tested by two major airlines as a way to potentially facilitate international travel during the pandemic. Here's what you need to know about so-called "COVID passports".
What are COVID passports?
Since April , there has been talk of using "immunity passports" for international travel. The original idea was to release some kind of documentation for people who have developed immunity to SARS-CoV-2, but as we learned more about the virus, it became apparent that it was not following a typical recovery trajectory. It is still unclear at this point if everyone who has had COVID-19 will get any type of immunity, and if so, how long it will last. There are also many legal and ethical issues associated with this type of system.
To be clear, the recently announced COVID passports take a different approach: instead of proving immunity, they function as a "digital health pass," where passengers can provide certified COVID-19 test results to border agents when they arrive elsewhere. countries, AFAR reports . They are called CommonPass and were developed by the Swiss non-profit organization Commons Project and the World Economic Forum. So far, the organization has presented its idea in at least 37 countries.
"Travel and tourism has been down across the board due to the COVID pandemic," Diana Sabatino, deputy executive director of field operations for the US Customs and Border Protection (CBP), told AFAR . "CBP wants to be part of the air travel confidence building solution, and we're excited to help the aviation industry and our federal partners [launch] a pilot like CommonPass."
Currently, United Airlines and Cathay Pacific Airways have begun testing CommonPass, offering it to passengers as an option on select flights between London and New York and between Hong Kong and Singapore.
How does CommonPass work?
In fact, this requires many steps and international cooperation. We'll let AFAR's Michelle Baran explain this :
Each participating country must decide two things: first, which COVID-19 tests and laboratory results are considered credible. For example, in the United States, the current standard required by states such as Hawaii is the PCR test (also known as the nasal swab test), performed by a laboratory certified by the Clinical Laboratory Improvement Amendment (CLIA).

Second, each government must define its own entry requirements. Once created, CommonPass creates a digital network with certified labs so that travelers' results can be uploaded to the platform. And when travelers arrive at their destination, they are presented with entry requirements that they must fulfill.

Once travelers take a COVID-19 test at a certified laboratory and upload the results to their mobile phone, they can complete any additional health questionnaires required by the destination country. CommonPass validates compliance and generates a QR code that airline employees and border guards can scan from a mobile or printed device.
Ongoing testing is a very important part of the process as it gives passengers, airlines and border agents a chance to see how they work from start to finish.
How do you know if CommonPass is right for you?
First, if you are not planning to fly one of the selected airlines of United Airlines or Cathay Pacific Airways, you should not think about it today, as we are not to the point where it is a standard. exercise. At the moment, participants in the trial run are not exempt from any government travel restrictions, such as mandatory quarantine. While this may change in the future, for now you will have to follow the same rules as everyone else.
"Without the ability to trust COVID-19 tests – and ultimately vaccine records – across international borders, many countries will feel compelled to maintain complete travel bans and mandatory quarantines as long as the pandemic persists," the doctor said. Bradley Perkins, former chief strategist. and the innovation officer of the US Centers for Disease Control and Prevention (CDC) told AFAR . Perkins, who is currently chief medical officer at the Commons Project, notes that having an international digital health information sharing platform like CommonPass could be key to opening borders.
Testing issues
At this stage, we are still a few steps away from making this a reality, with countries around the world agreeing on which COVID-19 tests and results are considered credible. It's also important to remember that right now, COVID tests only provide information for a specific snapshot of whether a person is infected with the virus. Turning over to Lifehacker Senior Health Editor Beth Skwarek, I'll explain:
A person can become infected with coronavirus and still get a negative result. This could be because they received a false negative result. Possible reasons include: the smear may not have found enough viral RNA, or it may be that the person is in a very early stage of infection when it is more difficult to detect. The FDA notes in a PCR testing fact sheet that "A negative result does not rule out COVID-19 and should not be used as the sole basis for treatment or patient management decisions. A negative result does not rule out the possibility of COVID-19. "
Using COVID tests as a vehicle to open international borders is a great deal of confidence that the process has not yet been improved.
Data problems
You may also be wondering what happens to all of your personal health information that CommonPass collects and stores. According to The Commons Project , their structure "will allow people to access their laboratory results and vaccination records, and consent to the use of that information to confirm their COVID status without disclosing any other underlying personal health information."
Passengers will be able to access their laboratory results and vaccination records through existing health data systems, national or local registries, or personal digital health records ( Apple Health for iOS, CommonHealth for Android). The Commons Project also claims that "Apple Health and CommonHealth allow people to safely and confidentially keep their medical records on their phones, completely under their control."
While it may take a while to deploy such a system, understanding how it should work is an important first step in deciding whether or not you should try CommonPass.