Decorate Your Tater Shepherd Pie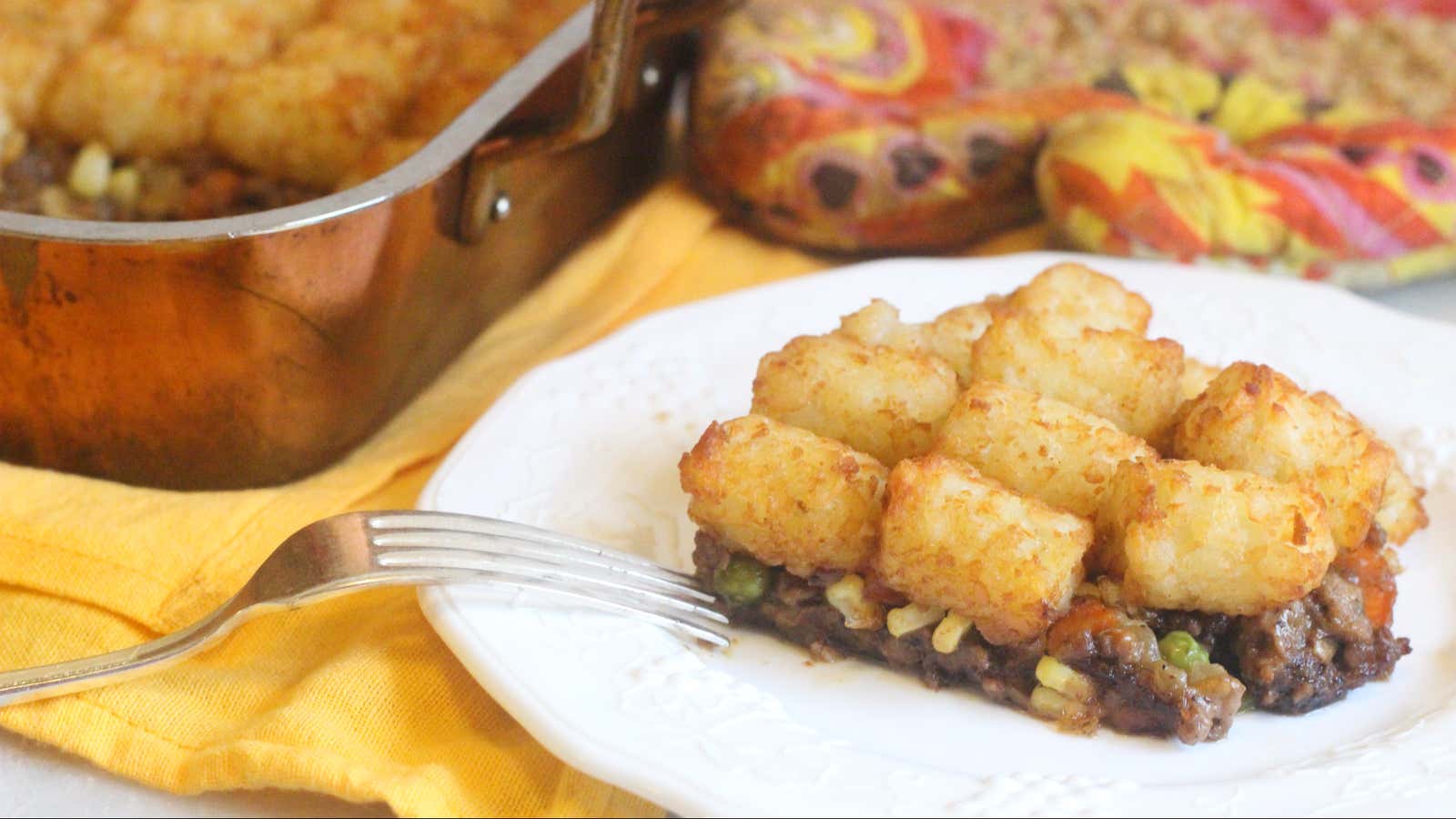 I am very glad that autumn has finally come. Not that I didn't like summer, but this summer was not my favorite. Staying inside to avoid dangerous air, dangerous fascists and potentially dangerous infected people sucks no matter the weather, but it's especially hard when the specified weather is perfect for sipping cocktails on the patio. (Season of the Leo has never been more disrespectful.)
But it's autumn now, and we're moving on. It's time for soups, stews, casseroles and carbs, and I'll start with shepherd's pie topped with potatoes. Why French fries instead of traditional mashed potatoes? It's easier, it has less dirty dishes, the burgers are crunchy than the mashed potatoes, and I love the way they look lined up like little potato soldiers.
If you have access to those smiling potatoes , that can be fun too. Any potato that is crispy on the outside and tender on the inside will do. It's all about creating a cozy bowl of minced meat drenched in sauce and lightly crispy potatoes. Since this is shepherd's pie, I used lamb as the filling, but you can use beef and make homemade pie instead. The third most important ingredient in this dish is whole burnt onions . Burnt – not caramelized – onions add flavor and do whatever it's mixed to thicken, and this ultra-sautéed onion note takes this casserole to a higher level.
In addition, we have the usual players: carrots, peas, (unburned) onions, corn and garlic. This is a homemade, hearty and fun dish that only stains your skillet and casserole. (Actually, if you used an oven-safe baking sheet, you could bake everything in it, but I really wanted to use my pretty baking dish.) Here's how to put it together:
Thater Pie That Shepherd's
Ingredients:
2 onions, diced
3 tablespoons canola oil or vegetable oil, divided into 2 and 1 tablespoon portions
1 cup sherry (or wine)
2 carrots, cut into thin coins (cut large coins into semicircles at the top)
5 garlic cloves, minced
1 1/2 pounds lamb
3/4 teaspoon salt
1/2 teaspoon white pepper
1 tablespoon tomato paste
1 teaspoon Worcestershire sauce
1 teaspoon Better Than Bouillon Mushroom Flavored or 2 Bouillon Cubes
2 tablespoons flour
3/4 cup fresh or frozen corn
3/4 cup frozen peas
1 bag of tater potatoes weighing 2 lbs (the whole bag cannot be used)
Heat 1 tablespoon oil in a large stainless steel skillet over medium to high heat. Once it starts to flicker, add the first onion and cook until browned (look here if you need a drawing). Transfer the seared onions to a blender, coat the pan with sherry, pour into a blender and let cool.
Heat the remaining oil in the same skillet, add the onions and carrots and cook until the onions are translucent and the carrots are soft but not mushy – about 6-9 minutes. Add the garlic and cook for a couple of minutes until you smell its delicious flavor. Add lamb, salt and pepper and cook until the lamb is no longer pink. (Go ahead and preheat the oven to 400 ℉ if you haven't already.)
While the lamb is cooking, combine the burnt onions and sherry with tomato paste, bouillon paste (or cubes) and Worcestershire sauce. Sprinkle the flour on the lamb, stir well, then pour the burnt onion sauce over the meat and stir to coat. Allow to cook for a couple of minutes, until the gravy is nice and thick, add the corn and peas, then transfer the filling to a baking dish. (Depending on the fat content of the lamb, you may notice a small amount of fat in the pan. If you notice any buildup of fat, simply use a fish spatula or other slotted tool to pull the meat and vegetables out of the pan; don't worry, the gravy will stick to the rest stuffing, leaving only fat.)
Place the frozen potato tortillas in neat small rows on top of the filling, then place in the oven for 30 minutes. It may take you a minute or two of frying to get golden eggs. Let cool for 10 minutes before serving, then enjoy.