How Do I Share My Hard Drive on My Home Network?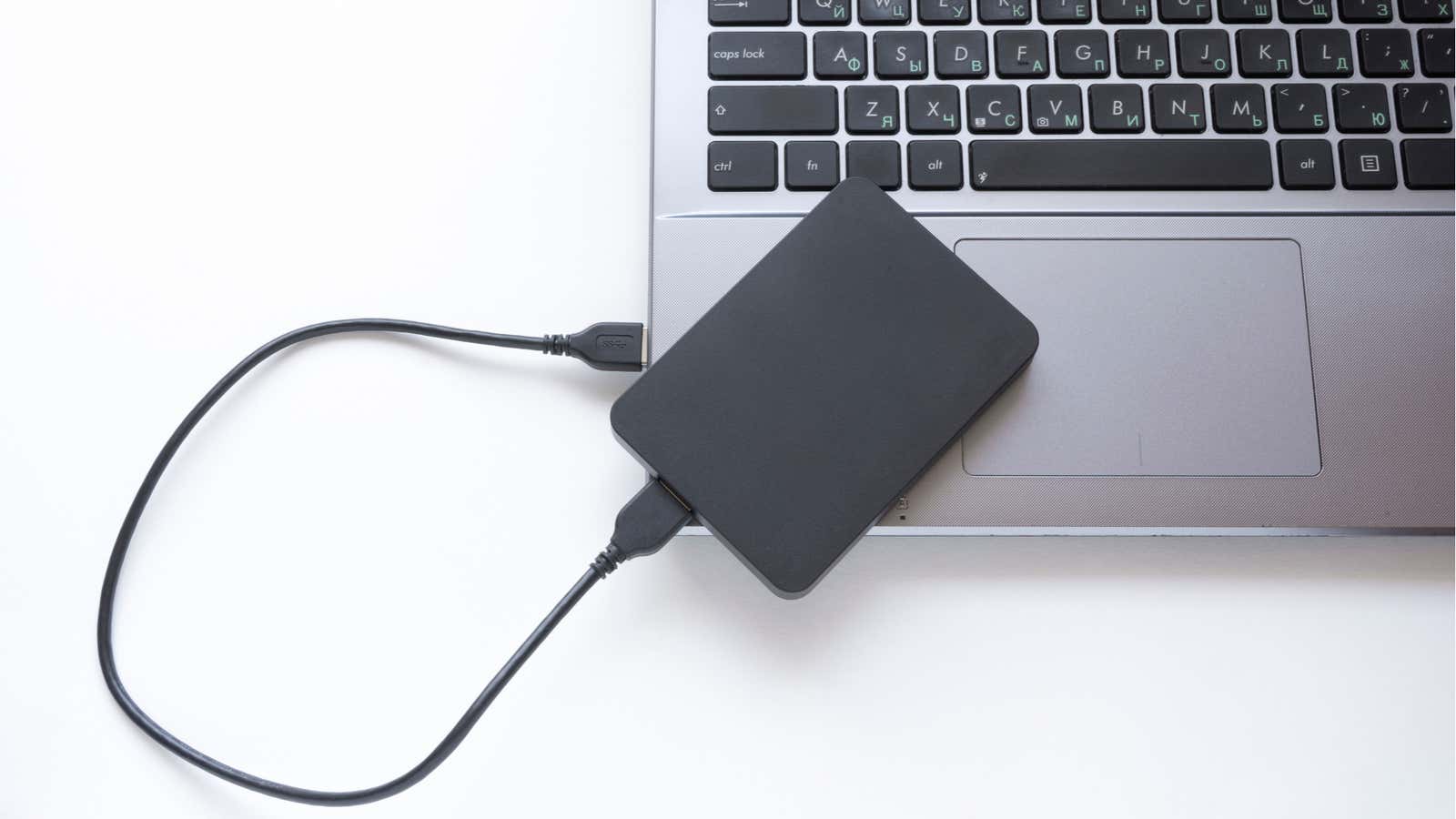 I will never blame anyone for asking a technical question that seems "basic" because we all had to start somewhere. Few of us have come out of the womb knowing how to access a network share in Windows, what a workgroup is, or how to map a network drive.
In this week's Tech 911 Q&A section, Lifehacker reader Matthew asks a relatively simple yet important question about home networking. Let's dig in:
"I'm interested in setting up a very simple home network — really just a shared hard drive that I can access from any of the computers in my house — but I don't know where to start.

Is it as easy as plugging an external hard drive into the USB port on the back of my router? It seems too simple. Or do I need a dedicated hard drive that connects via the Ethernet port? How can I configure it so that it "appears" on my devices? I would not expect it to be automatic, but I am not familiar with the configuration settings required for it to work. Do you need special software or are all the necessary tools built into Windows?

I really want to know more. "
How to set up disk and / or folder sharing in Windows
Matthew, I'm very glad you want to know more about the vast world of networking. I started my career in hard drive technology journalism and really had success writing guides on routers in Wirecutter . Your question touches on two of my big ones that are of interest, and I am happy to help you.
You have two main options for sharing your hard drive with other computers in your home. You can connect this hard drive to a desktop PC (internal or external) or to a laptop (probably external) and then share this hard drive to your network via Windows. Everything you need to do this is built right into Windows, and I'm happy to walk you through the process right now.
As an argument, and since I do not have a spare external enclosure, I am assuming that you have already connected this drive to your system in some way. You get the best performance if you go inside using one of your system's free SATA ports; an external case works best over a USB 3.0 or USB-C connection, and is much more portable, but probably won't work as well.
Now that you've done that, you may need to open the Windows Computer Control screen to assign a drive letter to your hard drive. (If you purchased an external hard drive that comes in a separate case, it is probably already initialized for you, and you should be able to find it right in File Explorer. If not, continue with these steps.)
Enter Computer Management in the Start menu and then click Disk Management under Storage on the screen that appears:
Find your drive at the bottom of this window, which should be marked as "Unallocated" space if it's a brand new drive. Right-click, select New Simple Volume and navigate through the screens until you are prompted to assign a drive letter (whatever you want) and file system (select NTFS).
Now when you open File Explorer you will see your new hard drive ready for all the data you want to dump onto it. But you really want to share it on your network, which requires us to overcome a few more hurdles.
You should now be able to right-click any folder or drive in File Explorer, select Share and click Advanced Sharing .
On the screen that appears, click the Advanced Sharing button, check the Share this folder box , and feel free to give your drive or folder an interesting name.
After completing these steps, I opened File Explorer on another Windows system connected to my network. Even though I logged into the same Microsoft ID on both – important fact for this scenario – I couldn't see this network share at first. I had to click the address bar and type "\\" followed by the name of my first system ("Paladin") to open the share. From there, it was easy enough to right-click on it and select Map Network Drive so that it always appears under the list of drives on my second system in File Explorer.
(If you've forgotten the name of your first system, just go to Control Panel> System and find your "Device Name".)
Clear? Okay. Remember, when using this method, people must have accounts on the source system in question in order to access the shared drive / folder. Otherwise, you'll have to go to Control Panel> Network and Sharing Center> Change advanced sharing settings and turn off "password protected sharing " under All networks. This should allow anyone on your network to access the specified folder, which is probably what you want to do most of the time at home.
Option number two: dedicated network storage
Now that we've talked about the first option – what a ride it was – let's talk about the second option: NAS.
I read an article the other day where someone was shitting on NAS and I couldn't even get through it all because their incredible amount of errors started trickling into my desktop and causing me anxiety. I'm kidding, of course, but they were wrong anyway. They argued that NAS is silly and that it is better to use USB storage and configure software RAID through Windows.
You can of course go down this path. And yes, NAS boxes can be expensive, especially when you consider the cost of drives. But they also don't have to be prohibitively expensive . I consider them an investment. At least the QNAP NAS box that I bought back in 2013 heck still works well. I just upgraded the memory which cost me about $ 20 and had no problem using it to store terabytes of data and stream too many (legal) movies.
The NAS box allows hard drives to be inserted into an easily accessible enclosure that holds them in place and keeps them safe. You place the NAS box anywhere in your home, connect it to the network, and the included operating system should do most of the hard work. It will find your disks, help you initialize them, and give you an easy way to share their contents. It has always been incredibly easy for me to set up sharing for all the different folders on my NAS, and if I had to, setting up permissions for different users for each folder would be as easy as shelling pears.
And another advantage of a NAS device is that I don't have to turn on my desktop or laptop every time I want to share something with another system (or transfer it around the house). In the first scenario I described, you will always need to turn on your computer or laptop so that someone else can access your shared folders. And if you, say, restart your system while they copy files – or if it crashes – you just attach it to that person.
You can leave the NAS powered on all day if you want (and I suspect it uses fewer resources, especially if you use its power saving modes than a powered desktop or laptop). Or you can use the settings of any decent NAS to turn it on and off on any schedule you want. You can probably even wake up and sleep your NAS with a phone app if you're so inclined, which is much easier than with a desktop or laptop.
If you're looking to combine multiple drives into one giant storage array (or one that includes additional redundancy to protect you in the event of a drive failure), I think a NAS box is much better than any kind of Windows-based RAID setup. you would apply to a simpler external USB enclosure.
How to decide which sharing setting is right for you
Let's get down to business. If you need an always available network share for multiple people in your home to access, I would go with a dedicated network storage device. I wouldn't trust a USB enclosure for 24/7 use, and I wouldn't just leave my desktop computer (and especially my laptop) working all day. At this point, you can also invest in a low power server – and a NAS server is essentially a reliable way to get that.
However, if you don't think you'll need that much firepower, and only see from time to time that you need to access the contents of the hard drive from your other computers and devices, I would first just add and share the drive from my desktop PC. … If that wasn't an option, I would look at something external and I should be able to connect to any system I want.
Of course, if you do, why bother with a network share at all? If someone in your home needs files on a "generic USB stick," just walk over, grab it, and plug it in. Or, you can share your files between systems using something like a shared Google Drive account, Dropbox, or whatever. another storage service you prefer. Heck, you can even create your own file sync setup at home, which doesn't require any additional hard drives or network setup.
But at least it's kind of a pleasure in having a lot of options; Now you can find a solution that suits you perfectly. Ideally, this is the one that will save you the most time, money, and technology hassle. Let me know if you still have the latter and I will happily continue to help.