Free up Space on Your Google Account so You Can Back up Your Phone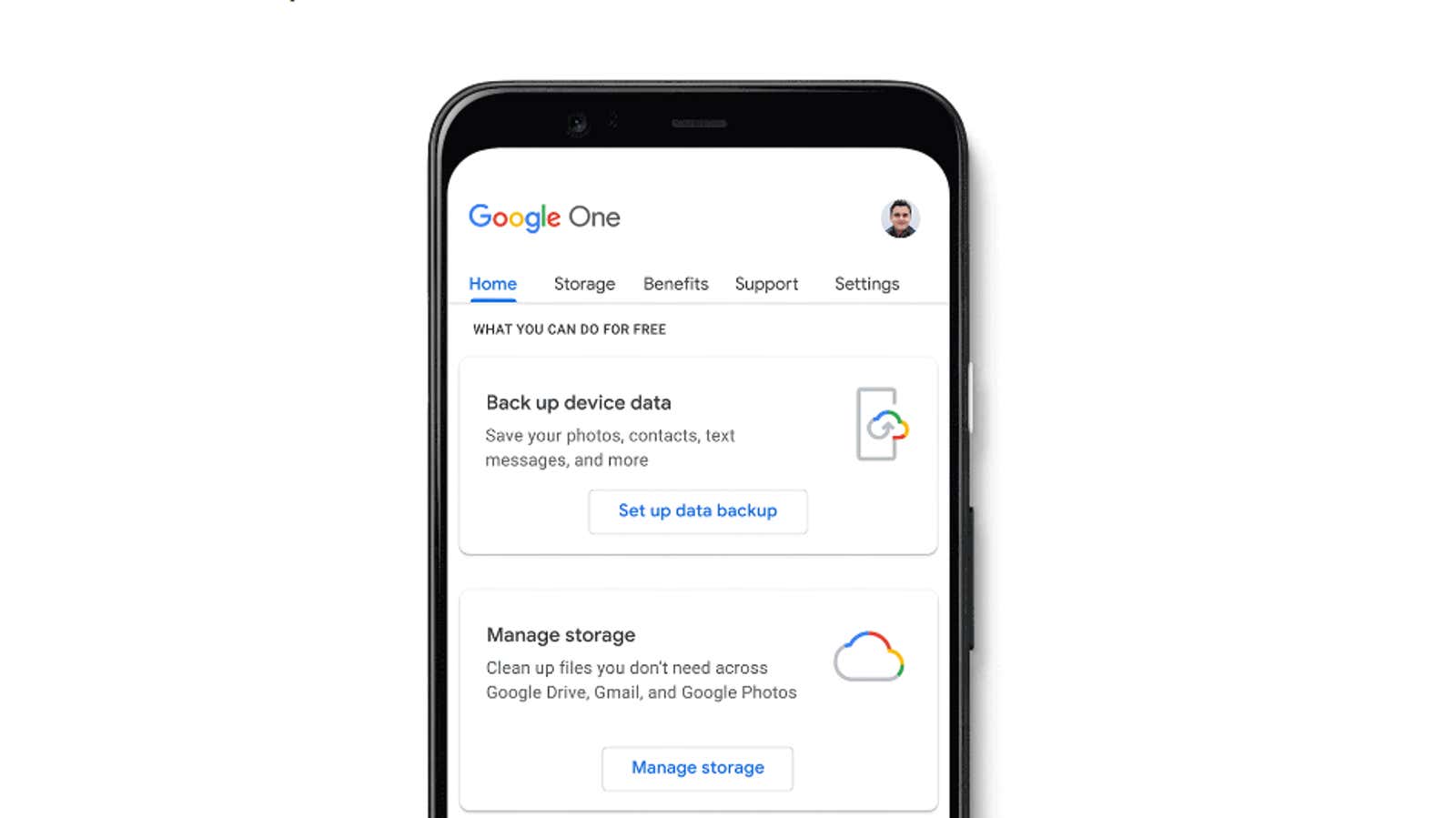 Google One's cloud storage is undergoing big changes , including a brand new iOS app, free phone data backups, and a new data management tool for both iOS and Android. Google already offered a paid automatic phone backup service for Google users, but this feature will now be free for everyone (if you live in a country where Google One is offered ).
IOS backups are limited to Google Photos, calendar events, and contacts, but Android users can back up everything on their devices. These automatic backups can make migrating to a new phone much easier, or recovering your device from a major error, much less disastrously.
All Google accounts use Google One, even if you are not specifically interacting with the Google One website or app; Hence that 15GB of free Google cloud storage and where your Google Drive files, Gmail attachments, and Google Photos are stored. (However, Google One allows you to store more than just Google files.) All your phone data is backed up here as well.
However, all that phone data can take up most of your free 15GB of Google storage, leaving you with little storage space for Drive, Gmail, or Google Photos. You can buy extra space cheap if you need more, starting at $ 2 a month for 100GB, but Google is rolling out a new data management tool that makes freeing up Google One data much easier if you need to find more space but don't want to. to pay.
How to free up Google Cloud Storage with Google One Data Manager
While Google One's data management tool is available on both the desktop and mobile app, Android users will need to wait for the app to update, and the iOS version won't be available for several days. When the apps are ready, you'll find a shortcut to Data Manager and Phone Backup Tools on the Home tab.
However, you can use the controls on the desktop right now – and judging from the Google preview screenshot for the new Google One features, it looks like Android and iOS apps will have the same on-screen step-by-step prompts as the desktop. site. This is how it works:
Go to https://one.google.com/
Sign in to your Google account.
Once you're in, click on the "Storage" tab in the menu on the left.
Scroll down and click Free Account Storage.
Follow the instructions on the screen. On this page, you will find recommended files, photos, and emails that you might want to remove. You will have the opportunity to preview each file before throwing it away for good.
You can close the page once you're done and you should be able to fill up all of that newly recovered space on your cloud drive.
For all the rest of your Google data – you know, the personal information that Google tracks while you use its products – the new Google One tools won't help you deal with that. To that end, we have guides on how to manage your Google personal data , including your YouTube browsing and search history , Google Assistant entries , huge Gmail files, and GPS information on Google Maps . If you prefer to opt out of Google services , we can help you back up your PC and smartphone data using cloud storage or physical hard drives.