How to Enable the New Dark Mode Theme in Google Docs on Android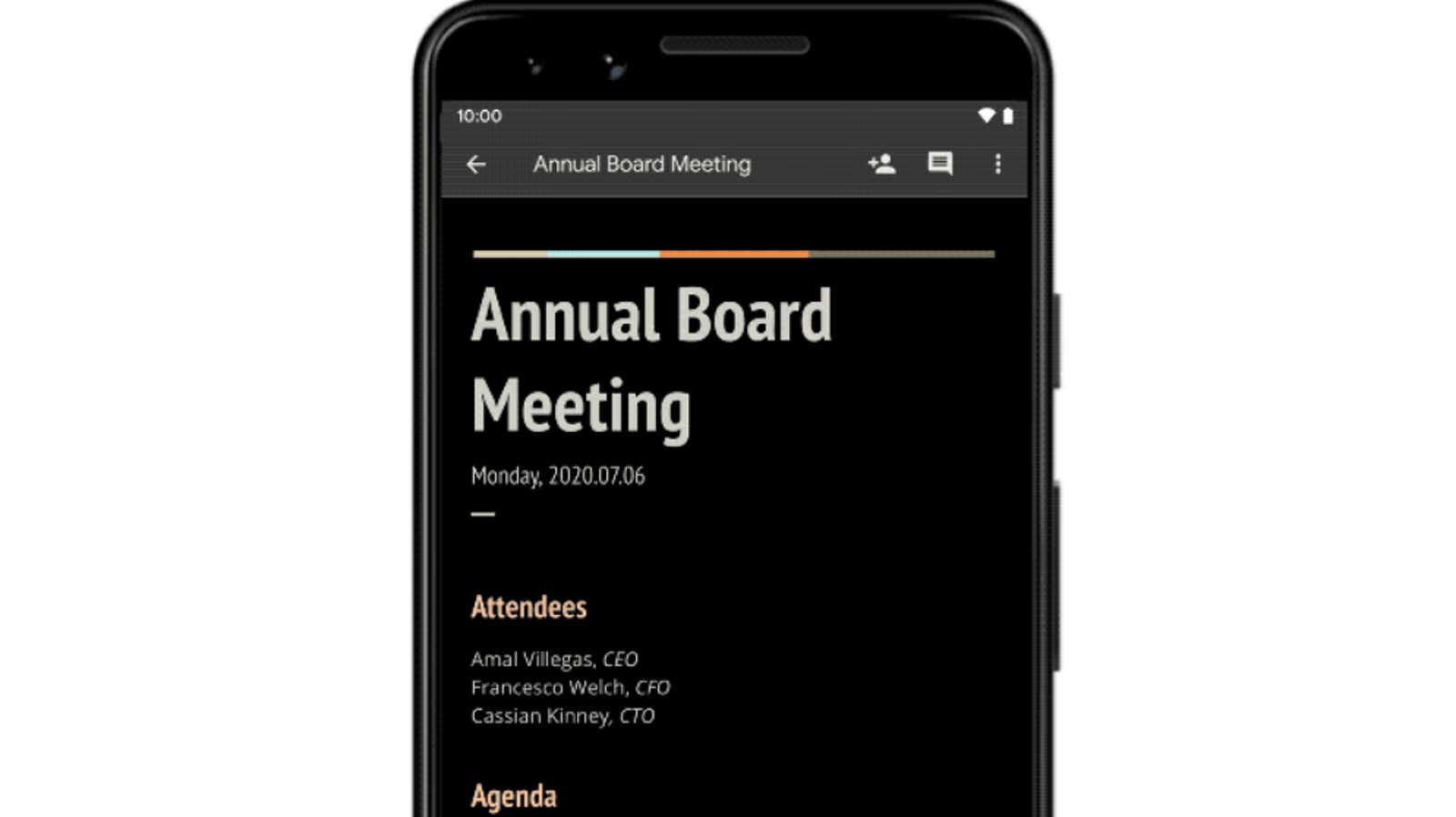 Google is finally adding dark mode to Google Docs, Sheets and Slides on Android. The new dark themes look the same as in other third-party Google apps, with bright white replaced with dark gray and black, which should be easier on the eyes and battery.
As an Android user and an avid dark mode proponent, this is music to my ears (eyes?). Unfortunately, there is no information yet on whether iOS versions will get dark mode themes.
How to turn on dark mode in Google Docs, Sheets & Slides
A new dark mode option is now rolling out to Android smartphones and tablets. Many users may have already installed the new theme; you can check this by following these steps. Make sure you check for pending updates in the Google Play store if they don't appear, although it may take a few more days for some users to see dark mode on their devices (including my own Pixel 3a XL).
Once you have it, here's how to enable it:
Open Google Docs, Sheets, or Slides.
Tap the three-line menu icon to open the side menu.
Go to Settings> Select Theme.
Choose a theme from the options listed. Selecting "Dark" will force the application to always use dark mode, while "Light" does the same for the default light mode. Selecting System Defaults will switch to your device's theme at the system level, so if you have dark mode timers configured, Documents, Sheets and / or Slide will go into dark mode along with the rest of your applications.
Preview documents in light mode
I'm the type to want dark mode to always be on for all apps, but as Google points out in their announcement for the new Docs dark mode , sometimes you need to see how a document layout looks against a white background for design. goals. Google went further and added a simple "View in Light Mode" toggle that allows you to quickly switch to Light Mode when editing in Dark Mode. To use it, tap the three-dot More icon, then tap Light View. The document will temporarily change themes without having to fiddle with application settings.
[ CNET ]