Do Ramos Gin Fizz Without Tiring Your Hand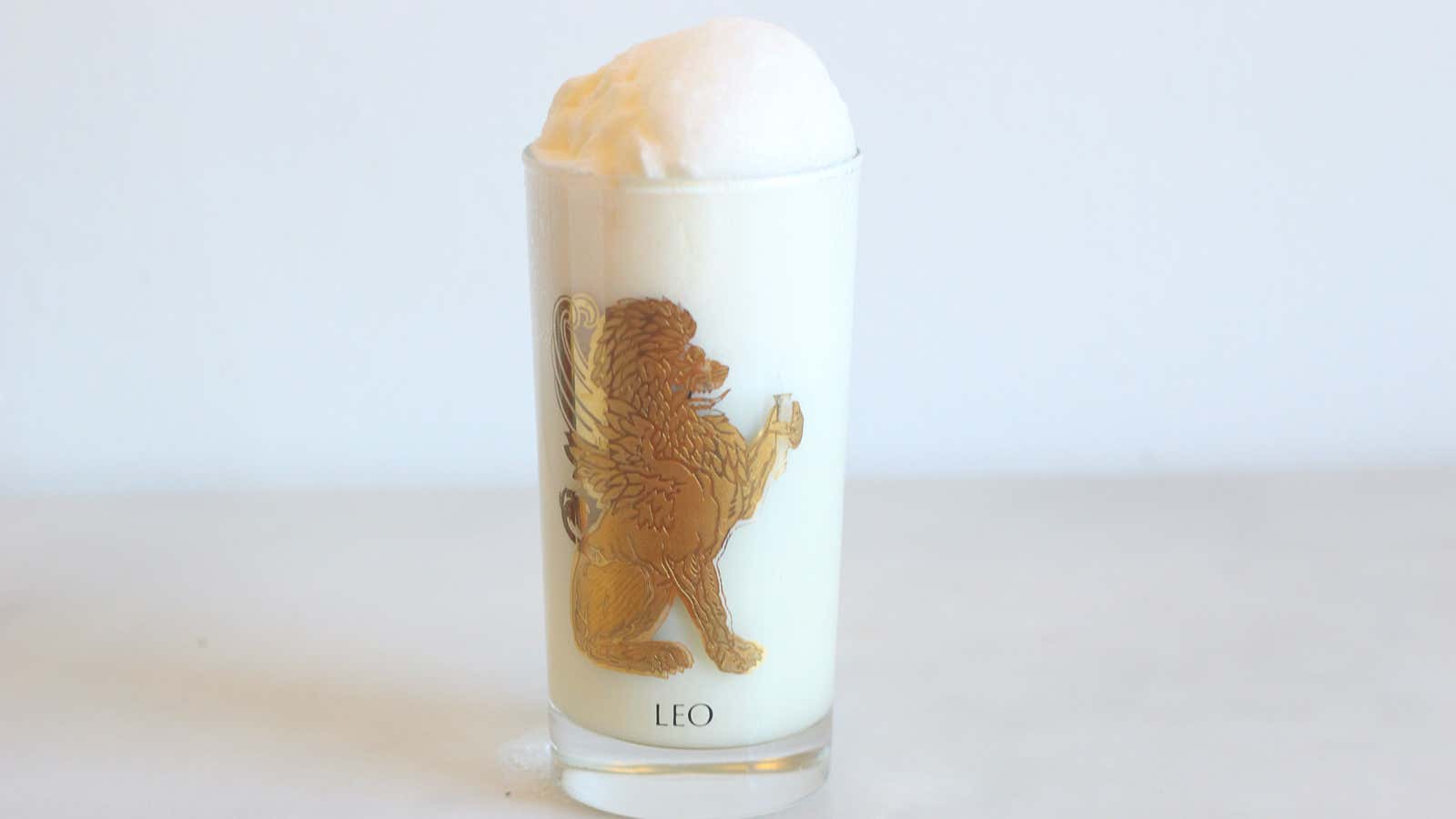 There seem to be two somewhat opposite quarantine states: extremely lazy and disgustingly productive. For the most part, I fall into the first category; I prefer buying bread instead of baking it and drinking wine instead of mixing martinis. But recently I decided that I needed a project, a challenge, something that I can dive into. This is how I ended up drinking three (3) bottles of Ramos gin champagne on Wednesday afternoon.
Ramos fizzy gin is delicious without a doubt. It's like a citrus milkshake with gin, only much lighter and fluffier, with a large spoonful of meringue on top. But I never ordered it because I have an obsessive need to please. Ramos is an infamous pain in the ass and requires a ton of ingredients to make. Ordering one can make you seem like a pain in the ass by association. (Before making them myself, the only Ramos I liked was given to me by a bartender who was practicing his Ramos technique. He ruled.)
Anyway. To obtain a marshmallow-like head usually requires a full, continuous minute of dry (i.e. no ice) shaking, followed by additional shaking with ice to cool. If you don't have enough raised weapons (and I don't), this can be quite tedious.
But there is another, lazier way. Just like you can cook a sour (or four) in your blender ( à la Jeffrey Morgenthaler ), you can use the appliance to make a beautiful Ramos gin pop with a very stable head of fluffy, meringue-like foam. Simply toss in all the ingredients (except soda) with one 1 "x 1" ice cube and beat until the cube is gone. (It takes about 30 seconds in my powerful blender.) It works great, but I found the results were not as cold as Ramos shaken by hand, so on the advice of my good friend and Devoika's ingenious cocktail. – I put the mixed beauty in the freezer for about five minutes to cool it a little and set the foam even more. After that, all that was left to do was (carefully) add the soda.
If you don't have a blender, you can always do it the old fashioned way – just make sure you shake without ice for a full minute and be aware that there will likely be splashes. (As you can see, pressure can build up inside the shaker.) To make this amazingly refreshing milkshake-style shake, you'll need:
2 ounces gin
3/4 ounce simple syrup
1/2 ounce lemon juice
1/2 ounce lime juice
5 drops of orange blossom water (some only use 3, but I encourage you to live a little!)
1 egg white
30 g heavy cream
2 ounce soda
If you are making Ramos by hand, add everything except the soda in a tin shaker, making sure to pour in the cream at the last moment, and shake hard for a full minute without any ice. Add ice and shake until shaker is too cold to use. Strain into a highball, then gently pour in the soda from the very edge of the glass until the head is at least half an inch above the edge.
If you are making Ramos in a blender, add everything except the soda to the blender, along with a 1 "x 1" ice cube. Whisk until the ice cube is gone, then slowly pour everything into a highball and place everything in the freezer for about five minutes. Gently pour soda water over the very edge of the glass until the head is at least half an inch above the edge, enjoy and repeat. (You can! Because your hand isn't tired!)