How to Clean All Types of Floors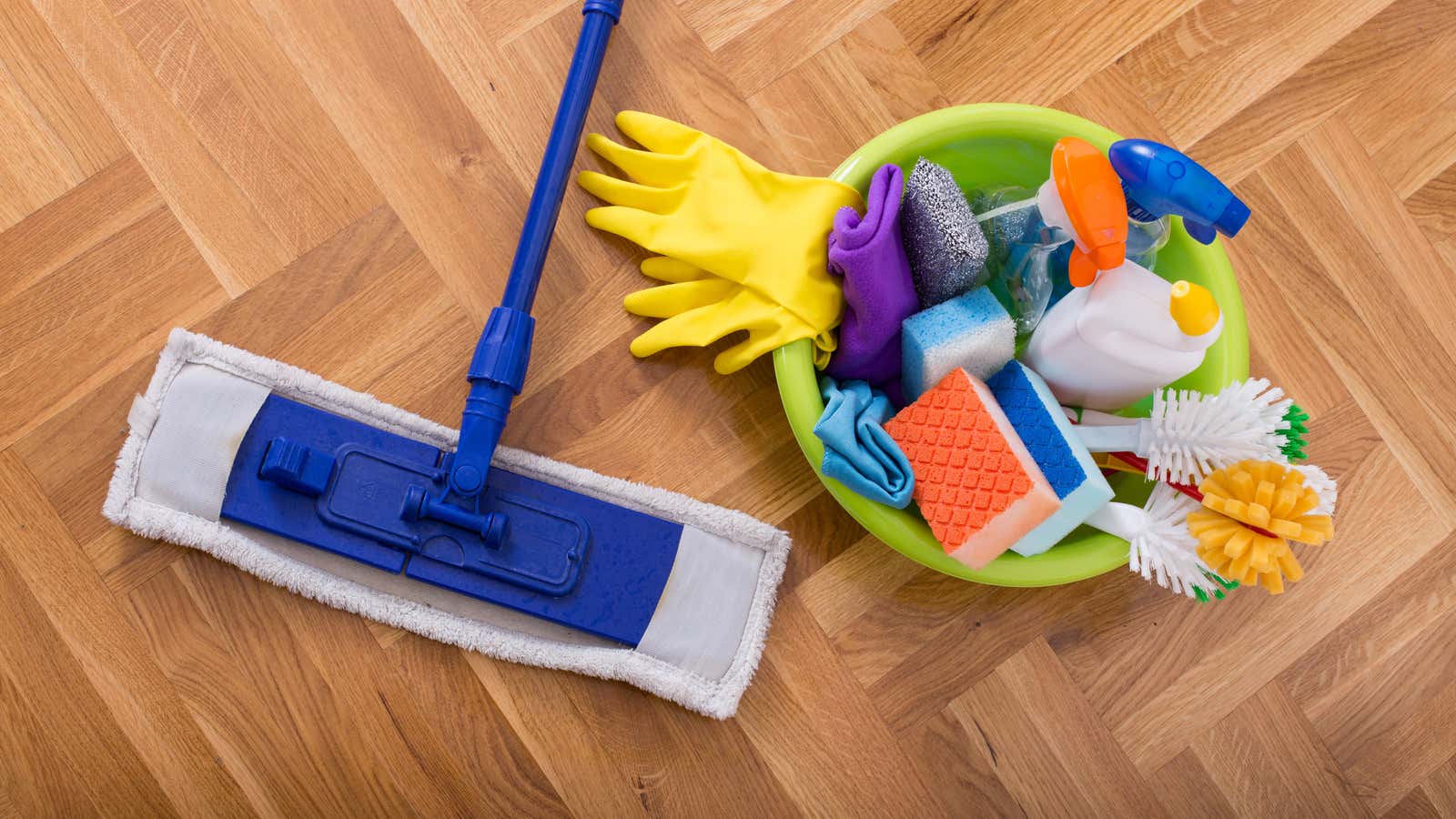 While a vacuum cleaner or sweeping is usually sufficient to keep the uncarpeted floor clean, there are times when you need to take it a step further and reach the bucket to really clean it up. Maybe this is what you usually do during the spring cleaning or before your parents come to visit, or maybe you are thinking about it now that you spend all your time in your house. Regardless of the reason why you are solving this problem, washing your floors properly can seem like a daunting task, but it is actually a relatively simple process if you take into account your floor type. Here's what you need to know about cleaning any type of floor.
Start by sweeping
Before removing the mop and bucket, make sure all dust, hair, and other dirt has been removed from your floor. Yes, one option is to use a vacuum cleaner, but a good old broom will work too. If you're uncomfortable with using a broom, we've put together this video on how to get the most out of it, including methods to help you clean your broom so you don't just throw dirt around your home.
Parquet floors
After you've swept your hardwood floor, treat any sticky spots with a damp cloth and a little wood floor cleaner. When this is done, use a flat-head mop and a microfiber cushion or a microfiber mop that has been thoroughly wrung out – you don't need to expose this floor to excess water. Then follow these directions from Deborah Baldwin in this old home :
Move with the grain and control the amount of cleaning solution with a spray bottle, aiming for a heavy fog or light spray about half a teaspoon per 2 square feet. You do not need to wash off. No polishing is needed either, but cloth diapers and soft socks work well.
If you want to make your own cleanser, don't use a baking soda / vinegar solution. Instead, you can use a large serving of black tea to clean the wood floor and hide the scratches. When it comes to Murphy's oil soap , experts disagree on whether it's a good idea: on the one hand, it's safe to use on wood; on the other hand, it can also leave residues.
Linoleum
While hardwood floors were once common throughout the home, they lost popularity in bathrooms and most kitchens over a century ago. Once the microbial theory took hold, people stopped rejoicing in porous wood floors – cracked and gaps where germs could live – in rooms where sanitation was key. And then a new material appeared called linoleum. So how do you clean linoleum? As Real Simple eco-cleaning coach Leslie Reichert said:
In a spray bottle, mix a few drops of dish soap and hot water, then spray the floor in one go and wipe with a damp microfiber mop. The floor should air dry almost immediately, but if it feels a little tacky, simply wipe it down with another clean, damp microfiber mop or cloth.
Laminate
While your laminate flooring may look like wood or tile, it is actually much easier to clean. In fact, according to Bill Deering, president of the North American Laminate Flooring Association , very few things can damage laminate flooring. One is water getting under the floor: don't let that happen. If not, use your favorite all-in-one spot cleaner for particularly dirty areas, then mop them as usual. (Respectfully, do not polish your laminate.)
Tile
Ceramic and porcelain stoneware tiles are also relatively easy to clean. A mop and a neutral floor cleaner are best, as do not use overly abrasive products that can scratch or tarnish the tile surface. Make sure nothing gets stuck in the grout between the tiles. If you really want to do a deep clean, you can use a steam cleaner for both tile and grout.
Vinyl flooring
As with tiled floors, cleaning your vinyl is just as easy : treat any sticky spots on the stain, then wipe it down with a neutral floor cleaner ( here's a recipe for how to do it yourself). As with laminate flooring, it is not advisable to pour water directly onto the vinyl as you want the water to not get under the floor. Finally, if you notice streaks from the mop when you're done, you can walk across the floor again using a solution of white vinegar and water .