How to Make the Creamiest Vegan Green Bean Casserole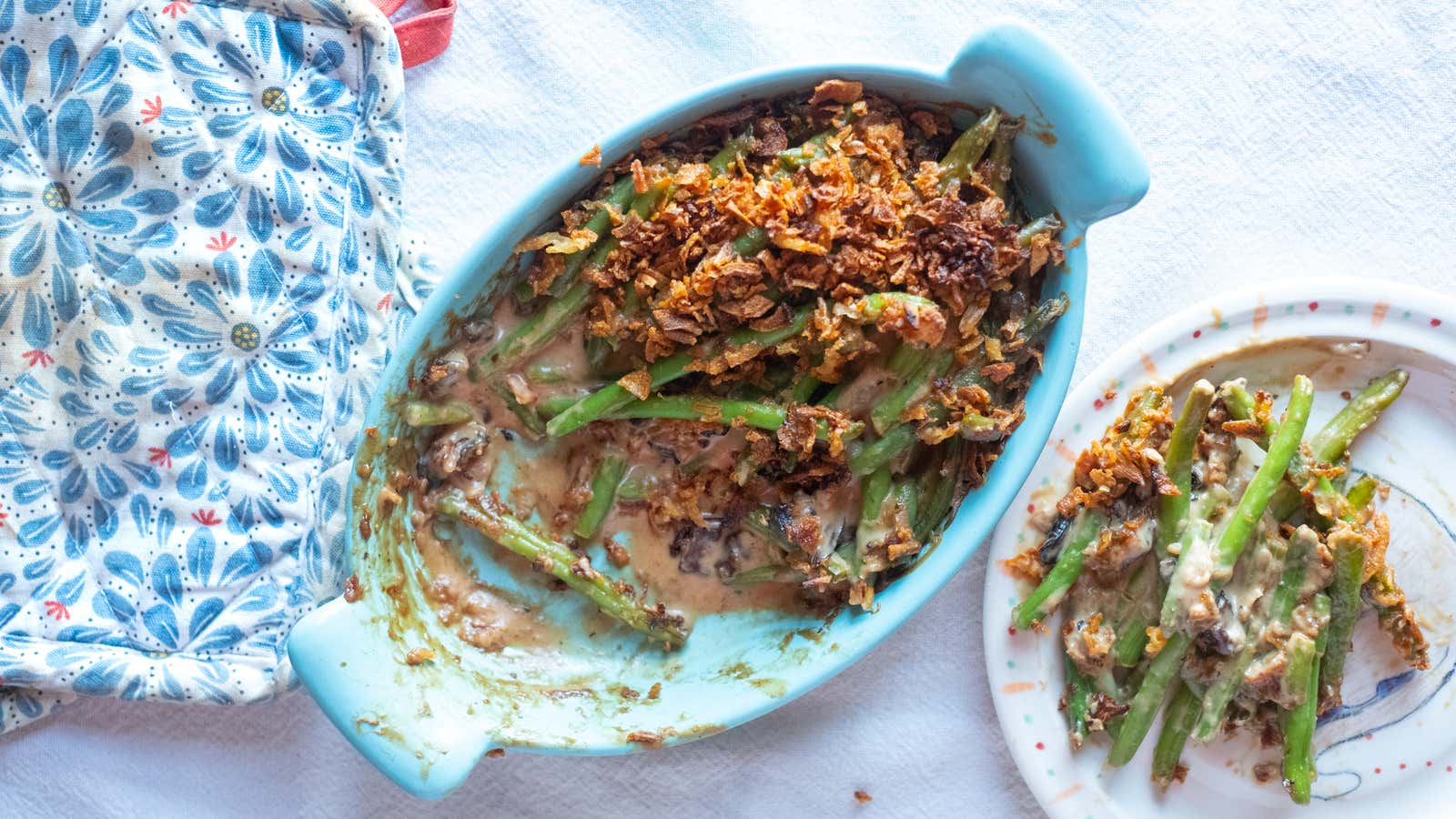 Hating green bean casserole is both easy and seemingly cool. Admittedly, "canned green beans mixed with canned mushroom soup condensed cream topped with canned fried onions" doesn't sound very good , but hating something because it comes from a tin can reveals more about the hater than it does. dish.
I'm not particularly nostalgic for Thanksgiving, but the green bean casserole, which my dad's family calls "legume trash," is an exception. Maybe monosodium glutamate , maybe crispy onions, or maybe I'll use any excuse to say the word "trash"; anyway, i love this thing. It may not have real texture other than a soft gruel and real taste other than salinity, but I will defend the bean trash, sticky canned soup and all until I die. Old school dump and mix casserole recipes are long-lasting because they are light and full of salt and fat, which means they really taste good. No need to mess with the good.
With that said, I love challenging tasks and this year I was determined to come up with a terrific vegan green bean casserole recipe. This is a prime candidate for veganism because the only non-vegan ingredient is soup. The fried French onion chunks are free of animal products, and neither are the green beans. Vegan mushroom cream soup probably exists in a can or box somewhere, but I haven't seen anything in my Whole Foods – and I'm guessing the homemade bits are canned in this very specific case.
I still haven't tried the vegan condensed mushroom soup, but to brag unashamedly, I don't see how it can beat what I've developed here. Of course, this is a bit of an unusual project compared to the classics, but trust me: it's worth it. Soup gets tons of mushroom flavor from a combination of near-dehydrated fried criminals and shredded dried shiitake, but the real secret is half a bottle of porter. Crushed to a dark, bittersweet sediment, it is the perfect base for something that would otherwise be loaded with salt, fat and sugar. Extra depth and light bitterness go a long way in preventing complete salt overload, which is always a good thing. I've eaten countless servings of legumes, both canned and homemade, and this one – vegan – takes them all out of the water. If you're looking for a satisfying vegan take on a misunderstood classic, I've got everything you need. Here's how to do it.
Once you've made the soup, it's very quick – just add the frozen beans, sprinkle with crispy onions and bake. Frozen beans stay pleasantly crisp for much longer than fresh beans, so don't be tempted to think of something fancy here. Oh, and make sure your vegan sour cream or cream cheese contains gums, starch, and / or other stabilizers. Without them, your casserole will turn into a terrible cottage cheese porridge in the oven. (My first attempt was with silk tofu puree and that's exactly what happened. It was an indescribable foul. Learn from my mistakes.) We love homemade cashew cream , but a commercial product is your best bet.
Vegan Green Bean Casserole:
For soup:
1 1/2 pounds crimini mushrooms
3 tablespoons of neutral high temperature oil (I use safflower oil), divided
2 tablespoons olive oil
1 large yellow onion, finely chopped
1 large shallots, finely chopped
3 large cloves of garlic, crushed and chopped thinly
3-4 dried shiitake or mushroom caps
1 tablespoon garlic powder
6 ounces stout, porter, or other dark, heavy beer
1 tablespoon soy sauce, tamari, or coconut amino acids
2 tablespoons all-purpose flour
3 cups chickpea broth or vegetable broth
Pinch of monosodium glutamate
1 tablespoon brown sugar
6-8 ounces vegan sour cream or cream cheese (I used Tofutti sour cream)
Splash of apple cider vinegar or lemon juice
Salt and pepper for flavor
To assemble a casserole:
Soup on top
2 bags frozen green beans, about 2 lbs.
As many fried onions as your heart desires
To make soup, place the wire rack in the lowest and highest positions of the oven and preheat to 425ºF. While it is heating, rip the crimini mushrooms , stems, and everything else into about half an inch pieces and mix with 1 tablespoon of neutral oil in a large bowl. Season with salt and pepper. Pour another tablespoon of neutral oil into a large baking sheet and place on the bottom rack to heat for about three minutes. Place the mushrooms evenly in a preheated skillet and bake on the lower wire rack for about 20-25 minutes. Once all the liquid has evaporated and the mushrooms begin to brown at the bottom, stir and transfer to the upper wire rack. Bake for another 10-15 minutes, until the mushrooms are dark brown and nearly dehydrated. Set aside.
While the mushrooms are roasting, grind the dried mushrooms to powder in a coffee or spice grinder. Set aside.
Heat the last tablespoon of neutral oil and olive oil in a large heavy saucepan over high heat until you smoke. Add the onions and shallots and immediately reduce the heat to medium-high. Cook, stirring frequently, for about five minutes, until the onions and shallots are tender and lightly browned around the edges. (Don't worry if they get a little charred, that's okay and even good.) Add the garlic and cook for another minute or two, then add the chopped mushrooms and garlic powder. Season with salt and pepper.
Pour in beer and soy sauce and bring to a boil over high heat. Let it simmer until the mixture is sticky and the oils begin to separate, about 10-15 minutes, stirring occasionally to prevent the bottom from burning. Reduce heat to medium and stir in flour. Cook, stirring constantly, until the roux balls begin to stick to the bottom of the pan. It only takes a couple of minutes.
Gradually add the chickpea stock or vegetable stock, stirring occasionally to dissolve the sauce. Add sugar, monosodium glutamate and fried mushrooms. Bring the saucepan to a full boil again, then reduce the heat to medium and simmer for another 20 minutes, or until the mixture is reduced by two-thirds. It should be dark brown and thick enough for the spoon to leave a mark.
Remove from heat, add vegan sour cream and vinegar. Stir. Try the sauce and add whatever is missing – it should be very salty and creamy, with just enough sugar to top it off. Don't be afraid to use seasoning diligently; beans are needed. If desired, transfer the soup to a storage container and refrigerate for up to a week.
On the day you plan to serve the casserole, stir the frozen beans into the soup evenly (no need to defrost) and transfer to a 9 "by 13" baking dish, 12 "cast iron skillet, or a smaller combination. Cover the entire surface with crispy onions.
Preheat oven to 350ºF, place baking dish on baking sheet and bake for 35-45 minutes, until hot and crispy on top. Serve as soon as possible, preferably straight out of the oven.