I'm Lee Pelton, President of Emerson College, and This Is How I Work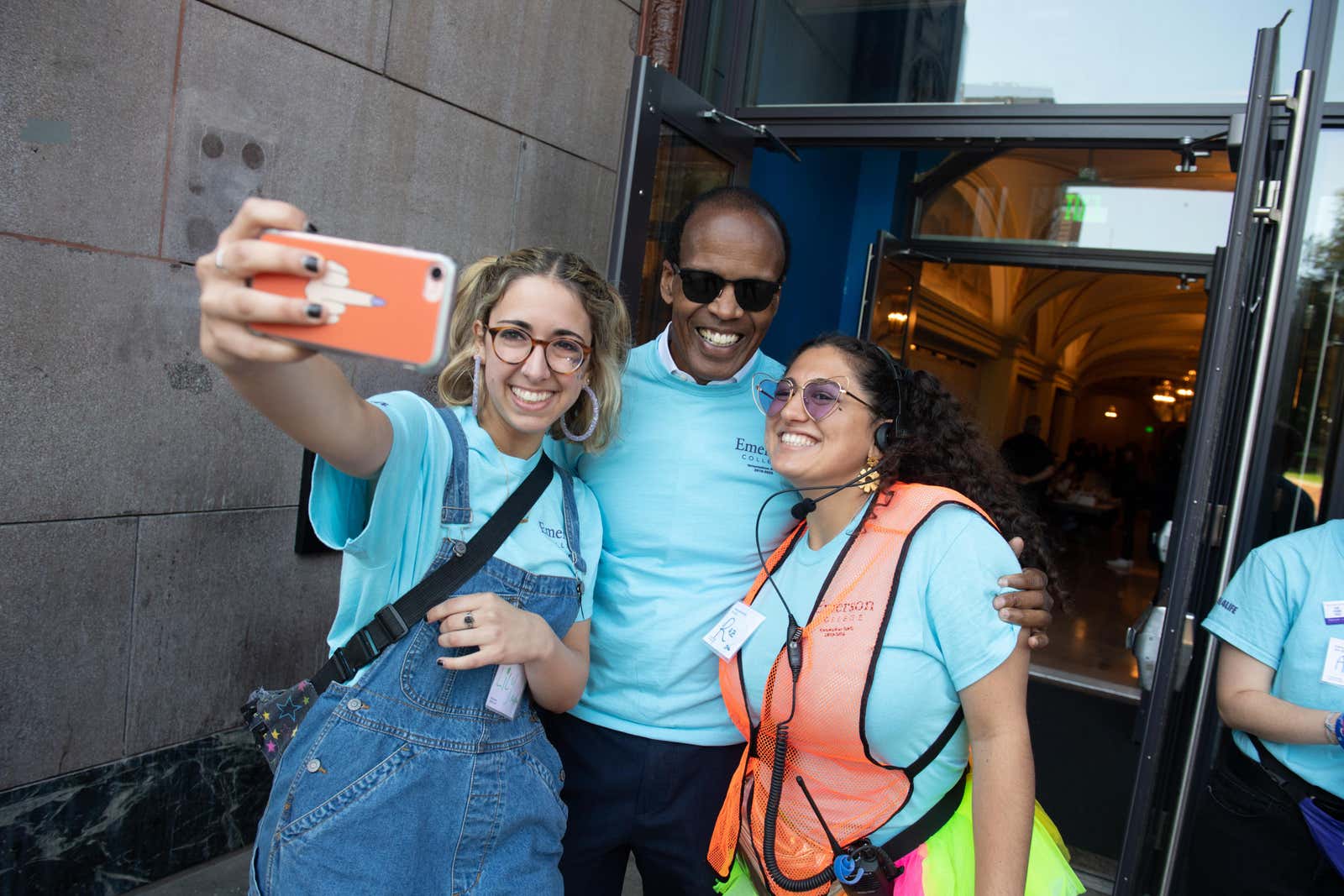 Emerson College, founded in 1880 as the Boston Conservatory of Oratory, Oratory, and Dramatic Arts, is one of the most prestigious liberal arts colleges in the country. We spoke with his twelfth president, Lee Pelton, about his academic background, personal work habits, and his excellent reading guidelines.
Location: Boston, Massachusetts Current job: President, Emerson College Current computer: MacBook Current mobile device: iPhone X One word that best describes how you work: Infinite
First of all, tell us a little about your past and how you got where you are now.
I am the 12th president of Emerson College, Boston. I began my academic career at Harvard University where I received my Ph.D. in English Literature with an academic focus on 19th century British and American prose and poetry. I taught English and American Literature at Harvard and worked as a senior lecturer at Winthrop House. I later served on the Harvard Supervisory Board and was vice chairman of its executive committee. After Harvard, I worked as Dean of Colgate University College and Dartmouth College, and then President of Willamette University, Oregon.
Because I believe a country is turning to colleges and universities to address its most pressing issues, I have tackled, locally and nationally, the big issues that shape and affect human society. For example, these beliefs prompted me to write a letter to the president, signed by more than 300 college presidents after the Sandy Hook school shooting, asking him to focus on gun control; co-host the Alliance of Presidents of Higher Education and Immigration; and host the recent Higher Education Leaders Summit in Boston to discuss gender pay equality in our area. We created the Elma Lewis Center for Civic Engagement and Research to pay tribute to her distinguished heritage and to support and create programs to help young people.
What are your job responsibilities?
Bart Giamatti, former president of Yale University, once said that "being president of a college is not an adult's way of making a living." That's a pretty good summary. This is extremely hard work.
My responsibilities change every day and involve the full range of my abilities, including academic life, student life, human resources, budgeting, strategic planning, fundraising, real estate development, legal affairs, risk and crisis management, and several civic leadership assignments. But in most cases, the best description would be that I do business with people.
Here in Boston, where Emerson is located in a historic theater district on the corner of Boston Common, I feel a tremendous responsibility to serve our students, faculty and staff, and the community at large. For this reason, most of my decisions take into account the impact or benefit to the community.
Tell us about a recent work day.
While each day is different, chairing and attending meetings with individuals and groups on and off campus is the core of the day. People and ideas drive the world.
Someone once said, "If your dreams keep you awake at night, then they are not big enough."
It is absolutely and irrevocable. I don't sleep much.
I also set aside time for lunch to work out in the fitness center next to my office. This is my sanctuary. I don't have lunch meetings (or try not to).
What apps, gadgets or tools can't you live without?
My road bike. Riding GPS , Strava , Runkeeper , Wok , Chopsticks, Salad Pinwheel, Nice Casserole , Garlic Press and Gates BBQ Sauce (Kansas City). Favorite apps – Dark Sky weather app (fantastic), The Daily, The New Yorker Radio Hour , Fubo , Instagram, ESPN, Emerson, S-Town (the best ever) and [podcast] every true crime I can get hands up. I'm most happy when I'm in a bookstore, kitchen store, or gym.
How is your workplace arranged?
Large office with conference table, sofa, chairs and what I call my JFK rocking chair. I spend most of my time in my rocker solving problems, giving advice, listening and learning.
It is mostly monastic.
What's your favorite shortcut or hack?
I live within walking distance of the school and office. Along the way, I hear the news of the day by listening to a few podcasts like The Daily . I read several newspapers and magazines at night and in the morning in bed on my iPhone. I also have a few rules about my day to save time. One rule of thumb: read emails only once. I receive dozens and dozens of emails every day, so I need to be effective.
Tell us about an interesting or unusual process you have at work.
Many of my face-to-face meetings have previously taken place on the street. This is very effective – and useful. I haven't done this for a long time, but I think I need to revive him before the severe cold sets in.
How do you keep track of what you need to do?
Luckily I have a great team to keep me informed. I also use sticky notes for notes. I text myself or send notes via email.
My kids complain that I spend too much time on my iPhone. They were probably right when they complained. But it keeps me posted and keeps me on track during the day, night and morning.
How to recharge or relax?
I am waiting for the end of the school year and usually take a break in late July or early August. I prefer mountains to the ocean.
I love seclusion in the mountains, hiking trails and bike paths. I can breathe in these places.
What's your favorite side project?
I try to read two books a week in both print and audio. Is this considered a side project?
What are you reading now or what do you recommend?
Like many people, I don't have enough room for my books on the bookshelves, so dozens are stacked on the floor and against the three walls in my bedroom. My bed is on the fourth wall.
I just finished Losing Your Cool , by Thomas Chatterton Williams. I just started " Sing, Unburied, Sing " by Jasmine Ward. I reread in parallel:
Two of the best books I've read this summer and highly recommend:
Becoming Michelle Obama: This is a wonderful love story of two wonderful people. I prefer the print version of the audiobook because she reads it and it is a great honor and pleasure for me to listen to her voice for 10 hours.
Gentleman in Moscow , Amor Towles
I didn't want either one or the other. Unfortunately, they did it.
Who else would you like to see to answer these questions?
Boston Mayor Marty Walsh.
What's the best advice you've ever received?
The best advice I've given is: "Be sincere. There is no substitute for him. "
What problem are you still trying to solve?
A life.
In one of my favorite films, one character asks another:
"What do you want?"
"I want a normal life," he replies.
"There is no such thing as a normal life. There is simply life. "
It seems to me that everything is in order.