What's in Store for and Out of Netflix in the Week of October 28, 2019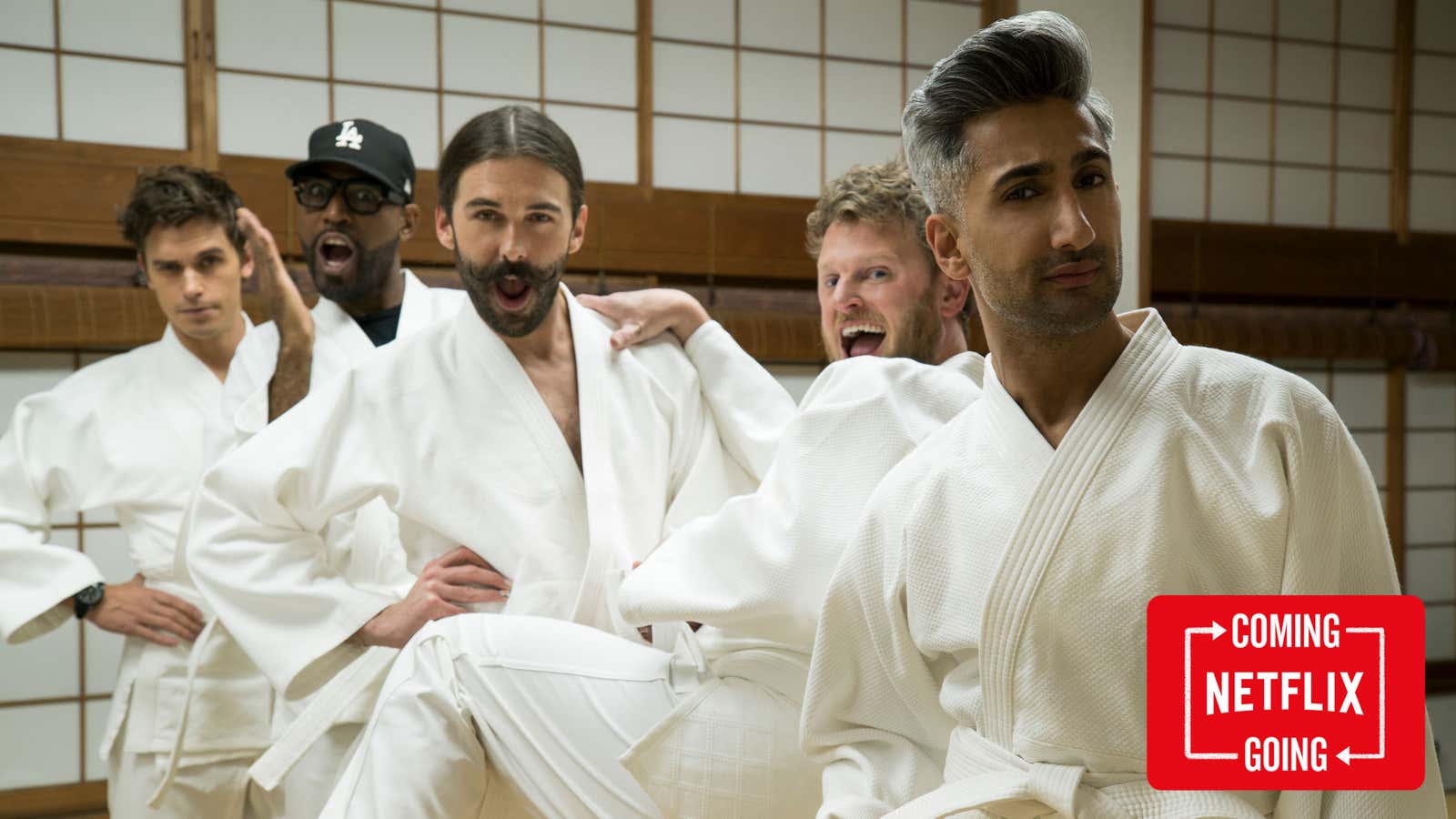 Of course, it's Halloween week now, and most of us are probably using our streaming services to get rid of the creepy stuff. But Friday comes a new month, new Netflix offerings, and the opportunity to sail away in a soothing cloud as theQueer Eye teamtravels Japan .
If you want to feel a little smart while watching booze over the weekend, Timothy Chalamet's " The King " car also arrives this week after the brooding, dirty trials and tribulations of young Henry V.
This week also marks the arrival of the documentary , 3 Minutes of a Hug, about families separated on the US border, and Arsenio Hall: Smart and Stylish , a new offering created by Netflix from the veteran night presenter. Below you will find everything there is for this week, as well as the titles you should watch before they leave Netflix (goodbye Road House , we hardly knew you).
Arrival this week
Monday 28 October
Three Minute Hug – NETFLIX ORIGINAL
Little Miss Sumo – NETFLIX ORIGINAL
Shine with Reese: Season 1
October 29, Tuesday
Arsenio Hall: Smart and stylish – NETFLIX ORIGINAL
Wednesday, October 30
October 31, Thursday
November 1, Friday
American Son – NETFLIX TV EVENT
Atypical: Season 3 – NETFLIX ORIGINAL
Drive – NETFLIX FILM
Fire in Paradise – NETFLIX DOCUMENTARY FILM
Hache – NETFLIX ORIGINAL
Hello Ninja – NETFLIX FAMILY
A Party in the Wild – NETFLIX FILM
King – NETFLIX FILM
A Man Without Gravity – NETFLIX FILM
Queer Eye: We're in Japan! – NETFLIX ORIGINAL
True: Grabbleapple Harvest – NETFLIX FAMILY
We are the wave – NETFLIX ORIGINAL
Apache Warrior
Barbie Dreamhouse Adventures: Go Team Roberts: Season 1
Billy on the street
Christmas hack
Christmas in the Heartlands
Christmas survival
Elliot The smallest deer
Fear and Loathing in Las Vegas
Holly Star Lubrication
How to be a Latin lover
Love Jones
Mars: Season 2
Mobile Suit Gundam: Iron-Blooded Orphans: Seasons 1-2
Paid in full
Rosemary's baby
Sharpie
Santa girl
Sling blade
Spitfire: The Airplane That Saved the World
Step brothers
Christmas candle
Depth: Season 3
The game
Matrix
Matrix reloaded
Matrix revolutions
To the north
Wild child
Zombieland
Leaving this week
Leaving October 29
Fall: Series 1
Simulation game
Leaving November 1st
42300
Dog life
As good as it gets
Caddyshack
Caddyshack 2
Chasing freedom
Gran Torino
groundhog day
Small woman
Madagascar: Escape 2 from Africa
Break: fifth grade
House by the road
Romeo is bleeding
Scary movie 2
Scream
Sixth Seal Team: Raiding Osama bin Laden
Sex and the City: The Movie
star dust
Seams
Taking lives
American
Bank work
Bishop's wife
Domestic rabbit
The Lord of the Rings: The Return of the King
The Lord of the Rings: The Two Towers
Sixth Sense