Is Your Child's School Planning These Awesome Active Shooter Exercises?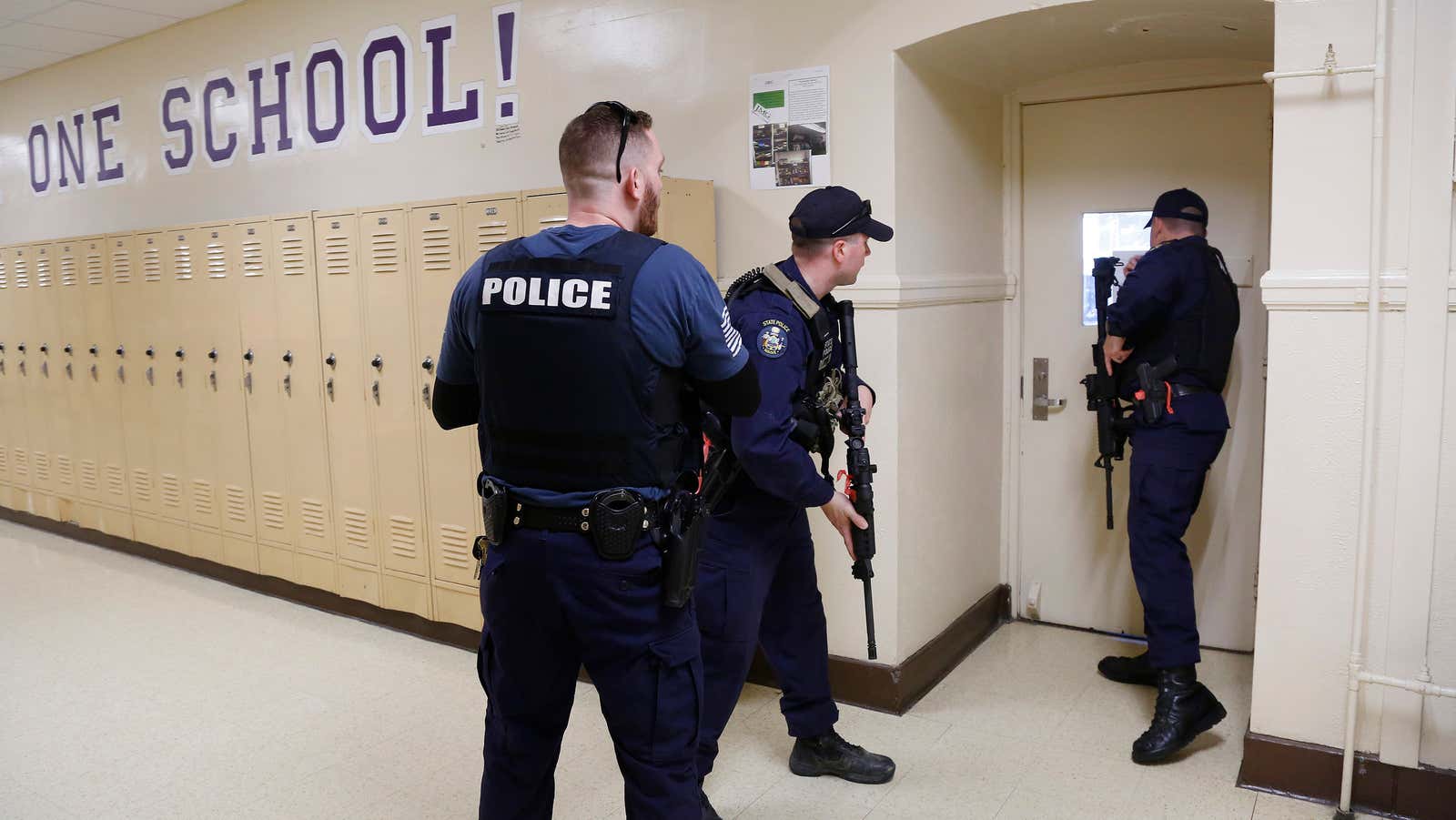 As a child, I remember going out of school for fire drills on a regular basis once or twice a year. I remember kneeling in the hallway and covering my neck with my arms that were supposed to protect me in the event of a tornado. The baby boomers had their own "hide and cover" exercises to learn how to avoid the debris of a nuclear bomb. And now, worst of all, our children are learning to hide from anyone who wants to shoot them and their classmates.
In general, conducting emergency preparedness exercises is a good thing. If you've trained in a straight line out of class when a fire alarm goes off, and you know you have to head to the other side of the playground to wait for full permission, things might seem less intimidating. and more organized if a fire really broke out in the kitchen.
But administrators don't use smoke machines to simulate fire smoke. They don't run industrial-sized fans down the hallway, so kids feel like they might be blown away by a fake tornado. However, the active shooter's exercises are becoming more intense and realistic.
It's not just about teaching kids to turn off the lights and crouch at the teacher's desk, repeating a poem like this, sung to the tune "Twinkle, twinkle, little star," as reported by the Washington Post :
Lock, Lock, Door Lock

Turn off the light, don't talk anymore

Go to the table and hide

Wait until it's safe inside

Lockdown, Lockdown, it's all done

It's time to have some fun!
Some schools are now dramatically deepening the details of their teachings, making them more "realistic" in which students act like victims covered in fake blood. Or, as The Atlantic reports, the administration is tricking students and teachers into thinking that this is not a teaching at all:
On December 6 at 10:21 am, a "red" isolation was introduced at Lake Brantley High School in Florida. "This is not a teaching," a voice announced over the speakerphone. At the same time, teachers received a text message warning of an active shooter on campus. The frightened students took refuge in the classrooms. Many cried hysterically, others vomited or passed out, and some sent farewell notes to their parents. A later announcement sparked panic in the cafeteria as students left the building and jumped over fences to escape. Parents flooded 911 with insane calls.

It was later revealed, to the fury of parents, teachers and students, that it was actually a training session.
In case all of this is not enough, the Dayton Daily News informs us that we are now firing blanks in our schools "so that students and staff can respond as they do in the real world."
Unsurprisingly, this kind of exercise does more harm than good for our children. According to the New York Times , child injury experts say they only scare children:
Psychologists and many educators say that frequent, realistic exercise contributes to the development of anxiety and depression in children, and they have begun to urge school systems to rethink teaching children to shoot actively and teach them preventive measures such as recognizing problem classmates and seeking help for them.

"The best way to make schools safer is to focus on proven policies and programs, rather than extreme exercises that rob children of their belief that schools are in fact extremely safe places," said Shannon Watts, founder of the safety group weapons Moms Demand Action. in an interview.
In some states, schools require schools to conduct active shooter drills, but there is no federal standard procedure for these drills, just some general guidance in a 2013 FEMA report entitled ' Guidelines for Developing High Quality School Emergency Plans' : Be ready for an active shooter. In the event of an incident, schools should educate their staff, students and families, as appropriate, what to expect and how to respond. If students participate in order to select the appropriate activity, the school must consider the age of the students. "
Therefore, while your kids' school is likely to be training with active shooters, the extent to which they are large or injured can vary greatly. Some schools warn parents before teaching and some do not. Often times, parents learn about exercise from their child after the fact.
Because school safety training varies greatly from district to district – and even between schools within the same district – it is recommended that parents check with school officials ahead of time to inquire about the exercise schedule and design specific to their school. Start with your child's teacher or principal and progress to the District Safety Officer or Superintendent if you don't get the information you need.
Knowing the exercises ahead of time, even if they seem rather gentle, will help you prepare the children and answer any questions they may have. However, if the exercises seem to be overly stressful, try starting a dialogue with the administrators, school board, or PTA on how to reduce the stress on these exercises as much as possible.
And if all else fails, you can refuse, preventing your child from going to school that day.