How to Make Homemade Fries Very Crispy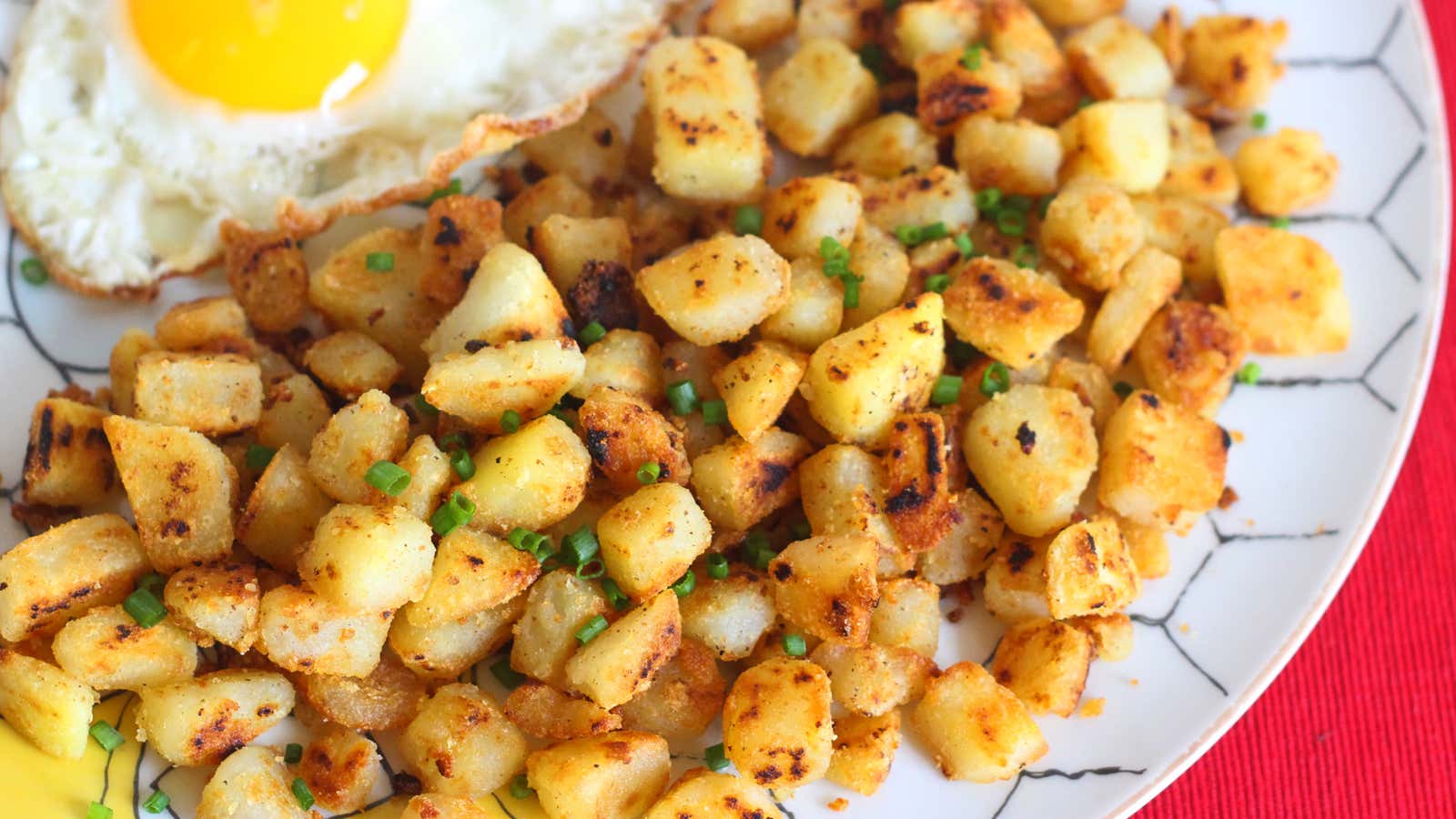 When it comes to potatoes for breakfast, I usually prefer the classic brown potatoes, but making them from scratch can be tricky. (Grinding and then wringing out the moisture is too much for the morning.) Homemade fries seem like the best homemade option, but the perfect crisp on the outside and fluffy potatoes on the inside are difficult to achieve with just a frying pan. For truly delicious homemade fries, you need to choose a simple one, such as a pH above seven.
Similar to Serious Eats Crisp Fries, these homemade fries use the alkalinity of baking soda, which breaks down the outside of the potato, creating a starchy, soft, soft outer layer that turns into a super crisp. Unlike Serious Eats, which is designed for large chunks of potatoes, we don't shake the potatoes in a bowl to help break down the outer layer. Because the homemade fries are so small, simply pressing them in the bacon-greased skillet creates the necessary friction. I like to use russet potatoes for homemade fries; although they don't get as dark as the Yukons, they make delicious little nuggets with wonderfully fluffy inside with a pale golden crust. To make them you will need:
2 large russet potatoes, cut into 0.5 inch cubes
1 liter of water
1 tablespoon fine sea salt
1/4 teaspoon baking soda
2 tablespoons bacon fat (or any other fat of your choice)
Bring a quart of water with 1 tablespoon of salt and 1/4 teaspoon of baking soda to a boil. Until then, cut the potatoes into cubes. When the water boils, add the potatoes and let the water boil again. Let them simmer for about five minutes, until the potato slices are easy to poke through with a knife. Use a spider or sieve to remove the potatoes from the water, then place them in a large non-stick skillet. (Do not use a stainless steel skillet, as it will steal your delicious potato crust no matter how much oil you use.) Heat the skillet over high heat and let the moisture from the potatoes evaporate for a minute. Add the fat and stir with a wooden spoon or spatula to coat the potatoes evenly. Then let the potatoes simmer until crisp, 20-30 minutes, turning occasionally to make sure they don't burn. Serve immediately.