I'm Joel Kahn, Senior Video Producer at Lifehacker, and This Is How I Work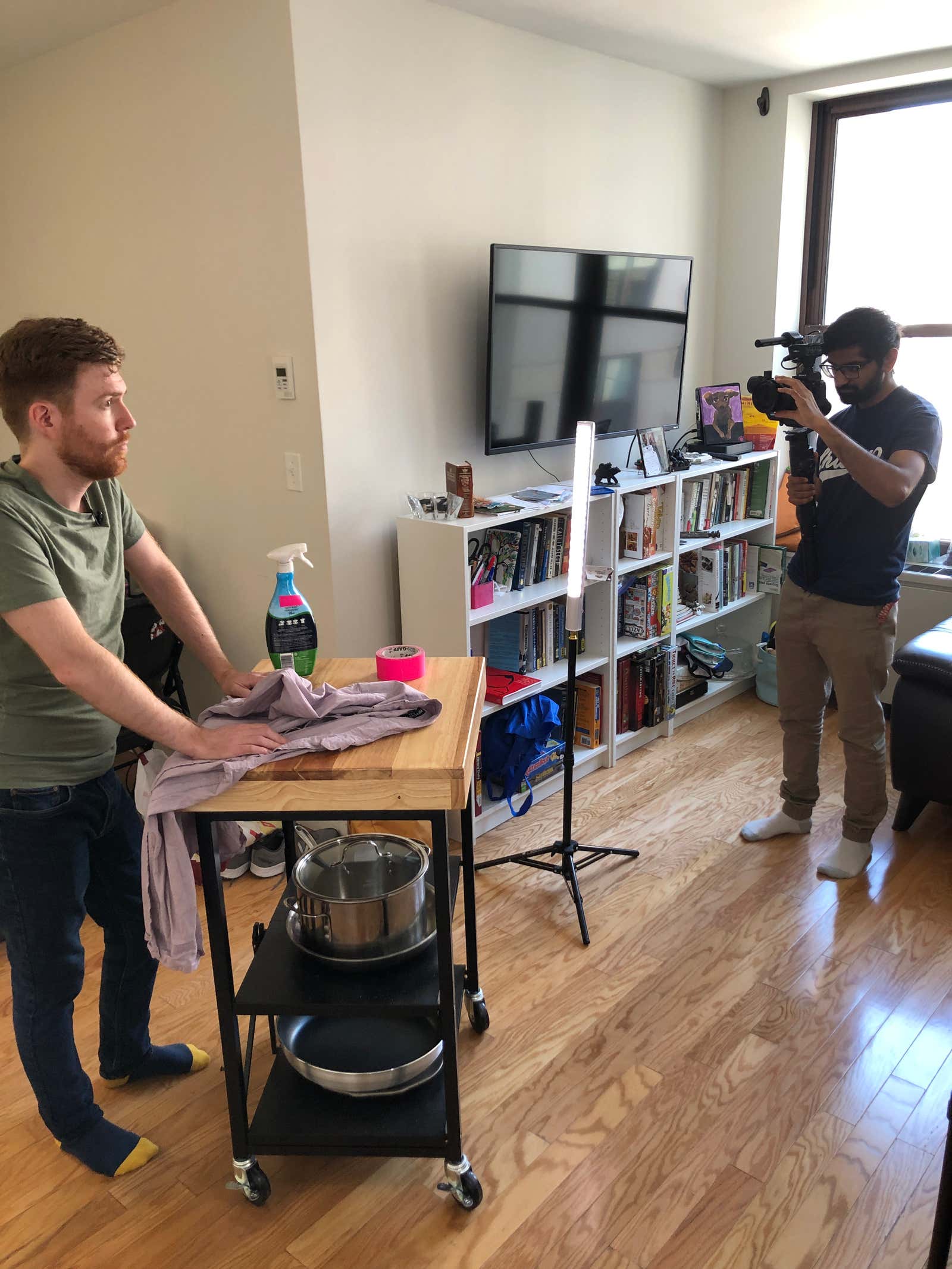 Every week, we share shortcuts, workspaces, and productivity tips from our favorite experts. This week we take a look behind the scenes at Lifehacker. I'm Joel Kahn and this is how I work.
Location: New York City Current Job: Senior Video Producer Current Computer: 2017, 27-inch iMac 5k Retina Display Current Mobile Device: iPhone 8 One word that best describes how you work: Controlled
First of all, tell us a little about your past and how you got where you are now.
I started working on branded content at Viacom (coincidentally working in the same building as our current G / O Media office). I started out there as an editing assistant, but by the time I left I was a producer / editor. Then I was a Senior Producer at a Brand Content Agency where I shot all sorts of videos for big corporate clients ranging from cooking to fashion and technology, and that eclecticism brought me here to lead the video team at Lifehacker.
What are your job responsibilities?
I am involved in everything related to the video that you see on this site. I come up with video ideas with our other producers, write and edit scripts, plan filming, live filming, sometimes work with the camera, draw up our post-production and video publishing calendars, edit videos as needed, provide feedback on video editing, write posts with videos in them and follow all video analytics on the site and in our social channels.
Tell us about a recent work day.
We will shoot 1-2 times a week (often in the studio in our office). So I'll go in and watch the latest videos on the site and YouTube and see if anything has a big spike in views. Then spend the morning over scripts, timetable, and email. If we're filming in the office, I try to schedule it for the afternoon so that we can pick up the props in the morning. Then we set up for shooting, shoot for about 2-3 hours, remove and upload all the footage to our server.
What apps, gadgets or tools can't you live without?
Obviously Adobe Creative Suite as we use Premiere to create all of our videos. We also have all of the current projects Airtable that is a great way to keep track of what is on the stage of pre-production, and it is ready for publication. Then Google Docs to collaborate on editing scripts and, of course, Slack, which our entire company works on.
How is your workplace arranged?
I have two (count two! ) Tables here. One is next to the window where I have a laptop with a monitor when I just need to view scenarios and I want to be near natural light / people.
My other setup is a windowless video editing cave that I share with a bunch of T-shirts and a reference skull that we call the "Death Hacker". Here is my desk and two other monitors, a table behind it and a sofa, which is now covered with props. This is what I use for video editing, meetings, calls and watching videos.
Slack, Spotify and Chrome (with our Airtable) are always open on my desktop. And my Premiere window configuration is the result of years of customization.
What's your favorite shortcut or trick?
This is very specific to our office location (and How I Travel Through Times Square may be a separate episode), but I recently had an evening flight after work and needed to fly to the airport right during rush hour. … Instead of dealing with hours of traffic, I took the tube 3 stops straight to Queens and then Lyft for $ 10 from the tube to the airport. Saved so much time and money! Definitely the perfect way to get out of Manhattan when you're short on luggage.
Who are the people who help you achieve results, and how do you rely on them?
Our New York producers are Heather and Abu, who are editing and filming, and Tahsin is our West Coast producer who writes and curates all of these great Claire cooking videos.
How do you keep track of what you need to do?
I am using a three-pronged approach. First, all of our active projects are featured on Airtable. By just scrolling through the list, I can keep track of what needs to be done for each project.
Then I always have a notebook with me, which has a to-do list.
Finally, if something is important (or needs to be done at a specific time) and I know I will forget, I will set a reminder on my phone.
How to recharge or relax?
I've never "recharged".
What are you reading now or what do you recommend?
I'm reading John Seabrook 's The Sand Machine , which tells how pop songwriters have created certain hits. This is a great accompaniment to the Hit Parade podcast, which comes out only once a month, and I am totally obsessed with it.
Can you share the music playlist you've created for work or somewhere else?
As a completely insane person, I have organized my Spotify carefully. I have ten separate playlists of everything I loved every year of this decade (about 500 songs each), and I recently combined them into an 80 hour playlist of 100 of my favorite albums from the last decade . So I just go through them while I work.
What problem are you still trying to solve?
How to find out what videos you want to watch.