Should You Buy: Apple's IPhone 11 Pro or Samsung's Galaxy Note 10?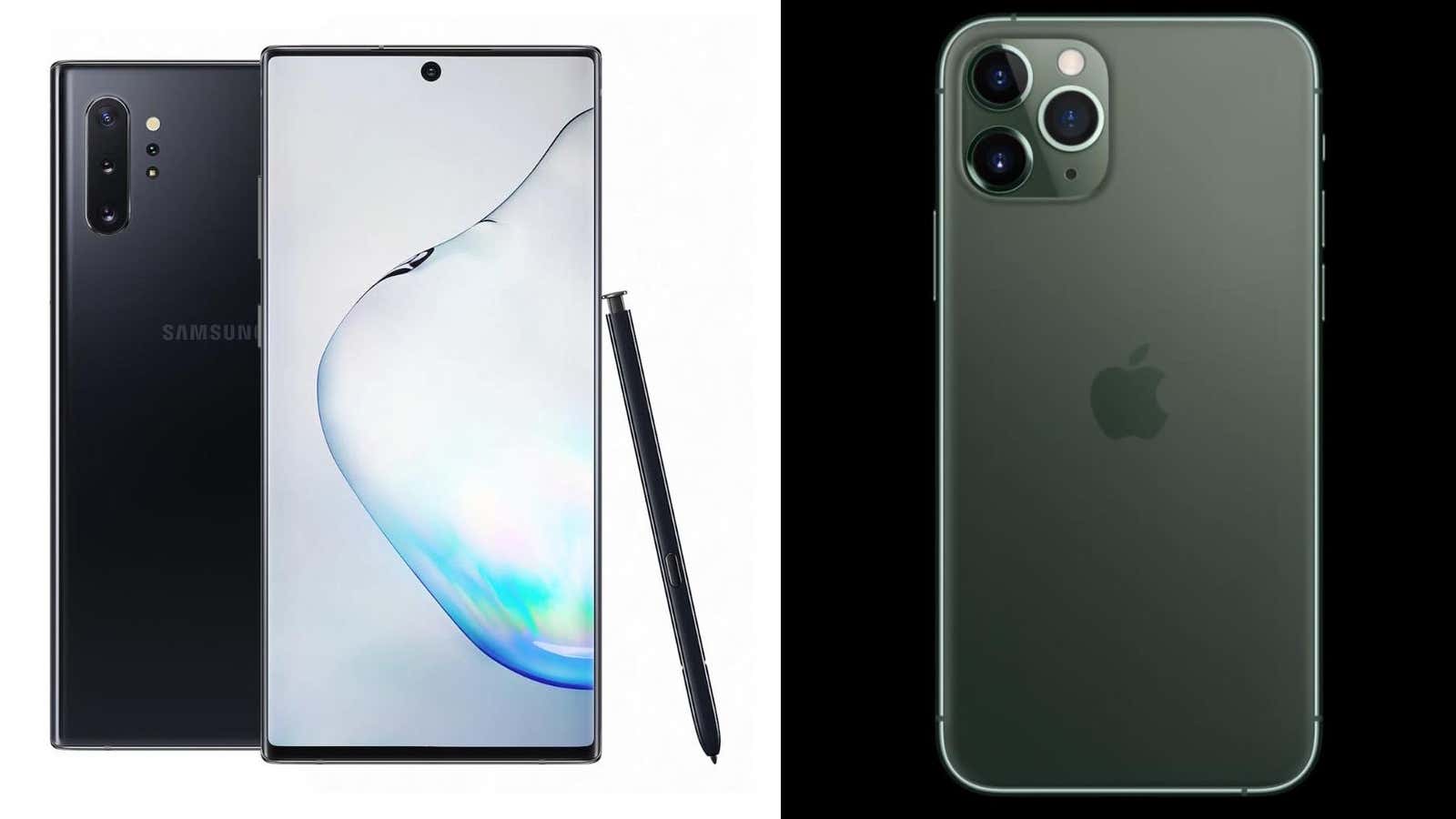 If you, like me, support Apple, it's time to start thinking about the next phone you are going to buy now that Apple introduced the iPhone 11 and iPhone 11 Pro . But there are many great phones out there that don't start with the letter "i" either.
If you are looking to spend a lot of money on your next device, I suppose you might be considering deciding which of the biggest and most feature-rich high-end phones you should go for in your conversation is the iPhone 11 Pro or Samsung. Galaxy Note 10 (or their larger "Max" and "Plus" versions). So let's see how they stack up.
Display
Everyone loves talking about cameras these days, but you look at your phone's display almost every time you spend time with it. So, this is the top of the list, but with these two phones, there is one question I can't answer for you: does more mean better?
The Galaxy Note 10 has a larger screen – 6.3 inches versus 5.8 inches for the iPhone 11 Pro. This is a significant difference. If you can tolerate (or even enjoy) the smaller screen size, the iPhone 11 Pro seems poised to deliver a richer image. Its XDR "Super Retina" OLED display has a resolution of 2436 by 1125 pixels and supports high dynamic range (HDR). The Note 10 is equipped with a Full HD + AMOLED display with a resolution of 2200 by 1080 pixels and also supports HDR. In other words: iPhone 11 Pro packs more pixels into less space for sharper images. And while both offer HDR, the iPhone 11 Pro's pixel density and contrast will improve the quality of your videos and games.
Of course, the Galaxy Note 10's screen works with a stylus too; more on this later.
Camera
Okay, we've put it off long enough. I know this is what everyone wants to talk about, so let's get started.
The signature feature of the iPhone 11 Pro is possibly its camera. Well, they are plural cameras. On the back, it has three 12MP cameras, each with a different lens – wide, ultra-wide, and telephoto – and it's incredibly easy to switch between them. You also get a trendy "Night Mode" for low-light shooting in evenings and dark rooms, as well as an upcoming software feature called "Deep Fusion" that takes photos with all three cameras and synthesizes them for the most detailed images. … possible. When shooting video, you can record in 4K at 60fps.
The front of the iPhone 11 Pro has a 12MP Truedepth camera that can also capture 4K HDR photos and record 4K videos at up to 60fps. (And it supports a new slow motion feature that records in 1080p at 120fps.)
You might be surprised to find that the Samsung Galaxy Note 10 has very similar features. It also has three cameras on the back: a 12MP wide-angle lens, a 16MP ultra-wide lens, and a 12MP telephoto lens. The multi-camera setup also offers a range of viewing modes, including "night mode" in low light, and you can shoot videos in 4K HDR10 quality.
The Galaxy Note 10 has technologies that will slightly improve your photography skills, including Scene Optimizer and Flaw Detector – not as crazy as Apple's Deep Fusion Mode, but something like that. The front camera is a 10MP "selfie camera", but it offers "night mode" just like the rear cameras of the phone.
Both phones have fun, camera-focused features. Like the iPhone X, the iPhone 11 Pro can use the front camera to create Memoji and Animoji that mimic your facial movements in a digital avatar to create funny messages. The Galaxy Note 10 has a range of augmented reality (AR) features, including an AR measurement tool and the ability to draw AR doodles right on video.
Representation
Admittedly, the iPhone 11 Pro has yet to be released, so comparing the two devices won't be easy, but here's what we know about the performance of each phone.
The iPhone 11 Pro uses Apple's new A13 Bionic chip, which Apple claims will increase the processing power of iPhones by 20 percent over last year's phones (and minimize power consumption, leading to longer battery life). The Note 10 uses an SM8150 chip and 8GB of RAM with a Qualcomm Snapdragon 855 processor.
Everything we've read about the Snapdragon 855 indicates that it is slower than the older Apple A12 Bionic chip – very close, but slightly slower – so the A13 Bionic is naturally slightly faster (about 20 percent or so, according to data from Apple.).
But let's be real. Most people will agree with what their devices have for everyday use. If you're a big gamer, you might notice a difference in performance between the two phones, but only if you really push your device to its limits. (Your bad battery.)
Battery
It's tricky to judge battery life on paper, by the way, but signs indicate that the iPhone 11 Pro has a slight edge over the Galaxy Note 10. This is all indirect at this point: the iPhone 11 Pro appears to have improved battery life over last year. … model, while the Note's battery life seems to be dropping.
For example, the Galaxy Note 10 has a 3,500mAh battery, which is smaller than the Note 9's, but Samsung claims that this battery can last all day with regular use. Apple says the iPhone 11 Pro will last "four hours longer than the iPhone XS" with a 2,659mAh battery, and has released a slew of statistics to illustrate how long the phone should last for various tasks.
While it is difficult to see exactly how this will affect how long these phones can last before needing a charge, you can get a sense of what these changes mean from the context. The Galaxy Note 9 had a 4,000mAh battery and averaged "22-24 hours" per day, according to Android Central . In Tom's Guide, the site lasted nearly 11 and a half hours of uptime in battery testing for the Galaxy Note 9 and just 9 hours and 10 minutes for the Galaxy Note 10 .
According to the same Tom's Guide battery test, the iPhone XS lasts approximately 9 hours and 40 minutes. Call us crazy, but we suspect the iPhone 11 Pro will outperform in battery life – at least compared to the Galaxy Note 10. The Galaxy Note 10 Plus, on the other hand, has a 4,300mAh battery and is likely a lot more powerful. stronger contender.
Safety
When it comes to preserving your privacy, the differences between these phones have a lot to do with the iPhone and Android privacy debate . For the most part, Apple is committed to protecting your data from other companies, and the Apple App Store has far fewer attackers seeking to install malware.
However, the Note 10 offers another additional piece of hardware security. Both phones have face-based lock, but the Note 10 also has an on-screen fingerprint reader. From my understanding, Samsung's "Face Unlock" is not as secure as Apple's Face ID, so a fingerprint might be a good option even if it's slower.
What about a stylus?
The Galaxy Note's signature feature has always been the smart stylus that Samsung calls the S Pen. The S Pen lets you draw and take notes by hand, which is nice, but technically Apple users can do it like a cheap capacitive stylus. The S Pen stands out for its gesture controls, which let you change drawing settings or other controls using pen movements, as well as gestures such as rotating the pen in your hand.
It's a very neat set of features, though it's hard for me to give the Note S Pen its due simply because I don't see people using it for their day to day phone chores. If you disagree, because you are already using the stylus on another phone, or because you are very eager to do so, then this is a huge advantage.
Free stuff!
Both Apple and Samsung will give you some freebies if you buy these phones.
Apple recently announced that it will give away a year of free use of its upcoming Apple TV + TV service when you buy a new iPhone (or other device) from the Apple Store.
Samsung has a couple of similar offerings. Anyone who buys a Note 10 through Samsung gets six months of Spotify Premium and four months of YouTube Premium. There's also the option to buy one, get $ 750 off through Verizon, which isn't exactly free, but still good if you and your partner / kid / best friend need new phones. (However, you must stick to the same plan.)
Price (and storage)
Last but not least. The Galaxy Note 10 has a slight edge over the iPhone 11 Pro because it is slightly cheaper. The Galaxy Note 10 costs $ 950, which is $ 50 less than the base iPhone 11 Pro model, which costs $ 999.
Like previous iPhones, the 11 Pro comes in three different models with increasing storage capacities. The $ 999 model has 64GB of storage. The 256GB model, which matches the storage capacity of the Note 10, is priced at $ 1,149. (To complete the set, the high-end model has a 512GB hard drive and is priced at $ 1,349.)
The iPhone offers some additional incentives in terms of payment plans, especially if you plan on continuing to buy an iPhone every year, but when compared individually, the Note 10 is definitely easier on your wallet for what you get.
So what will it be?
Listen. I won't tell you which phone to buy. There are many factors that I cannot predict for you. Plus, there is all this attachment to the "ecosystem" here – I have no idea how difficult it will be for you to switch from one OS to another. That said, I think it at least shows how comparable these phones are on paper. If you walk around and think, "Oh, I need an iPhone. The iPhone is the best. " It may be time to rethink this thinking.