How to Cook Vegetable Burgers With Respect for Vegetables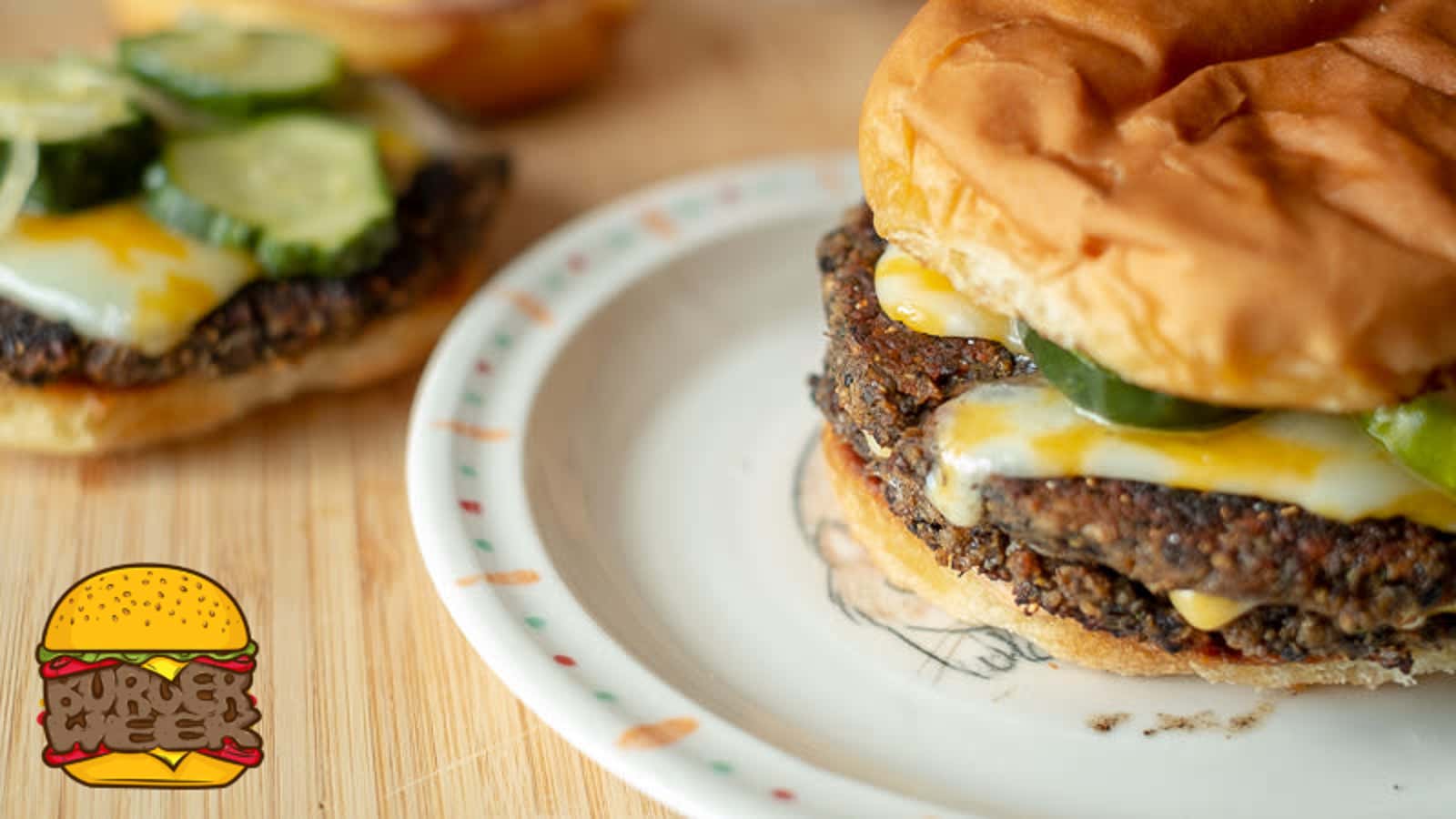 What I am about to say may upset you, and if so, I sincerely apologize. I think beef is okay.
Welcome to Burger Week! Grilling season is in full swing and we're like hamburgers. Whether it's picking the perfect patty, filling those patties with melted cheese, or making a vegetable proposition that doesn't suck, we've got the tips, recipes and advice you need to create your best burger.
Listen to me. I make an incredibly good ribeye for special dinners at home, but with exactly two exceptions – the galbi and the Stockyard burger – I avoid beef in restaurants. I always prefer to eat lamb, pork or chicken over beef, especially if it's minced meat. Even fancy homemade hamburger mixes are still ground beef, whose ultimate purpose is to roll into a ball, sprinkle with salt and pepper, and crush thinly in a medium skillet to get the most out of the melted cheese and what I call "salted crispy flakes ". (Why medium spicy? In the words of Matty Matheson, " Burnt beef tastes like shit! ") Fancy Chef burgers are too thick, bloody, and too expensive; I'll be a veggie burger, thanks.
Vegetarian burgers reign because they can taste all kinds, but their potential is being wasted on people who demand they taste like meat. As someone who just wants vegetables to be successful, it hurts me internally. Whatever you do with plants, they will never turn into beef – and that's okay! They can be on their own. The absolute worst are veggie burger recipes that promise that even your " predatory friends " (do you have any of them?) Won't tell the difference. First, meat eaters will always know the difference; second, why strive for mediocrity at all?
The world would be a better place if we accepted veggie burgers for what they are: infinitely adaptable bean pancakes. My personal breakthrough came when I remembered that the perfect bean pancake already exists in falafel, whose texture comes from soaked but not boiled beans. Surprise, surprise: Soaked black beans make a terrific veggie burger, especially when the patties are thin and crunchy. (Indispensable disclaimer: Never, ever try this with beans, which can make you very sick if undercooked. Although the toxin that makes beans dangerous is present in other beans and legumes, the concentration is so low that it is not dangerous. )
Soaked beans make the best veggie burger , but not enough to make a great one . Raw beans don't taste that big, so all of the flavor should come from the vegetables and the fat they're cooked in. I grind the flavorful vegetable mixture in a food processor, then slowly cook them in refined coconut oil until they're almost to the bone. This concentrates their taste and ensures that they absorb a lot of tasty fat. An egg and a few bread crumbs glue the patties together so they can be broken and flipped, but they won't make the dough for you. These veggie burgers are really great: hearty, super-crunchy, and flavorful enough to pair with whatever toppings you like.
Crispy black bean burgers
Dried beans and a food processor are all you need here. If you're a vegan, skip the egg and add a tablespoon of vegan mayonnaise; If you are a gluten-free diet, use oatmeal or gluten-free bread crumbs. Try to eat about a pound of raw vegetables, whatever you like, but don't skimp on onions and garlic.
I developed this recipe in a skillet, so I can't recommend grilling these burgers. If necessary, roast the formed chilled patties at 350ºF for 5-10 minutes on each side until they are firm enough to withstand the hot grill. This makes six medium-sized hamburgers; double that for the crowd.
Ingredients:
½ cup (100 g) dried black beans, rinsed and harvested
1 medium carrot (60 grams)
Half a medium onion (100 grams)
5-6 large crimini mushrooms (180 grams)
Half peeled large red beets (65 grams)
1 onion (25 grams)
5 small cloves of garlic (15 grams)
3 tablespoons refined coconut oil or other vegetable oil
Table salt and freshly ground black pepper to taste
1 teaspoon soy sauce or tamari
(Optional) a small handful of walnuts or other nuts
(Optional) A small handful of fresh green grass of your choice
1 large egg
Breadcrumbs up to ⅓ cup
(Optional) 1 tablespoon dry polenta or coarse yellow cornmeal
Toasted buns, cheese, pickles and spreads of your choice.
Instructions:
Place the beans in a large bowl and cover with cold enough water to triple. Incubate 12-24 hours.
Start cooking the vegetables two hours before burger cooking time (or the night before). Chop everything roughly and transfer to the working bowl of a food processor. Whisk until chopped, scraping off bowl as needed to keep everything smooth; it took me about ten pulses per second.
Heat oil in a large skillet over medium-high heat. Add vegetables and season with at least half a teaspoon of table salt and pepper. Cook, stirring often, for about five minutes – you just want to deflate them a little. They will immediately release a bunch of liquid; when they begin to dry, reduce heat to low. Cook vegetables without a lid for about an hour, stirring several times to ensure even evaporation and browning. When they are completely browned and almost dry, turn off the heat and add a little soy sauce. Let cool to room temperature, then refrigerate until ready to make the pie mixture.
While the vegetables are cooking, roast the nuts (if any) in the 350ºF oven until they are completely browned and fragrant as hell, 10 minutes for the walnut halves I used. (Other nuts will take less or more time; watch them.) Allow to cool to room temperature.
To make patties, drain and rinse the beans, then transfer them to a food processor with whatever nuts and herbs you use. Whisk until the mixture is finely chopped, scraping frequently from the sides of the bowl. Aim for mostly uniform particles that are about the same size as cooked groats or polenta.
Add the cooked vegetables and egg to a food processor along with another large pinch of salt and pepper, and beat several times to combine. Pour this mixture into a bowl and appreciate the texture: make a palm-sized patty about half an inch thick, then grab it by the rim and hang over the bowl. If he lasts a few seconds before falling – great; If not, add the breadcrumbs, tablespoon at a time, until smooth. This time, my mixture required a meager quarter cup of bread crumbs.
Add polenta or cornmeal if using, then form into tortillas by transferring to a parchment lined plate or baking sheet. For best results, keep patties three to four inches in diameter and about a quarter of an inch thick.
Freeze patties for five to ten minutes, or refrigerate for half an hour before cooking. While they are cooling, heat a wide skillet over medium heat and cook the scones and seasonings. Add one or two tablespoons of oil to the skillet, heat for a minute, then salt and pepper the cutlets on both sides. Gently insert as much as is comfortable, applying gentle pressure with a metal spatula to cover the crust to the maximum. Cook for four to five minutes, turn over, press and repeat. Serve on toasted buns with all your favorite dishes .
Everyone deserves a crunchy, salty, delicious burger every now and then, and I'm so glad I finally figured out how to make a great meatless burger. I won't sit here and swear that one bite will make you give up meat burgers for life, but if you associate veggie burgers with Play-Doh, I think that might change your mind.