How to Sell, Exchange, or Donate Gift Cards You Don't Need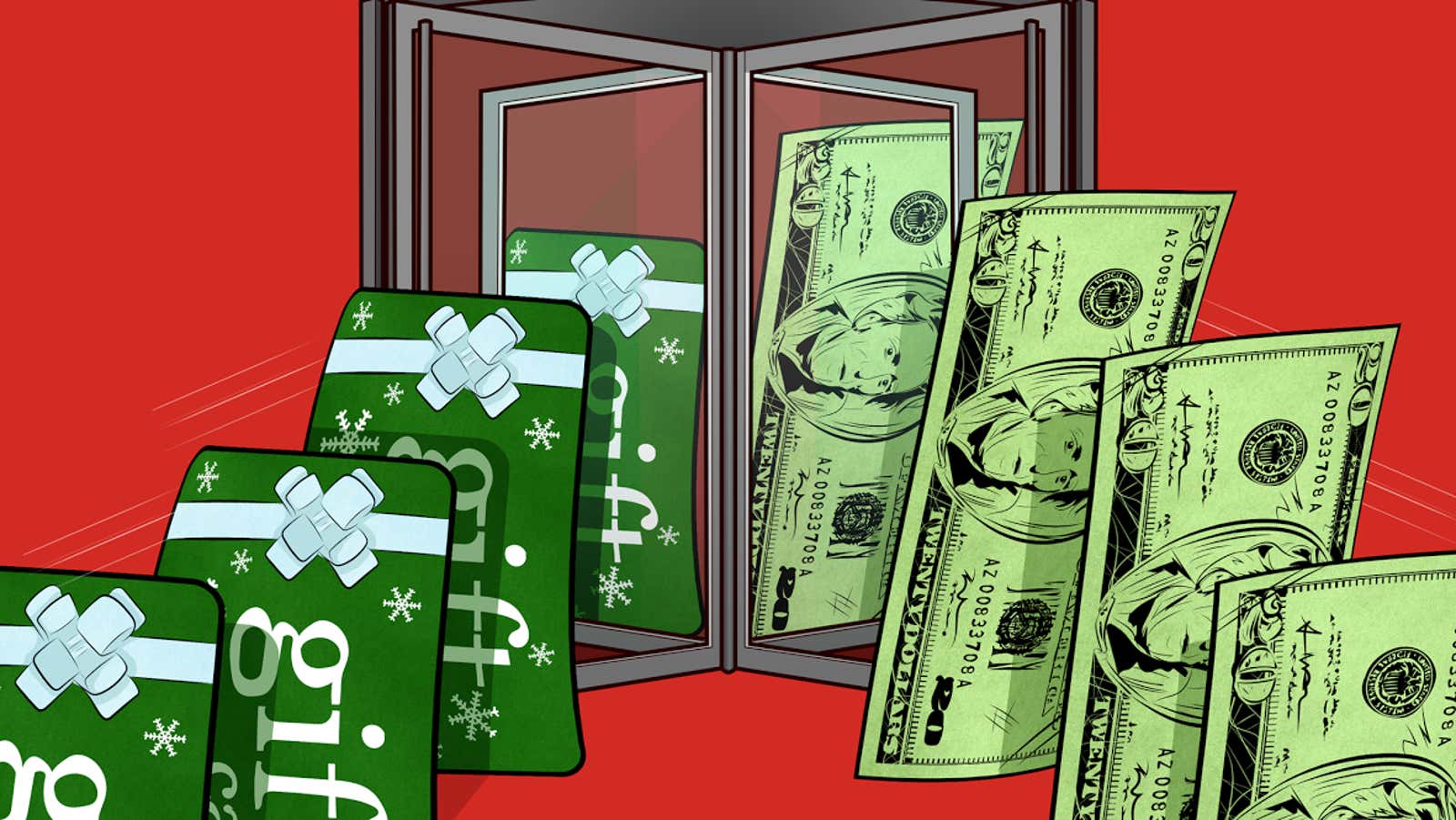 Let's say your Uncle Joe had no idea what you wanted for Christmas, so he gave you some random gift cards. You are grateful for that thought, but you've never shopped at Bass Pro Shops in your life, and Subway is your least favorite restaurant chain. You might as well see what else you can do with all those unwanted gift cards.
Return them to the seller
This is a tricky question, but it's probably the first place you should start: see if you can simply return the gift card.
It depends on the seller, but some stores will actually let you do this. However, there are usually caveats. Old Navy, for example, allows you to return a gift card , but they will credit the original form of payment. So if your Uncle Joe didn't pay cash for this card, you're out of luck. Starbucks allows you to return gift cards if you call 1-800-STARBUC (782-7282), but you will need the original receipt. If you have one, they will mail you a check.
You are usually more fortunate if the card was obtained from a third party, such as a grocery store. Some stores have a short window where you can return an unused gift card.
You can also be upfront with the donor and tell him that you don't need a card, but you won't mind cash. However, depending on your relationship, this can be a tricky conversation, so let's look at a few less awkward options.
Donate them to charity
Finally, if you are looking to do charity, why not donate unnecessary gift cards ? CardFunder works with gift exchange sites called Cardpool to transfer unwanted gift cards. You enter your card details , Cardpool cashes them in and then sends the money to Compassion International.
Another option is plywood . Through their Gift Card Giver program, they take your unused gift cards and donate them to organizations that can use them to buy supplies or just help those in need. You simply write the balance directly onto the gift card and send it to them (PO Box 17920 Atlanta, GA 30316). And Goodwill accepts gift cards too. However, not all locations accept all items, so you might want to call your local Goodwill service first and ask if you can donate gift cards.
Sell ​​them for extra money
You can always try to sell unwanted gift cards . You can do this in person at the Coinstar Exchange kiosk ( enter your zip code here to find the kiosks of a store near you). Scan unused gift cards and as long as your balance is at least $ 20, Coinstar will make you an offer, usually 60 to 85% of your card balance. If you agree, you simply verify your identity with your credit card and driver's license, and then receive a printed voucher that can be redeemed for cash at the store's customer service area. If you go this route, there are a few things to keep in mind:
You must exchange the voucher at the same store where you used the kiosk.
You must exchange the voucher on the same day.
You can't just use a regular Coinstar kiosk, it has to be a Coinstar Exchange kiosk .
Optionally, you can also do this online using a gift card exchange site such as Card Cash , Cardpool or Raise . You enter your card details, they make you an offer, you accept them, and then you give them your card PIN. They use Card Cash to check balances and process your payouts. Sites like Cardpool or Raise work more or less the same, but you actually place your card on the marketplace and wait for a buyer. You can compare your options to see which site is offering you the best amount, but the difference is likely to be negligible. When we tested the $ 50 Home Depot Gift Card, several popular sites offered cash:
Card Cash: $ 41.50
Cardpool: $ 41.25
Raise: $ 39.56 (estimated)
While some sites will transfer money to your bank or pay you via Paypal, if you want to get cash quickly, Coinstar Exchange is your best bet.
Exchange them for the best gift cards
If cash refunds are not available, you can exchange unwanted gift cards for cards at a store you do visit frequently.
Some stores also work directly with Card Cash , a gift card exchange site where you can buy, sell, or redeem your gift cards. You can simply go to the Card Cash homepage , go to the Sell Gift Cards section and enter your details. You will see "Get Paid" options, one of which involves exchanging for a slightly better price at a partner retail store such as CVS , Hotels.com, or Dell . Check the box and you'll see a list of in-store exchange rates above, along with several others like Amazon, Staples, GameStop, Toys R Us, and Barnes and Noble.
Exchange them for travel points
United Airlines has a great program that allows you to redeem unwanted gift cards for miles . You simply enter your gift card details and United shows you how many miles they will add to your MileagePlus account in exchange for the card. The transaction is carried out electronically, so there is no need to send anything by mail either. Miles can be redeemed differently, but here are the minimum amounts for three different gift card amounts:
$ 25 Gift Card: 670 Miles minimum
$ 50 Gift Card: 1,330 Miles minimum
$ 100 Gift Card: 2,660 Miles minimum
We tested several different amounts in different stores and didn't get anything above the minimum. So chances are good that the miles listed above are exactly what you will actually receive with your gift card.
Register them (but be careful)
You can simply give the card to the person who will actually use it. However, if you want to register it, do so carefully, otherwise you risk getting registrar status. For example, if you had a gift card forever and did not use it, it may have expired or the merchant might charge an inactivity fee to use it again .
Also, suppose you used a gift card, you just don't use the whole thing. You may have craved soda, walked past the Bass Pro Shop and found you have a $ 50 gift card so you can use it. Whatever the scenario, if your card has an odd balance, visit a store and pay to round up the balance before giving it to someone. Otherwise, they will find out that it is a regift.
, Mike Mozart , bfishadow , Mike Mozart .