A Quick Guide to Everything You Forgot for Thanksgiving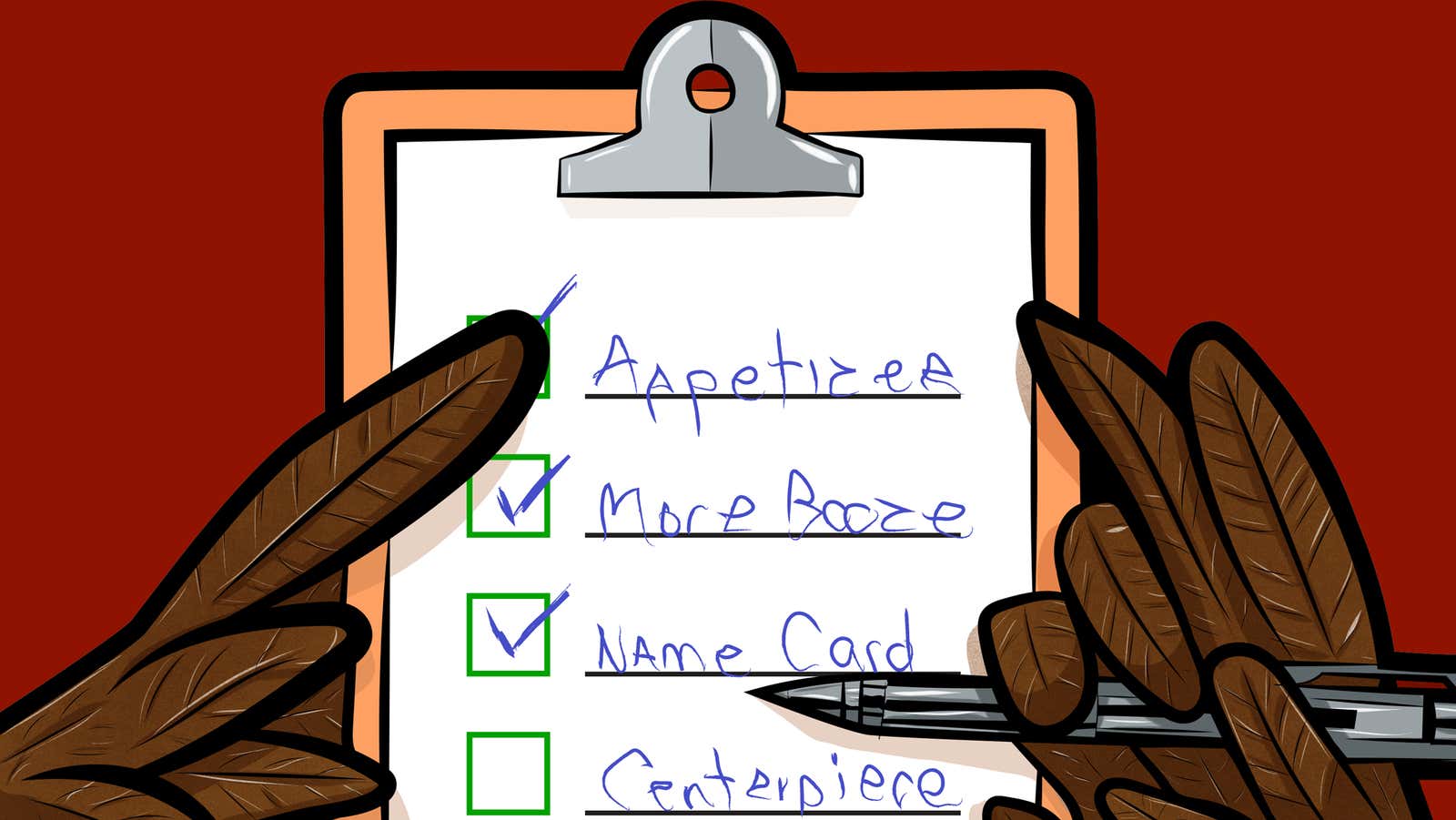 Thanksgiving can be fun, but it's always stressful. Stress leads to forgetfulness, forgetfulness leads to anger, and anger leads to wine-fueled fights with mother-in-law. Luckily, here are quick fixes to fix any gaps you're worried about Turkey Day so you can avoid injury and drama.
You forgot about a snack
Of course, it would be great if you didn't forget to buy the endive and lovingly put the little mounds of chevre on each tender leaf, but the endive was not on the shopping list, and now you have nothing to lie on for your guests while you finish the main meal. You can send your nephew to the store for a sad tray of vegetables, or use this opportunity to clean up the closet and refrigerator.
First, check your pantry for a can of beans, any beans, and whisk in a light sauce. Aside from the beans, you will need some olive oil (a couple tablespoons), some salt and pepper, and then one from each of the following categories:
Tablespoon Butter: Any kind of nut butter or creamy dairy will work here, so grab the last bite of sour cream, yogurt, cream cheese, or even a forgotten brie.
An aromatic pinch or drizzle: Ginger and garlic are good options, but don't be afraid to pounce on the fridge for delicious one-off meals like miso , harissa, fish sauce, chili, parmesan, Worcestershire sauce, curry powder, or even a can. fish like anchovies or sardines.
A little acid: The juice and zest of half a lemon or lime should help you, but you can also try a teaspoon or two of your favorite vinegar, or even some mustard, pickle, or juice from a can of banana pepper.
Slightly Sweet: Any sweet syrupy sweetness will do, be it agave, honey, or maple, but there's nothing wrong with using a little white table sugar or brown sugar.
Some kind of filling: You can use whatever herbs you have left over from other Thanksgiving recipes, or add chopped nuts or potato chips for a delicious texture.
Just mix it all together, garnish with a side dish, and serve in a bowl with additional vegetables or crunchy carbs you have on hand. (If necessary, send someone to the gas station for chips.)
Then, if you have extra herbs or vegetable tops, turn them into 1: 2: 2: 8 pesto ( 1 part nuts, 2 parts butter, 2 parts grated cheese, 8 parts leaves. Or herb ) and garlic , lemon, salt and pepper to taste. Carrot tops, various herbs, kale, spinach, and arugula can be mixed with this flavorful spread, and you can even use a mixture of all of the above.
Just grab a couple of garlic cloves and chop them well using the ripple feature on your food processor . Add two cups of greens, ½ cup of olive oil, ¼ cup of any nuts you have at home, and beat until smooth. Add ½ cup grated hard cheese, squeeze out half the lemon and beat until smooth. Try and adjust if necessary.
Finally, don't underestimate the power of ramen dip . Just take a super salty bag (any flavor except the weird cheesy one) and stir in the sour cream tub. (Sprinkle with green onions on top to garnish.) Serve with the chips and watch them eat.
Aside from sauces, packing bacon can do a lot. In fact, a whole range of bacon-based snacks can be made with one or two other ingredients:
Bacon + crackers + parmesan: this is an old faithful recipe I wrote in Pioneer Woman . Simply sprinkle a teaspoon of shredded cheese on the Club Butter Cracker, wrap half a piece of bacon over it and repeat until you've gone all the way. Bake at 250 ℉ for two hours.
Bacon + brown sugar: Toss the bacon and brown sugar slices, place them in one layer on a parchment-lined baking sheet, place another layer of parchment on top, and place the baking sheet on top of the entire situation. Bake at 325 ℉ until crisp, about 20-35 minutes.
Bacon + Asparagus: Wrap a slice of bacon around the stem of the asparagus and bake at 400 ℉ for about half an hour.
Bacon + Pepper + Cream Cheese: Make a cut in the jalapenos or serranos (warning: they are spicy) and remove the insides. Stuff with cream cheese, wrap in bacon and bake at 375 ℉ for about half an hour, until the bacon is crispy.
That should take care of the snacks, or you can just do what my family does and buy a giant plastic bowl of aggressively orange cheese balls. This is never a bad plan.
You forgot to buy enough booze
Maybe you don't think booze is a must-have for Thanksgiving, but I'd rather end up with pie than wine. If you've somehow underestimated the alcohol needs of your guest list , don't panic, you have several options.
First, check your liquor cabinet and see what kind of solid things you have lying around. You can quickly make a punch from just about anything, as long as you have something strong (liquor), something sweet (juice), and something sparkling (whether alcoholic or not). Feel free to experiment with this to your liking, but I love the ratio: 1 bottle (750 ml) booze: 1 bottle of sparkling wine: 6 cups of juice. If that's a little strong for your taste, consider swapping out the champagne for a ginger ale or sprite. Some combinations to get you started:
Grapefruit Gin Punch: Ruby Red Grapefruit Juice + Gin + Semi-Dry Sparkling Wine
Festive Cranberry Punch: Cranberry Cocktail + Vodka + Prosecco
Rum punch: peach, orange, mango, juice + rum + kava
Communion Punch: Welch Grape Juice + It Doesn't Matter + Maybe, Actually Don't
Beer Shandy Punch: lemonade + bourbon + lager
If you don't even have time for that, just send someone for a few cheap bottles of wine. Trader Joe's , Walmart, and Costco are all good resources with knowledgeable staff to help you get the most out of your investment. (Depending on which state you live in, you may not even need a Costco membership to buy wine there .)
You forgot about a guest who didn't come to dinner
In addition to the main meal, you will most likely visit friends and family for coffee or cocktails on the holiday weekend. To make sure you have something to serve besides leftovers, head to the freezer and stock up on these winners.
You can never have too much pie, and if you are low on pumpkin, you can always grab Marie Callender's Pumpkin Pie ($ 6.49) for the classic pumpkin pie – or Edwards' Pumpkin Pie ($ 6.49) for something a little unconventional, but very tasty. Both have been voted some of The Kitchn's finest frozen options , and both can be found in just about any grocery store.
But frozen pie isn't the only cold superhero, if you want to serve something just as simple but a little more delicious grab frozen puff pastry. Puff pastry is a dough that can be both sweet and savory, so grab a few sheets and make one or more of the following delicious bites:
Super Easy Plum Tart : Cut dough into squares and prick with a fork. Fan some pretty plum slices and sprinkle with sugar and freshly ground pepper. Bake for about half an hour at 425 ℉ until golden brown and drizzle with honey before serving.
Make Croffle : Place the puff pastry in a waffle iron and crunch it. Serve with nutella and strawberries.
Savory Cheese Straws: Combine a cup of grated Parmesan cheese, a teaspoon of garlic powder, and a teaspoon of pepper in a bowl. Cut the puff pastry into strips and twist to make strips. Brush the straws with egg water and rub the cheese mixture until it's covered and bake for about ten minutes at 425 ℉ until golden brown.
If after the holiday you are too tired to cook, just put on a cup of coffee and prepare sweet seasonal liqueurs such as Kahlua mocha, Frangelico or Bailey's. Nobody will be angry with this.
You forgot to make a business card or decoration
Nobody ever said, "You know, it was a good dinner and the turkey was excellent , but I just can't handle the lack of holiday cards and / or decorations." Nobody ever said that because nobody cares about table escapes, which means you don't have to worry about forgetting them. If, however, you want your guests to start a conversation, consider printing out these holiday Crazy Bibles for Thanksgiving .
We hope this will stimulate pleasant, non-political conversation at the dinner table. If that doesn't work, go back to the second section of this article and choose the one that works best for you. (Communion punch is your nuclear option.)