This Paper Template Will Help You Stick to Your Running Routine.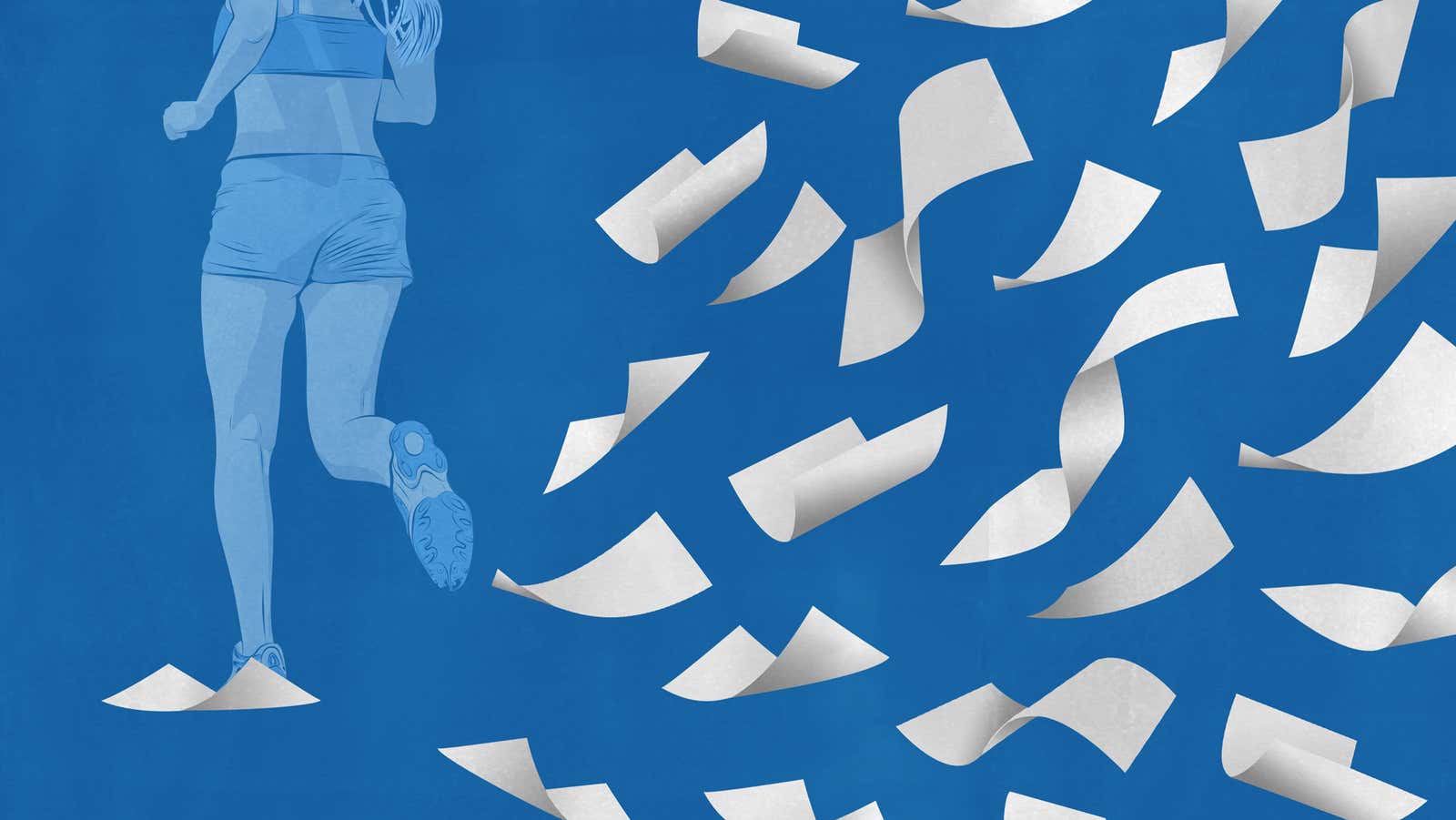 Apps can measure how far and how fast you run, but they're not great at measuring your long-term progress. Am I developing a habit? Am I getting faster? Viewing your runs on a piece of planned workout paper alongside a quick showdown will help you see your progress. Here is the template I am using.
Why Paper and not an app?
I don't trust applications to track this information for two important reasons. First, I love the freedom to switch from app to app whenever I want. I use Nike + for my daily runs, but sometimes I launch Strava to test my speed on my favorite stretch. Because I spend a few minutes after each run jotting down the numbers that I care about, I keep all my key data in one place, rather than going through multiple online logs. It doesn't matter if I used Runkeeper last year or that sometimes I leave my phone at home and just measure the time with a stopwatch.
Another reason is that apps don't always keep track of the numbers that are important to me. On paper, I can write down how fast I ran that stretch of Strava, or how many miles I covered in that long run. I don't have to look at my average pace, which doesn't matter anyway. Instead, I keep track of any numbers that are relevant to my goals.
My template also helps keep track of progress in the big picture, especially when I'm following a plan. I can see at a glance if I have completed the weekly workouts as instructed. And since I am accumulating my weekly total miles, I have a reminder in my face of whether I am consistent. If my mileage drops, I relax. If he jumps too high, I prepare myself for injury or disappointment.
How to use the template
There is room in my work journal for anything I think is important. The format works fine in a bullet log or other hand drawn planner, but I made a printable version as well . Clip it to the fridge or clip it to a location you won't miss when you get home from your run. Be sure to save completed sheets, even if they are just stacked behind the current sheet in the clipboard. Later, you will love that you can look back and see how your workouts have progressed.
At the beginning of the week, set up a journal:
Put the date at the top. Whether you are using a workout plan from an app, from a coach, or downloading from a website, pay attention to which plan it is and what week you are in.
Write down your goal for the week. This is your guiding star in case you need to make changes. Maybe you're targeting a certain total mileage for the week. It might be a busy week and you know you might have to skip your runs, but by hook or by crook you will end up on a hill run and 5-mile run on the weekend. If I am ever struggling with burnout or trauma, my goal might simply be "Have fun."
For each day of the week, write down your planned run for that day. Include rest days and non-jogging workouts so you have everything in one place. (Here you can see that you have scheduled a big workout in the gym right after a long run. Um, move this over.)
Include as many details as possible to help you plan your run. It means time and place, unless you are always so stable in your schedule that it is unnecessary to mention it here. The idea is to make sure that your plan is indeed a plan and not just an idle wish.
After each launch, it is important to return to the log and write down the details. You can copy them from your app, from your watch, or from your own soft brain as you like:
How many miles have you actually run. It goes in the column to the left. (Optionally, you can track your run in minutes or workouts, not in miles.)
Important indicators of daily mileage. If you've timed out some speed work, write down your time. If you try new routes, write down where you went and how you liked it. If you tried to run up a giant hill without walking, write down if you were able to do so.
Anything you want to track. I like to add an emoji to a run that went really well so that later I can look back and do more like it. I scowl at anything that really sucks and try to add a note on what could have gone wrong. If I have to skip a run or change my plans, I'll make a note on why.
Calculate your mileage at the end of the week. You can add a short description of how the week went in one sentence. Have you reached your goal?
This is all there is in this system. Just one sheet of paper, updated once a day. Save the pages for posterity in your Evernote notebook or, continuing the low-tech theme, in a real file folder.