Are the Paid Meditation Apps Worth It?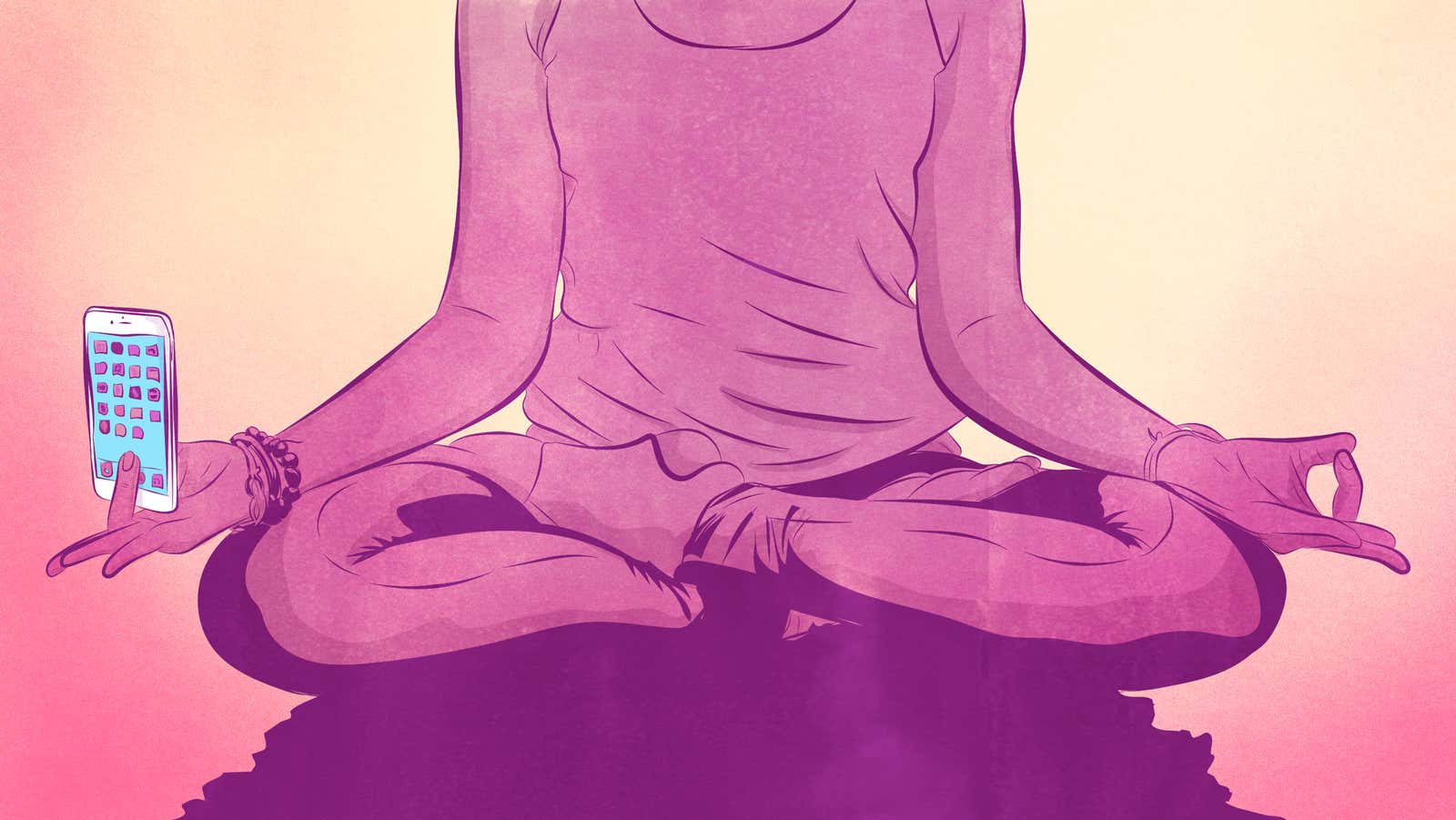 Meditation apps can help you set aside time to meditate during the day, teach you how to meditate, or introduce you to new techniques. These range from simple timers to extensive tutorial series and subscription guides. Let's take a look at a few and what they can do for you.
Like music, incense and floor cushions, meditation apps are unnecessary. You don't need anything at all to get started and we've given you tons of ideas on how easy it is to get on board. You can simply count a few breaths for a mini-meditation, or take short breaks in your daily activities. You even meditate when you are being mindful about washing dishes or walking around your area .
Apps can help depending on what you want to achieve with meditation. There are several ways:
They can help you build a habit. Apps can remind you to meditate every day, and can also track statistics such as the longest streak and total time you spent meditating using the app.
They can provide a timer and virtual home for your meditation. Any clock can help you time your meditation, but special apps will also give you the feeling that you are doing an important thing, and here and now is the best place to do it.
They can teach you how to meditate better or try new meditation techniques. If your mind wanders while meditating, or if you want to try different types of meditation, guided activities (where a voice tells you what to do) can help you stay on track.
Some meditation apps promise to help your mental health. While meditation can have real psychological benefits , many of the apps that say they can reduce anxiety or help cope with depression are not based on solid scientific evidence , so make sure you don't rely on empty promises when you really need the help of a trusted person. … a source. In this case, contact a professional or visit these hotlines and support groups in addition to meditation.
Buddhify (iOS / Android) brings mindfulness to everyday situations
This app doesn't have a free version, but at just $ 2.99 to download the app with no monthly fees, it's the cheapest of the three options. Buddhify is available for iOS and Android .
What do you get for this money : recordings of meditations for different occasions and purposes. Most of these are not simple types of "focus on your breath" meditation, but more often encourage you to be mindful of what you are experiencing. For example, there is a set of food meditations where you observe carefully how your food tastes. Alternatively, when you feel criticized, you are asked to identify and name your thoughts ("Hey Mr. Doubt") in order to understand your emotions by distancing yourself from them.
Headspace (iOS / Android) guides you along the learning path
Headspace is a popular meditation app with cute animations available for both iOS and Android . Most of its content is blocked for a $ 12.95 / month subscription (or $ 95.88 / year), but you can get what you need from ten free sessions.
What you get for free : Ten guided meditations to be completed in order (completing the first unlocks the second, etc.). Some activities begin with a video that introduces the concept you will be using. For example,you can use car animations on the road to present your thoughts, with you as an outside observer just watching them drive by.
After you've completed these meditations, you can go back and do any of them again, but to try anything else that the app has to offer, you need a subscription.
You can also view some statistics: the average amount of time you meditate, the total number of sessions you have, your total meditation time with the app, and the length of the series you worked on. You can also add up to five friends as meditation buddies and view each other's stats.
What you get with a subscription : Much more guided meditations. Most of them come in "packages" such as the free series, where you have to work through them one at a time. There are packages for anxiety, self-esteem, creativity, and more, each with 10-30 sessions. You can't jump between packs without losing progress, and the guys at Headspace give an explanation that's either deep or bullshit , I can't say, "When we learn to meditate, it's very important that we stick to the program we started as much as possible. .. if it gets a little awkward, or maybe even boring halfway through, then it's time to stay in the game and finish building. "
The subscription also gives you access to single games (which do not interfere with the progress of your set): SOS meditations, every three minutes, when you need to calm down in stressful situations; On-the-go meditations for mindfulness in daily life, similar to the Buddhify approach; and simple scheduled sessions (with or without a guide) of your choice of duration: from 10 minutes to 60 minutes.
Peace of mind (iOS / Android / Internet) will lead you to your happy place
Calm started life as a website that plays relaxing sounds and videos , but is now a complete meditation app for iOS and Android . It offers more for free than Headspace, and its subscription is slightly cheaper at $ 9.99 per month or $ 39.99 per year.
What you get for free : For starters, the soothing sound of the waves on the beach. All 28 scenes of nature sounds or soothing music are available in the free app. I am partial to the rain that falls on the leaves.
Just like Headspace, Calm has a series of guided meditations that you can do for free: Seven Days of Peace. But it also offers a free subscription-only session every day as a sample to entice you to subscribe. Unsupervised meditations are free too: you can choose a timed meditation that rings a gentle bell when time runs out, or an open-ended meditation that continues until you stop (with additional bells, if you like, every two , five, or ten minutes). You can also have two instructor sessions that are not part of the series: Body Scan or Loving Kindness meditation, for three to 30 minutes of your choice.
What you get with a subscription : Most. If you loved Seven Days of Peace, there is a 21-day version as well as seven other packages for stress management, concentration, sleep, happiness, and more. Unlike Headspace, you can jump from one package to the next as you like. For example, I'm on day 4 of stress management and day 6 of 21 days of calm. I can do the next lesson from any series whenever I want.
A subscription also unlocks many guided sessions, each with a different purpose, from inner peace to confidence and deep concentration. There are several ways to stay mindful during the day, such as one for commuting and several to help you fall asleep.
Paid subscribers also get Daily Calm, a different meditation every day (not available elsewhere in the app) on a given topic. Today's ten minute meditation on the topic of "Acceptance."
Bottom line
Any of these apps can help you start or continue your meditation practice. Headspace aims to guide you through a course of meditation and expects you to stick to whichever series you choose. Buddhify shines when you want to be mindful of what you are doing at the moment, but it is not organized as a linear journey. Tranquility is a hybrid that allows you to work out courses or do one-off meditations. Calm is also the only one of the three to provide background sound.
The capabilities of these applications are available in other ways as well. You can stream instructor-led meditation tracks on Spotify , as well as nature sounds and relaxing music. If you just want a timer, you can use … well, a timer . However, it is convenient to have all these functions in one place, and the statistics will leave an indelible reminder of the time you spent. If you value these features, this makes the app useful.
I started with Calm, and after trying others, Calm is still the one I plan to stick with. I started using it when I was dealing with a lot of stress, and the soothing sound of the rain takes me to my little mental resting place. I'm too restless to meditate without an app giving me some structure, but Headspace's strict linear progression isn't really my style. Calmness is my golden mean. (I also love the voice of the narrator Tamara Levitt .) I am a subscriber now, but I do not rule out that someday I will unsubscribe to just enjoy the rain and simple meditations for free.
Illustration by Sam Woolley.