Best Things to Buy at the Dollar Store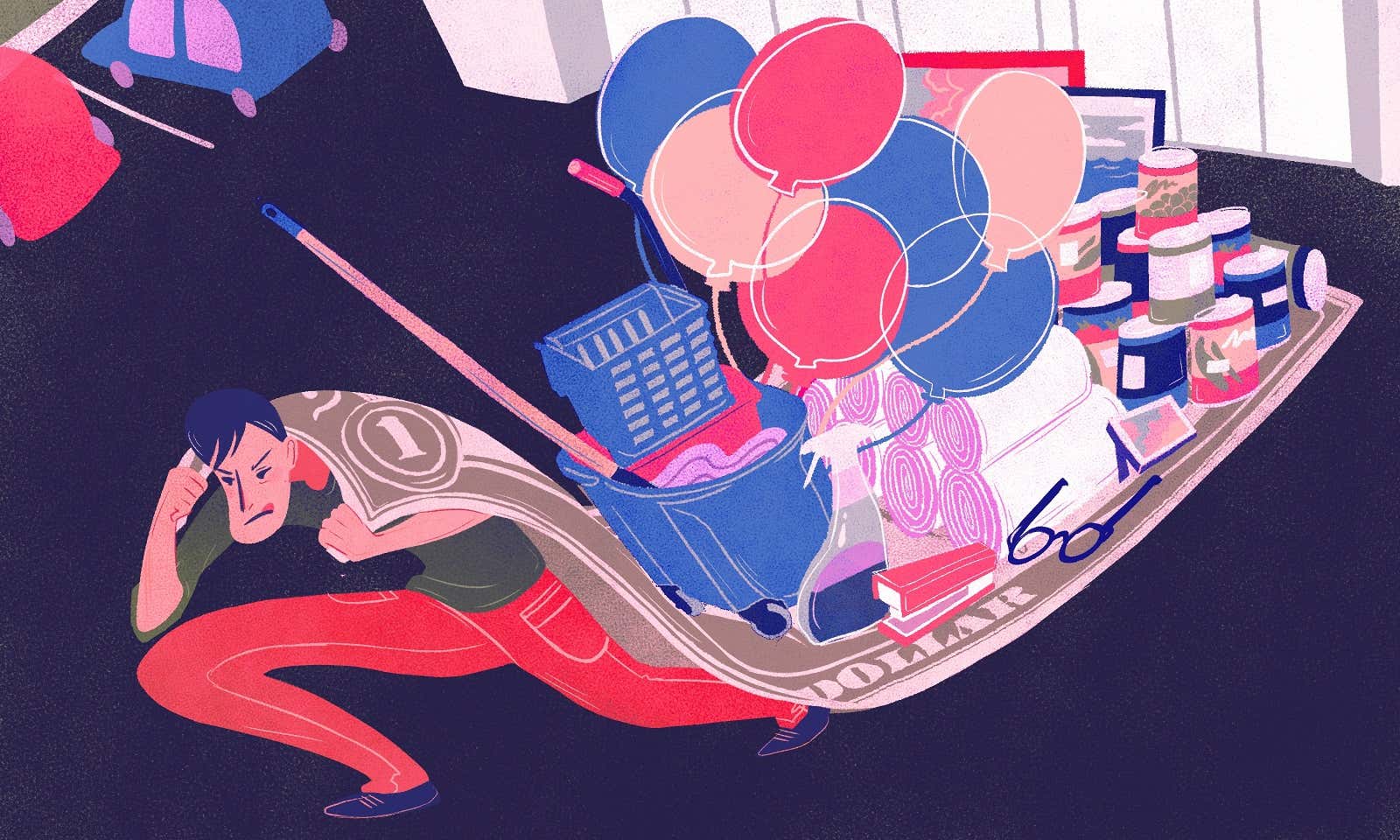 Dollar shops are a minefield of cheap junk and questionable food, but there are also great deals for what you use every day. If you know what to look for and what to avoid, you can make the dollar store the first stop on your grocery search and get the most out of your pennies.
Best purchases in the dollar store
In a dollar store, everything usually costs only a dollar, but that does not mean that everything is worth a dollar. However, you can find great deals on certain subjects. Here's what you should definitely pull the trigger:
Pregnancy tests : These can cost over $ 12 at the grocery store, but you can get the same at the dollar store for less . After all, a pregnancy test should do what it says on the package, and if you don't trust one of the dollar stores, you can get a few from the pharmacy for less than one.
Detergents : Household cleaners at the dollar store, such as window cleaner, bleach, and dish soap, are just as effective as more expensive items in the supermarket. The ingredients are pretty much the same, only with cheap labels and silly names.
Tools : Depending on your local dollar store, you can usually find decent tools. You won't find branded power tools, but there are screwdrivers, hammers, tape measures, and other simple things that work and get the job done. If you want to put together a basic toolbox for small one-off projects, start at the dollar store.
Kitchen Utensils and Utensils : Spatulas, tongs, mixing bowls, and even utensils such as plates and cereal bowls from the dollar store are affordable and often as durable as what you buy elsewhere. I personally stocked my entire dinner set, including crockery, from a dollar store and they do look pretty cool. Some items like pots and pans, household appliances and chef's knives are probably worth spending some money on. You don't have to pay for a set of knives, but you will definitely need some good ones .
Shampoo, Deodorant, and Other Bathroom Products : If you don't mind using generics or other manufacturers,Consumer Reports explains that shampoo, deodorant, soap, and shower gel are basically the same ingredients that you pay more for elsewhere. and in some cases, the same companies that make the brand name make generic versions. Even first aid items like bandages and antiseptic cream are good buys. The toothpaste, however, can be spoiled or skipped (more on this below).
Storage containers in most dollar stores have everything from simple baskets to thick plastic storage containers in the bathroom, detergent or toilet. In fact, do a YouTube search for " dollar shipping organization " and you will see some great examples.
Hair Accessories : On his blog, Dave Ramsey invites you to buy brushes, combs, hair bands, hair ties and other accessories. They all do their job and cost less money. Unless you're looking for that special quality, a dollar store hair tie is just as good as a grocery hair tie.
Reading glasses : If you can find them, reading glasses in dollar stores are basically the same as you find in a pharmacy or supermarket, only much cheaper. You don't have to worry about breaking or losing them, so bring in a few pairs.
Frames, Vases, and Other Home Decor : Dollar stores often have picture frames, artificial plants, vases, and other glassware to help you decorate your home on the cheap. You should also check out their seasonal decorations. You can decorate your home or office for holidays like Halloween, Christmas, or New Years for just a few dollars.
Canned food and non-perishable food : Canned food and shelf-stable items in boxes are the best bargain you can find at a dollar store. The caveat here is that you have to make sure it's not that cheap elsewhere, and that it's all the food you actually eat and not just stock up on because it's all available.
Greeting Cards : In most stores, a card will cost $ 3-5. That's why Casey Slide from Money Crashers invites you to check out the dollar store's card selection. They can usually be found at 50 cents apiece, and inside they are the same vaguely soulful messages.
Party Supplies : Real Simple invites you to look for paper plates, tablecloths and balloons in dollar stores. Also look out for cheap cups, theatrical or full bags of candy, and decorations like ribbons, confetti, and other party supplies.
Gift Bags and Wrapping Paper : These may "seem" cheaper, but dollar stores are a great place to buy gift bags for those same parties, or wrapping paper for birthdays or holidays. It will all be ripped off and thrown away in the end, so save some money.
"Keep track of well-known brands no matter where you shop," explains Consumer Reports . Dollar stores are gradually becoming more grocery store-friendly and competing to be a one-stop shop for all of your basic items.
At Dollar General you will find brands such as Crayola, Folgers, Hanes, Hefty, Huggies, and Tide. At Family Dollar you will find L'Oréal, Maybelline, Nabisco and Pepsi products. In Dollar Tree , you can usually win anything from Ajax, Dial, Reynolds Wrap and Softsoap. You can even find certified organic products at 99 ¢ Only stores, as well as items from Ajax, Alpo, Colgate, Irish Spring, Whiskas and more. However, don't avoid common things. Some of them are great, you just have to check it out for yourself to know for sure.
What to Buy … with Care
Some items in the dollar store are questionable in terms of safety, while others are only worth your money when you need them for something specific. These items can be stolen in the right light, but take a closer look at them before heading to the checkout:
Paper Products : For something like a birthday party or other occasional gathering, paper products from the dollar store might work, but when it comes to quality and everyday use, supermarket items are actually better bought in general. For example, cheap paper barbecue plates next door is fine, but nobody wants to use single-ply toilet paper that can be bought for a dollar every day for a month, you know?
Plastic wrap and aluminum foil : Both are available in dollar stores, but sometimes you can find a much better deal at the supermarket or when buying in bulk. Quality is another factor. If you want to save money on this, you have to calculate and determine how many square meters you get for the dollar.
Toothpaste : Toothpaste can be a little risky. Often times, the toothpaste found in dollar stores is imported non-brand names from Canada or China. The Canadian material is fine (although not ADA approved), but the FDA had to issue a warning about toothpaste from China containing the toxic chemical diethylene glycol (DEG) . It also has many different names (diglycol is the most common), so be careful if you plan on buying toothpaste from the dollar store. It can be a good deal, but sometimes the risk isn't worth it.
Makeup : If your budget is a little tight, xojane's Christine Rose suggests checking out the basics at the dollar store. You can find blush, eyeshadow, lipstick, and even good nail polish if you're lucky. Just don't expect to find many skin color or tone options, or some particularly high quality.
Batteries :According to Howcast , mostnon –brand dollar store batteries are made of zinc-carbon rather than alkali, so they won't last very long. You could probably have done better with IKEA's massive battery pack . However, if you find batteries from well-known manufacturers on the shelf, they can be worth your money.
Spices : Spices can be purchased or skipped at the dollar store. They will only have a few of the most popular spices, they will all be unnamed brands and may be really old. Please make sure they are not past their expiration date before purchasing and do not hope. If you have an office emergency lunch kit to decorate leftover food, they are ideal.
Basic Stationery : Most dollar stores have decent stationery and school supplies sections. You will find tape, paper clips, staples, folders, pens, pencils, whatever you might expect. These are great purchases if you're sure they're not cheaper elsewhere. Regina Novickis, an expert on consumer savings, explained to Today that you won't save a lot when there are sales at stores like Target and Walmart, especially given the high-quality branded merchandise available in those locations.
Perishable : Some dollar stores offer groceries and meat, but when you go for that, you're gambling. You don't know how long it lasts, and you don't know where the meat or food came from. Also, in regular supermarkets the price is usually about the same, especially if you shop at sales, club prices and daily deals.
Every dollar store is different, so don't expect a product you find in one store to be the same quality across all stores.
What should be avoided at all costs
As you would expect, dollar stores also have items that aren't even worth your dollar, but can look attractive due to the low price tag. Don't be fooled, or worse, make yourself or your family sick. Avoid these items completely:
Toys : The toys in the dollar store are the cheapest of the cheapest. Not that it would be fun for a child to play with, but they break very easily. There are not many pages in coloring books and most toys usually have very small details that pose a choking hazard. WhenConsumer Reports investigated dollar stores a few years ago , they found a toy-like item containing a hidden lighter. More recently, Consumer Reports explained that toys are getting safer, but the risk is still not worth your money.
Vitamins and Medicines : Consumer Reports also found that most of the vitamins in the dollar store do not contain what they claim or have trouble dissolving properly. And make sure that the medicine has not expired and its maximum effectiveness has not expired. Better to spend a couple of extra dollars to buy the still cheap generic brand from the supermarket, where stocks are usually more tightly controlled.
Soda and drinks: carbonated drinks – one of the many items at the dollar store, which looks like a good deal, but in fact it is not. You can often find similar offers to soda from well-known brands in supermarkets or large box stores, which make 1 liter of other brands of soda look like a lot of theft.
Pet food : This might seem like a great way to save some money, but don't do this to your pet. Ready meals are not worth the risk , Novickis said . Plus, you can often find large bags of dry food or boxes of well-known brands of canned food for the same or less price in other stores, especially in bulk.
Bulbs : Bulbs in the dollar store are cheap, third-party products that burn out pretty quickly. Plus, they're incandescent and less energy efficient, so you really won't save that much in the long run either way. They are suitable for lanterns that do not always light up for you, but are not ideal.
Shop diligently and keep safety in mind. If the item looks questionable, put it back on the counter. Saving money is never worth risking your personal well-being.